Update: According to media reports, Muhammad al-Qiq and the Israeli authorities reached an agreement whereby al-Qiq would now end his 93-day hunger strike. On 19 May 2016 he was released from administrative detention.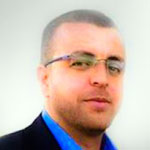 On Thursday 4 February 2016 Israel's High Court of Justice (HCJ) decided to "suspend" the administrative detention order against journalist Muhammad al-Qiq. The ruling was made by a panel of three justices: Deputy Chief Justice Elyakim Rubinstein, Zvi Zylbertal, and Daphne Barak-Erez. Al-Qiq, 33, who is married and is the father of two children, lives in the village of Abu Qash in the Ramallah District. He was arrested by the Israeli authorities on 21 November 2015 and transferred for interrogation. Almost a month later, on 17 December, an administrative detention order was issued against him. Shortly after his detention for interrogation Al-Qiq launched a hunger strike to protest the detention, and has been on strike ever since, Thursday marking the 72nd day of the strike.
Al-Qiq refuses to be examined or receive any medical treatment. On Thursday, 4 February 2016, he was visited by an independent physician on behalf of Physician for Human Rights-Israel, who gained the impression that Al-Qiq's condition is extremely grave. The conversation was conducted mainly by means of written notes, since Al-Qiq has difficulty speaking and even hearing. According to medical literature, after 40 days a hunger strike places the striker's life in jeopardy.
In a hearing held by the HCJ over a week ago (on 27 Jan. 2016), the justices determined that the "intelligence evidence" justifies Al-Qiq's administrative detention, and that his serious medical condition as the result of his hunger strike does not yet warrant his release. However, the justices did note that should Al-Qiq's medical condition continue to deteriorate, that situation may influence the need for his continued detention. Justice Rubinstein ordered that a daily update be forwarded to the Court concerning Al-Qiq's medical condition.
On Monday last week (1 Feb. 2016), the justices decided on the basis of the updates they received to hold a hearing on Thursday 4 February 2016 to discuss the administrative detention. They undertook to make themselves available prior to this date if Al-Qiq's medical condition so required. In Thursday's ruling, Justice Rubinstein describes Al-Qiq's condition as follows:
Due to the protracted hunger strike, and due to the appearance of neurological deficiencies in the form of hearing problems, difficulty in speech, headaches, pains in the legs, and extreme weakness - the physicians believe that "at this stage, and in fact recently as well, the patient faces grave danger and is in a state of high risk of sudden death". It has been stated that this matter was again explained to the Appellant, but he is refusing any treatment. He "is fully conscious, but sleepy and very weak. There is a gradual deterioration from one day to the next".
Administrative detention is intended as a preventative measure, not a punitive one. Clearly, a person in such a dire state of health has virtually no capacity to commit actions justifying this type of detention. Nevertheless, State representatives Attorney Yonatan Berman and Attorney Aner Hellman sought the Court's approval for Al-Qiq's ongoing detention.
For reasons known only to themselves, the justices declined to rescind the administrative detention order and order Al-Qiq's release. Instead, they gave instructions to "suspend" the detention order, and established that it "is no longer active". Justice Rubinstein further clarified that "this is a suspension of the order, with all this implies as necessary, without our expressing an opinion".
A similar decision, also written by Deputy Chief Justice Rubinstein, was made in the case of Muhammad 'Alan, an administrative detainee who staged a hunger strike which brought him to death's door. In both cases, however, the meaning of the "suspension" of administrative detention remains unclear, since the justices have refrained from elucidating the legal significance and ramifications of this measure.
In practical terms, the ruling means Al-Qiq will remain in the intensive care department at HaEmek Hospital, Israel. According to the ruling, his family may visit him "not as a detainee." However, this state of affairs does not oblige the Israeli authorities to issue entry permits to Israel to his relatives. Justice Rubinstein notes that if Al-Qiq wishes to leave hospital after his condition improves, he may apply to the authorities. Yet, as noted, they are not obliged to follow any particular course of action. In reality, therefore, this decision has not changed Al-Qiq's situation, and according to media reports he is continuing his hunger strike.
Al-Qiq has also appealed his continued shackling - by leg during the day, and by hand and leg at night - even in his current condition. The State argued that he must be bound in this manner for security reasons. The justices ruled the petition redundant - i.e., that there is no continued justification for shackling al-Qiq in light of their decision to "suspend" the administrative detention order.
Administrative detention is an exceptionally extreme measure. Administrative detainees do not know when they will be released; although the maximum period of every detention order is six months, the military law that applies in the West Bank allows these orders to be renewed indefinitely. Over the years, Israel's security forces have placed thousands of Palestinians under administrative detention for periods ranging from several months to several years. Some Israeli citizens, including settlers, have also been placed under administrative detention for short periods of several months. At various times during the second intifada, Israel held a total of over 1,000 administrative detainees in custody at once. According to the latest figures the Israel Prison Service (IPS) provided to B'Tselem, Israel currently has 584 Palestinians in administrative detention, the highest number since 2008.
By law, administrative detention is subject to judicial review. However, the courts almost always refrain from exercising their authority and employing independent discretion in administrative detention hearings. In the vast majority of cases, the judges approve the detention orders, although they do at times shorten the period of detention. Even given this reality, however, the refusal by the HCJ justices in this case to rescind Al-Qiq's detention order, in his condition, and their preference for an innovative but meaningless legal solution constitutes an extreme approach.
On 28 January 2016, B'Tselem field researcher Musa Abu Hashhash spoke with Al-Qiq's wife Fihaa Shalash, 29. She told him about her husband's detention and hunger strike:

I live with my husband, Muhammad Ahmad Suliman al-Qiq, 33, our 4-year-old son Islam and our 18-month-old daughter Lur in a rented house in the village of Abu Qash in the Ramallah District. My husband has worked for six years as a reporter for the Saudi television Al-Majd Network. He travels around the various cities in the West Bank and covers political and civil events. I work as a freelance journalist.

At 3:00 A.M. on 21 November 2015, the Israeli military raided our home. They didn't even wait for my husband to open the door to the house, but instead smashed it. More than 15 soldiers entered our home and carried out a brief search. They asked to see my husband's personal computer, as well as his and my phones and my identity card. An officer sat with my husband and asked him about his work and about our home. My husband asked me to get his press card but the soldiers took him away before I could get the card. I watched from the window as they led him away from the house. I saw soldiers tying his hands behind his back and blindfolding him.

For the first few days after his detention, I didn't even know where they were holding my husband. After four or five days, a private attorney who presumably learned by chance where he was being held called me and told me that he was being held at Kishon interrogation center (Al-Jalama).

Since my husband's arrest, they haven't let me visit him even once. The children and other relatives haven't been able to see him either. We applied for visiting permits through the Red Cross, but all our requests were rejected on security grounds. They only agreed to grant a permit to our son Islam, who is four, but I wouldn't agree to have him go on his own to visit his father in a detention center. I learned from the media and from my husband's attorneys that he had launched a hunger strike on 25 November 2015. His attorney told me that my husband was abused during his interrogation – he was forced to sit in the "shabah" position, and he was exposed to humiliations and threats, including threats of sexual assault and threats that he would be held in administrative detention for a long time and would not see his children.

Later I heard from the media and from the attorney that my husband was given nutrients intravenously, against his will. I hear that his state is health is serious and I'm very worried about him. They told me that he can't see very well and that he's lost all sensation in his left hand. According to the reports, my husband has lost a third of his body weight and is vomiting constantly. He suffers from bad headaches and pains in his back and joints and he has a fever.

My husband's detention has left a hole in my heart. I think this is an arbitrary detention. My children and I feel terribly bereft. Islam asks me every day when his Dad is coming home and why he was arrested. It's hard for me to explain to him why his father was arrested. He also asks all the time to join the solidarity processions with my husband that are held in our area.