Update: According to media reports, Muhammad al-Qiq and the Israeli authorities reached an agreement whereby al-Qiq would now end his 93-day hunger strike. He was released from administrative detention on 197 May 2016.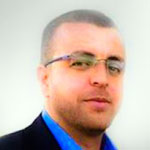 Muhammad al-Qiq, 33, married with two children, is a Palestinian journalist who lives in the village of Abu Qash in the Ramallah District. Al-Qiq was arrested by the Israeli authorities on 21 November 2015 and taken to interrogation. Almost a month later, on 17 December, an administrative detention order was issued against him. Shortly after his arrest, Al-Qiq launched a hunger strike in protest. He has now been on hunger strike for 65 days (as of 28 Jan).
According to Physicians for Human Rights-Israel, HaEmek Medical Center in Afula, where Al-Qiq is hospitalized, refused to allow an independent physician on behalf of the organization to examine Al-Qiq. Therefore, there is no reliable information about his medical condition. The hospital claimed that it had merely sought to schedule a time for the visit when the attending team would be available. However, Physicians for Human Rights-Israel responded that there is no need for the hospital team to be present in order to conduct such an examination.
Information about Al-Qiq's medical condition was presented during a hearing at the Supreme Court in a petition submitted by Al-Qiq through Attorney Jawad Boulos of the Palestinian Prisoners' Club. The state reported during the hearing that Al-Qiq lost consciousness some 10 days ago but received emergency treatment. Since then, the state claims, Al-Qiq has been weak, exhausted, and asleep most of the time, but he is responsive and has spoken. The state announced that Al-Qiq is refusing to undergo any medical examination, and accordingly the evaluation of his medical condition is based solely on the physicians' external impression. According to medical literature, hunger strikers face mortal danger after 40 days.
Al-Qiq's petition challenged both the justification for his administrative detention and the level of dangerousness attributed to him, given his protracted hunger strike. The ruling, written by Supreme Court Deputy President Elyakim Rubinstein with the agreement of Justices Zvi Zilbertal and Dafna Barak-Erez, determined that the "intelligence evidence" (which remains classified) is significant, and accordingly Al-Qiq's detention is justified. In an exceptional step, the Court decision detailed the suspicions against Al-Qiq: "Involvement in recent military activity, in the operations of Kutla Islamiya [the Hamas student movement] in Bir Zeit University, and military contact with operatives in the Gaza Strip." The justices refrained from reaching a decision concerning the level of dangerousness attributed to Al-Qiq at present. Justice Rubinstein determined that "a hunger strike in itself… does not constitute factor into the decision concerning the validity of the administrative detention." However, he went on to note that the duration of Al-Qiq's hunger strike may influence the need for detention. Accordingly, he ordered that the Court receive a daily update on Al-Qiq's medical condition. Justice Rubinstein did not clarify in what sense Al-Qiq, who has already been on hunger strike for 65 days and can barely function, still presents a tangible danger requiring his continued detention.
According to reports, two Jewish administrative detainees, Meir Ettinger and Eviatar Slonim, have also gone on hunger strike to protest their administrative detention and the possibility that it may be extended. The reports state that they have been on hunger strike for ten days and five days, respectively.
Administrative detention is detention without trial, officially intended to prevent a person from committing an act that could threaten public safety. Unlike a criminal proceeding, administrative detention is not intended to punish the detainee for an offense that has been committed, but to prevent a future one. The entire process is not open: administrative detainees are not informed of the reason for their detention or the specific allegations against them. Although they are brought before a judge to have the detention order approved, virtually all of the material submitted by the prosecution is classified, leaving the detainees with no knowledge of the evidence allegedly against them and no way to try to refute it. Israel's security establishment exploits the confidentiality surrounding administrative detention procedures to jail people for offenses they are suspected of having already committed, in order to avoid exposing the evidence against them. This is a violation of international law, which stipulates that administrative detention should be used to prevent future danger.
Furthermore, administrative detainees do not know when they will be released. Although the maximum period of every detention order is six months, the martial law that applies in the West Bank allows these orders to be renewed indefinitely. Over the years, Israel's security forces have placed thousands of Palestinians under administrative detention for periods ranging from several months to several years. Some Israeli citizens, including settlers, have also been held in administrative detention, for short periods of several months. At various times during the second intifada, Israel was holding more than 1,000 administrative detainees. According to Israel Prison Service (IPS) figures, at the end of November 2015 Israel was holding 527 Palestinians in administrative detention, the highest number since 2009.