Sept.-Dec. 2016: Military temporarily displaces Palestinians in Jordan Valley 19 times, citing training nearby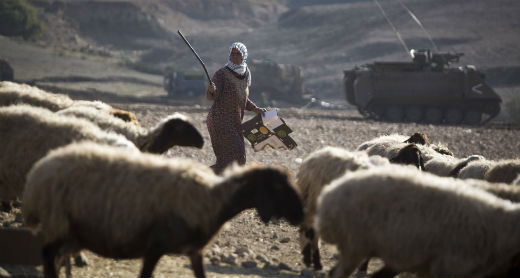 A shepherdess and armored personnel carriers in the pastureland of Jordan Valley residents. Photo by Keren Manor, Activestills, 8 Dec. 2016
Since the end of September 2016, hundreds of Palestinians who live in the Jordan Valley have had to look on as their homes and the land on which they live and tend their flocks were used by Israeli troops for military training. The military conducted training throughout the Jordan Valley on 20 separate occasions over the past three months, including 19 times that Palestinian residents were made to leave their homes owing to the training. Some 220 people, including about 100 minors, from the communities of Khirbet Humsah, Ibziq and Khirbet a-Ras al-Ahmar were forced to vacate their homes for at least several hours. In some cases, entire families had to stay far from home even at night. The residents of another community, al-Fajam, were forced to leave their homes and pastures due to military maneuvers, although they were not served evacuation orders. While the residents of al-Farisiyah were not displaced, the military forbade them to pasture their flocks near the community. The military also conducted training and even erected mobile toilets on the residents' cultivated fields. In addition, the troops cleared some of the nearby land to facilitate military vehicles, thereby even further damaging the farmland. .
Temporary displacements in Khirbet Humsah:
Khirbet Humsah, a small community of some twenty families, is located southeast of the Palestinian town of Tammun. The settlements of Ro'i and Beqa'ot were established nearby. The community is somewhat remote from other Palestinian communities, and lies some 12 kilometers from the village of 'Ein Shibli, where the children attend school. It is quite difficult to reach Khirbet Humsah. Accessing the community entails a 7-kilometer drive along unregulated dirt paths. In the recent wave of displacements, families from the community were forced to leave home on eight separate occasions, most recently on 8 December 2016. On one occasion, some families had to vacate their homes as of six o'clock in the morning, and were allowed back only at ten o'clock at night. Throughout 2015, the military displaced residents of the community
on 19 separate occasions
, citing the need to use the area for training.
In May 2016, 19 Khirbet Humsah families
were displaced for long intervals over the course of three days; on one of the days they were forced to sleep far from home, and on another were allowed to return only at midnight.
 
Temporary displacements in Khirbet Ibziq:
Ibziq is a shepherding and farming community located north of the Palestinian town of Tubas. The community consists of 48 families, including a few who do not live there year round. Fourteen families live in the lower section, known as Wadi Ibziq, near which the Separation Barrier was erected. In recent years, the military has forced these families to vacate their homes several times a year. This happened eight times in 2015 alone, with the military claiming it needed the area for training purposes. In November 2016, the same families were made to leave home for several hours on five separate occasions, including twice that the families had to sleep away from home, despite having elderly members and children in tow: From midday Monday (21 November) until Tuesday morning, and then again from midday Tuesday until the following morning, 23 November.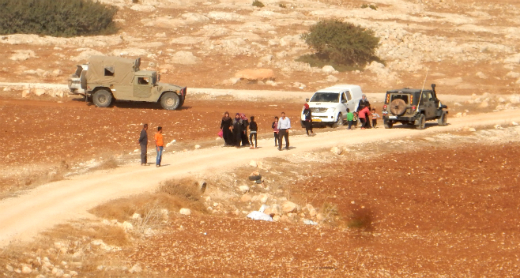 Military and Civil Administration vehicles escort Ibziq residents forced to vacate their homes. Photo by 'Aref Daraghmeh, B'Tselem, 15 Nov. 2016
Temporary displacements in Khirbet a-Ras al-Ahmar:
Khirbet a-Ras al-Ahmar is a small shepherding community that consists of more than twenty families, numbering some 120 residents, about half of them minors. The families live about four kilometers east of the Palestinian town of Tammun, northwest of the community of Khirbet Humsah. In the 1970s, the settlements of Ro'i and Beqa'ot were established between Khirbet a-Ras al-Ahmar and Khirbet Humsah. Throughout 2015, the military forced families from the community to vacate their homes on eight separate occasions, citing training nearby; in January 2016, military maneuvers included shelling carried out on the community's land and near its residential tents, while residents were at home. In November and December 2016, several families were made to leave home seven times. In total, residents of the community were temporarily displaced ten times in 2016, three of them in May and June. On 1 November, some of the families were made to leave at midday and were allowed to return home only the next morning. In addition, since September 2016, the Civil Administration has demolished ten homes in the community and seized ten tractors used for carrying water and animal feed to the community.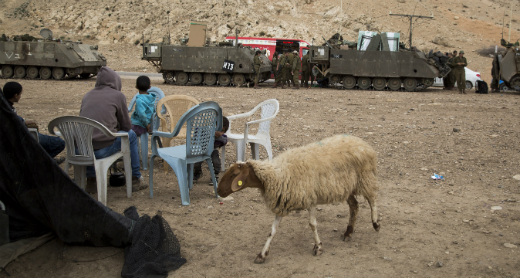 Armored personnel carriers on Kh. a-Ras al-Ahmar land, the Jordan Valley. Photo by Keren Manor, Activestills, 8 Dec. 2016
The repeated displacement of Palestinians in the Jordan Valley to allow for military training nearby causes intolerable disruption to their lives. Residents are made to leave home for hours on end on short notice, sometimes given mere hours of advance notice. In some cases, families have no proper place to remove to and have no choice but to remain out in the open, exposed to the elements, where they must provide food, water and shelter for themselves. The frequency of these incidents has thoroughly destabilized life in these communities, to such an extent that their very existence is in jeopardy.
International humanitarian law (IHL) permits an occupying state to act in occupied territory based on two considerations only: the good of the local population and pressing military needs in the occupied territory. As the occupying power in the West Bank, Israel is not permitted to use the area for routine military purposes such as general or combat training. It most certainly cannot cite this pretext for actions that harm the livelihood of protected residents nor can it try to expel them permanently from their homes. Israel must immediately cease all temporary displacement of Palestinian communities in the West Bank for the purpose of military training nearby, and must stop all other measures adopted with a view to driving Palestinians out of the Jordan Valley.
Testimonies:
Residents of Khirbet Ibziq, which was particularly hard hit by the frequent displacements, spoke with B'Tselem field researcher 'Aref Daraghmeh and described the hardships they have had to face: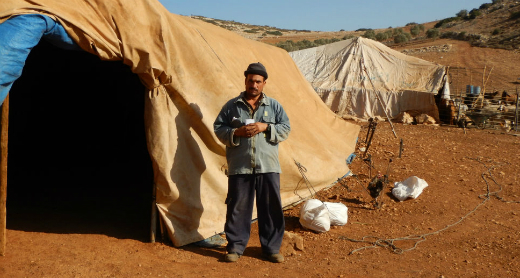 Nazih Faiz Ahmad Naghnaghiyah. Photo by 'Aref Daraghmeh, B'Tselem, 28 Nov. 2016
Nazih Faiz Ahmad Naghnaghiyah, 50, a married father of nine, related on 28 November 2016:
About ten days before the displacement, Civil Administration officials came and handed us orders to leave home for two days in a row, from midday until the next morning. When they came, they saw my tractor and one of them got in it. They immediately seized it, without paying me the slightest attention or even giving me a notice of confiscation. I didn't know what to do. I felt like they'd cut off my arms and legs.

On the afternoon of 21 November 2016, Civil Administration officials showed up and started ordering us out of our tents. They wouldn't let anyone stay behind. We all walked, there was no tractor or other vehicle because everyone was afraid of confiscation. We walked west towards the area known as Raba. The children wanted to stop and rest but there was a Civil Administration jeep driving along with us, and it was waiting for them to go on. We spent the first night out in the open. It was very cold. Families who live nearby tried to help us with food and water, but it was still very hard. It was very frightening, being out in the total darkness all night. We were also very worried that hyenas and other wild animals would prey on the young goats we'd left behind. We could hear the shelling. The next day, we couldn't send the children to school because we weren't allowed home until late morning, and they didn't have time to change clothes and get ready for school.

We got back to our tents in the morning, exhausted. The children were cold and hungry. They lay down exhausted on the floor and it was hard to see them like that. We were scared there might be shells and unexploded ammunition near the tents, but luckily we found none. We found that animals had gone into our tents while we were gone. My wife started getting food for the children and I went to check on the flock. I found the goats dehydrated, hungry, and cold.

I don't know what they want from us. One day there's demolition; on another, confiscation; and on another they displace us. It doesn't make sense that they have nowhere else to train other than right by our tents. They're leaving us nowhere to live.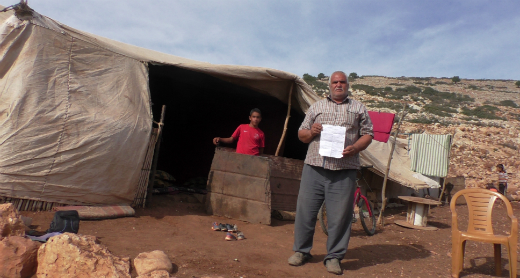 'Abd al-Karim al-Hrub. Photo by 'Aref Daraghmeh, B'Tselem, 28 Nov. 2016
'Abd al-Karim al-Hrub, 54, a married father of seven, related on 28 November 2016:
My family has been living in Wadi Ibziq since the 1960s. I was born, raised, and married here, and this is where my children were born. We've always lived here in our tents, which don't offer adequate shelter from the cold in winter and the heat in summer.

For the last month, our lives have become all about pain and suffering. The Civil Administration and the military served us evacuation orders, and it was especially tough because we had to be out of the house at night. On the day of the evacuation, Civil Administration officials started walking among the tents, looking for people in every tent. They took us out like sheep. They hurried us out so we had to leave everything behind. We started walking towards the central area of Ibziq, which is about seven kilometers from where we live in Wadi Ibziq. Civil Administration jeeps came with us, urging us to go faster. We couldn't bring our tractors along to ride in because we were afraid they'd be confiscated. We rely on the tractors for everything, from hauling equipment to taking a sick family member to the doctor.

We didn't have enough water. We barely had a chance to gather things to take with us. The children were shivering with cold. It was pitch black and you couldn't see a thing. We lit a fire to keep warm and to light up the area, but it kept going out so we were left in the dark. The first night was terrible. We were all exhausted and worried about the belongings we'd left behind, and especially the goats' newborn kids.

In the morning, we got home to our tents completely exhausted. We barely had the strength make the journey back after the rough night we had. We each went to our tents and flocks. It was scary to go inside the tents because we were afraid we'd find unexploded ammunition there. Inside, everything was in shambles because dogs and wolves had been there and ravaged everything. Some of the kids had gotten loose from the goat-pens and were wandering around among the tents, stepping on mattresses, food and other belongings. It was hard to come home to, and it was hard to relax and feel safe at home because we knew this would happen again.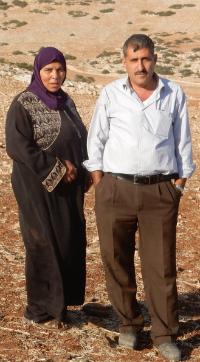 Siham Turkman, 49, a married mother of seven, gave her account on 15 November 2016:
On both days (14 and 15 November), we had to leave at midday, just when the children normally get back from school. They have to climb mountains and cross valleys to get home. Some of them didn't make it back in time for the evacuation. Just as we were about to serve lunch to the children who had come back in time, the Civil Administration jeeps drove up. The children didn't get to eat even one bite.

The people in the jeeps started shouting at us to come outside. We all assembled and set off together. The jeeps went with us, leading us like animals. We walked almost seven kilometers. We sat down where they left us and stayed there for hours and hours, without water and almost without food. It was very hot during the day and then it got increasingly cold. We had nowhere to rest or relieve ourselves.

In the evening, we went back to our tents. It was hard walking in the dark. It felt like we were wading through the sea. When we got home, the children were exhausted and hungry and just wanted to go inside. We warned them to keep an eye out for unexploded ammunition. When we went in, we saw that everything was a mess. Animals had got into the tents and wreaked havoc. The goats were hungry and thirsty. I had to knead some dough and bake fresh bread because the dogs that got into the tents had eaten and destroyed everything in sight.