On Sunday, 9 October 2016, Israeli authorities demolished structures in the Palestinian communities of al-Kurshan, which lies north of the Mishor Adumim settlement's industrial zone, and a-Ras al-Ahmar, in the northern Jordan Valley.
In al-Kurshan, which is one of several communities that make up Khan al-Ahmar, the authorities demolished eight mobile homes donated to the families in 2012 by a humanitarian aid organization. The demolition left eight families, numbering 28 people, homeless, including 18 minors.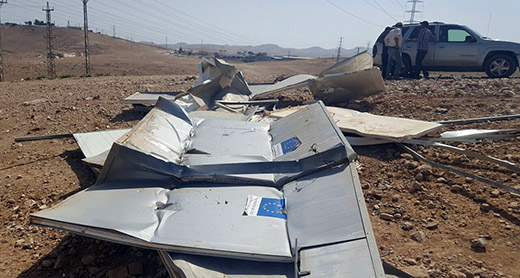 Ruins of a caravan donated by a humanitarian aid organization in al-Kurshan, near Ma'ale Adumim. Photo: Kareem Jubran, B'Tselem, 9 Oct. 2016
In a-Ras al-Ahmar, which lies east of the Palestinian town of Tammun, the authorities demolished ten homes and 17 livestock pens belonging to nine families. As seven of the homes were inhabited, the demolition left 24 people, including five minors, homeless. The other three homes were not in use at the time as some families do not reside there all year round. Israel has declared the area of a-Ras al-Ahmar, where the community has lived for decades, a firing zone, forcing the residents to evacuate their homes several times a year due to military training held nearby.
These latest acts are part of a massive demolition campaign waged by Israel since the beginning of 2016. In that time, Israel has demolished 252 Palestinian homes in the West Bank, leaving 1,062 people, including 553 minors, homeless.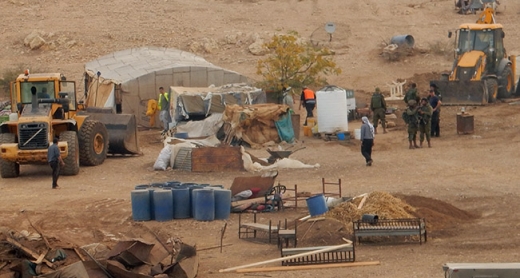 The demolitions in a-Ras al-Ahmar in the Jordan Valley. Photo: 'Aref Daraghmeh, B'Tselem, 9 Oct. 2016.