Qatash, 40, a married father of five from al-Jalazun Refugee Camp, gave the testimony by phone to B'Tselem field researcher Iyad Hadad on 18 April 2020.
We haven't been allowed out of the house for about 40 days because of the corona pandemic. We're not working, not doing anything. Because of the boredom, the stress and the discomfort, I decided two days ago, on 16 April 2020, to go with my brother Musa, 39, and his wife and kids to their farmland. My mother and my youngest son, Hamzah, 9, joined us. The plot is on the outskirts of the village of Jibya. It's a hilly countryside with trees and lots of wild plants. We planned to work the land a little and also use the opportunity to gather some wild herbs.
We got there around noon. We unloaded all the food and dishes for the picnic and sat in the plot, about 100 meters from a dirt road that leads to a construction site in a housing complex known as the "the Doctor Complex" in Jibya. We sat there for a while and had lunch together. After about an hour, Musa and I left the women and children there and went to pick wild herbs such as sage and hyssop (za'atar) in an open field that's part of the plot.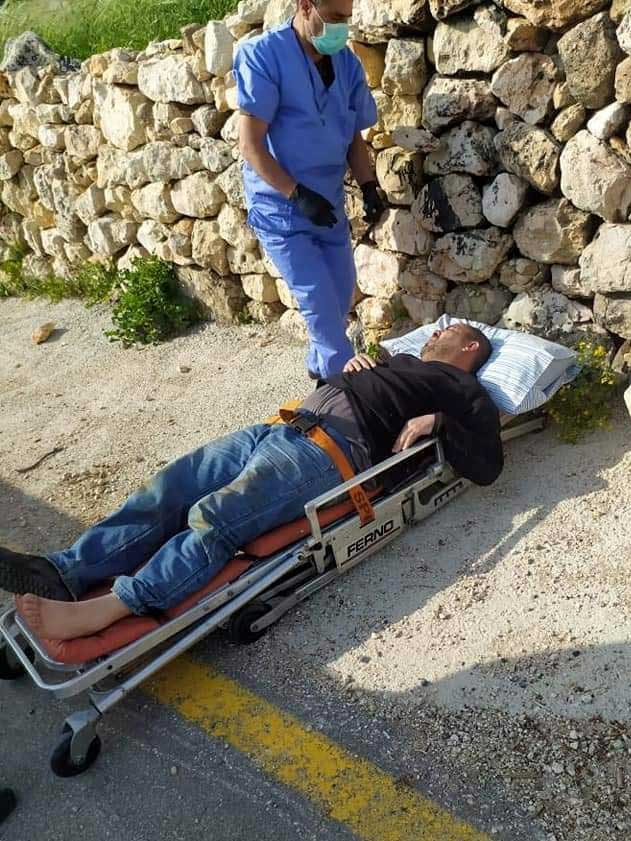 We wandered through the hills, and each of us went in a different direction. When I was about 200 meters away from where the family was sitting, I was startled by two settlers who jumped up in front of me. It's a hilly, wooded area and I didn't spot them before. I couldn't see Musa. The first settler looked about 17 or 18 years old. He was thin and had a light complexion and curly hair. He was medium height and wore a kippa, a black shirt and beige pants. The second settler looked around 20. He also had a light complexion and long blonde hair. He was medium built. He wore a kippa, too, and had an army green shirt and army green pants on. He was holding a sharp instrument that looked like a sword.
The younger guy spoke fluent Arabic. The moment they emerged from the shrubbery, he yelled: "Stop, stop, what are you doing here?" I said I was on my land, collecting sage and hyssop, but before I could finish my sentence they jumped me and started beating me. He demanded my ID card and I said I didn't have it on me. They started punching and kicking me, and tried to knock me over. They had a rope and they tried to tie me up.
The older settler hit me with the sword and I was scared to death. I pushed him with every ounce of strength I could muster and ran away from them through the fields. I ran on the rocks and through the wild oats for about 100 or 150 meters, and they chased after me. In the end, I was so exhausted my head started spinning and I couldn't go on. I fell backwards onto the ground. The settlers caught up to me and started punching and kicking me while I lay there. Two other settlers joined them. They looked like them, and one of them had a gun.
I could barely protect my head and face from the blows. Someone hit me hard on the mouth and I felt my front teeth break. Blood started trickling into my mouth and down my face. I shouted and cried out: "For God's sake, what did I do to you? Do you have no mercy? You're killing me. Have mercy." But none of them listened. At some point, I collapsed. I had no strength left. Then they tied my hands behind my back with the rope. The armed settler pointed his gun at my head and cocked it, as if he was going to shoot me in the head. I started reciting the "shahada" over and over: "There is no God but Allah and Muhammad is his prophet." I thought my time had come to die.
They kept on beating me and swearing at me and threatened to kill me. Then they pulled me up on my feet. I could barely walk and it felt like my left leg was broken, but they forced me to walk. They led me, limping, through the wild oats, rocks, bushes and thorns. Every now and then I fell down, but they pulled me back up and forced me to keep walking. I was in a terrible state, bleeding from the mouth and hardly able to open my eyes, which were swelling up with every step I took. My throat was dry and I felt like I was dying of thirst. Psychologically, I was broken. It was a terrible situation, only God can imagine it. They kept slapping and kicking me and swearing at me the whole way. They spat on me, too.
They led me about 300-400 meters on, to a military jeep that parked ahead. It looked like it had been there all along, to protect them. When they got to the jeep, they let me go in front of the soldiers. I was afraid the soldiers would join in and finish me off, I mean kill me, but they told the settlers to leave. Then the soldiers handed me a water bottle, which looked like one of them had already used it, to wash the blood off my mouth and face.
They asked for my name, where I live and what I was doing there. At that point, a tall settler with a light complexion, long blonde curly hair and green eyes arrived. He looked to be in his late twenties and was holding a gun. He started assaulting me and swearing at me and the soldiers tried to hold him back. I understood he didn't want the soldiers to protect me. He wanted them to release me and let him take me away and kill me, but the soldiers made him leave.
One of the soldiers was an officer with two stripes on his shoulder. He had a dark complexion and was short and thin. He looked about 25 years old. He was the one who gave me the water and tried to stop the armed settler from taking me. After I washed off the blood, he took a picture of me with a phone. I don't know why. Then he asked me to speak on the phone to an Israeli. I don't know if it was an investigator or a settler. The man on the end of the line asked me in Arabic what my name was, where I lived and why I was there, and demanded my phone number and ID number. All he did was ask me a few questions and then he hung up. The officer asked me if I wanted to file a complaint and I said I didn't. I was afraid that if I said yes, they would punish me for it and hand me back to the settlers, who would kill me. That's why I said I didn't want to file a complaint, and then the officer said: "Go, go on, get out of here".
The soldiers held me for about half an hour. During that time my mother called me several times, but the soldiers wouldn't let me pick up. When the officer told me to leave, I asked them to drive me closer to the village because I couldn't walk. I told them my leg was broken, and they saw what state I was in and knew I could barely stand, but they refused to help me. They didn't even try to treat me. They just left me there and took off.
I tried to gather the strength to leave before the settlers came back and attacked me again. I started making my way home, part limping, part crawling. I kept standing up and falling down again. I managed to advance about 300-400 meters that way. It took me about 45 minutes. When I got to a dirt path, a car drove by with people from the village who were looking for me. It was around 4:00 P.M. They took me to a house in the village where my family was waiting.
I was in a pathetic state. I was incredibly thirsty and groggy. I lay down on the floor to rest and they called for an ambulance. My brother Musa told me the settlers had beat him up, too, but he'd managed to run away and wasn't too badly hurt, except for bruises from some blows. After about half an hour, an ambulance came and took us both to the Falastin Medical Center in Ramallah. We were X-rayed and put on an IV drip, and they put my fractured ankle in a cast. My front teeth were broken. We stayed there until 11:00 P.M. and then Musa was sent home.
I was put in isolation in a government isolation facility in al-Balu' , inside the a-Zahraa building. I'm not allowed to see anyone, not even family, including my children, because there's concern I may have caught the coronavirus when the settlers beat me and spat at me, and also because of the open water bottle the soldiers gave me. Yesterday, Friday, the second day of isolation, I was tested for the coronavirus and I still haven't received the results.
Now I feel like a prisoner, trapped in a small room between four walls, in a strange place, cut off from the outside world except for phone calls. I can barely move with the cast, and I'm still waiting to be taken to the dentist to fix the teeth the settlers broke. I have bruises and swelling around my eyes from the beating, and also bruises on my back and shoulder. Emotionally, I'm in a terrible state. I feel hopeless and stressed and I'm having nightmares.