I just finished the 11th grade. In July it will be a year since my friend 'Alaa Abu Dahruj was killed. He was killed in the war, when he and his family fled their home because of artillery fire and went to the nearby a-Shuhadaa al-Aqsa Hospital. The shelling reached the hospital too, and 'Alla was killed before he managed to get inside.
This past school year was really hard for me. I lost a friend I had had for ten years. We used to hang out together both in school and in our free time. I think of him in class almost every day. Every morning when I pass by the cemetery, I visit his grave and recite the "al-Fatiha" prayer.
I have other friends at school, but no one like 'Alaa. I liked him best. We used to spend time together during summer vacation and we'd play soccer most weekdays after school. 'Alaa was great at soccer and loved to play. Whenever I see a soccer game on TV or in soccer clubs, I think of 'Alaa. We were both Bar?a fans.
The soccer club put up a big picture of 'Alla and named one of the teams after him. Since 'Alla was killed, I don't play soccer as much. My love for the game had to do with our friendship. I now spend most of my time taking pictures. I photograph damaged homes, ruined neighborhoods and the sea.
I especially miss 'Alla during Ramadan. In the past, we used to meet at the market on Ramadan afternoons to pass the time together until breaking the fast.
My friends and I made a Facebook page in his memory, so he'll be there every time we log onto Facebook. I'm still in shock over what happened and I hope there won't be another war. I'm afraid of losing more friends. I can't even begin to describe the pain of losing 'Alaa.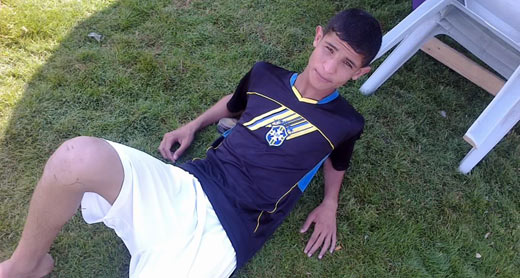 'Alaa Abu Dahruj, 29 May 2014. Photo courtesy of the family
Mu'taz Hilal Muhammad al-'Azayzeh, 16, is a high school student. He lives in Deir al-Balah. He gave his testimony to B'Tselem field researcher Khaled al-'Azayzeh on 28 June 2015.