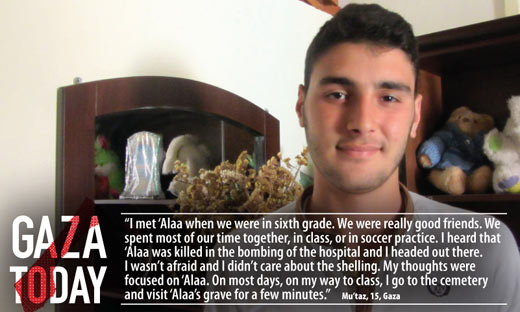 I'm a grade 11 student in 'Abd al-Karim al-'Akluk School in Deir al-Balah and live there with my family.
I used to go to Rudolph Walter School, on Salah a-Din St. on the eastern side of Deir al-Balah. There, I was close friends with 'Alaa Abu Dahruj. We studied together from Grade 6 through Grade 10 and spent all our time together, in class, during recess and after school. 'Alaa was a very good soccer player and played for the Deir al-Balah club and other clubs. He wore sports clothes all the time. I played with him and we spent most of our free time practicing soccer. 'Alaa told me a few times that he couldn't go a whole day without playing.
At the beginning of last summer, we got together all the time, sometimes at the soccer club and sometimes at the mosque. 'Alaa lived a 10-minute walk from my house. During the war, we saw each other three times, once in town, once at the mosque and the third time, he came to visit me at home. We sat on the sidewalk across from my house with another friend, Muamen Abu Sha'ar. We heard the explosions and talked about the war. 'Alaa said he wasn't afraid to die and told us he was still playing soccer outside, by his house.
On 21 July 2014, we fled from our home, which is located in an area that was shelled all the time. We went to my grandfather's house in downtown Deir al-Balah. This was during the month of Ramadan. On that day, at 3:30 P.M., a friend of mine from school phoned and told me it had been reported on television that a person named 'Alaa Abu Dahruj had been killed, but he wasn't sure whether this was our friend 'Alaa, because the report did not give the father's name.
I phone a mutual friend of mine and 'Alaa's and asked him. He told me 'Alaa had been killed in the bombing on Shuhadaa al-Aqsa Hospital. 'Alaa and his family had left their home when the bombardment began and fled to the hospital to take cover, but shells hit the hospital and 'Alaa was hit by shrapnel in the abdomen and killed.
I started crying and walked out of my grandfather's house despite the bombing and war. I headed towards the hospital to see him. I wasn't afraid and I didn't care about the shelling because I wasn't aware of anything happening around me. I was thinking only of 'Alaa and what had happened to him. I recalled our walks together, and the time we'd spent together. My father met me along the way and kept me from going to the hospital because it was dangerous there. The next day, 'Alaa was buried in the Deir al-Balah cemetery and I didn't go to the funeral because my father wouldn't let me leave the house. That afternoon, I went to the cemetery and sat by his grave. I read the el-Fatiha prayer and prayed for him, and I took photos of the grave. The cemetery was empty because there were was still some occasional shelling and air strikes.
Since the school year began, I've gone into the cemetery most days on my way to class. I visit 'Alaa's grave for a few minutes, remembering stuff we used to talk about. I pray for him and continue on my way to school. My school friends and I get together almost every day and remember 'Alaa and all kinds of things we did and saw together.
'Alaa really liked me. Once, he stood up to the teacher and defended me when another student wrongly complained about me. 'Alaa said the other student was lying. Sometimes, we quarreled for a day or two but then we'd make up because we missed each other.
Mu'taz Hilal Muhammad al-'Azayzeh, 15, is a grade 11 student. He lives in Deir al-Balah. His testimony was taken by Khaled al-'Azayzeh on 26 October 2014.