The bodies of 55 Palestinians killed during the wave of violence of the past three months have yet to be returned to their families. This number includes 11 minors.
This measure does not punish the dead but rather their families, who were neither involved in nor responsible for the actions of their relatives. Refusal to allow families to bury their dead causes them great anguish, significantly hampers the grieving process, and keeps the families from observing the traditional and religious customs carried out upon a relative's death. Uncertainty as to when the bodies will be returned exacerbates the harm to the families, as does stipulating the return of the bodies on the condition that the funerals be small and quiet, and – usually - at night.
The non-return of the bodies is an official and declared policy of the government. Israel has adopted this policy before, justifying it on the grounds of deterrence. However, "deterrence" is not a catch-all magic word that can be invoked at will to justify any and all actions, and certainly not a policy such as this that causes grave harm to human dignity. Not only is this policy patently immoral, it is yet another instance of Israeli authorities' disregard for the lives of Palestinians – even after their death.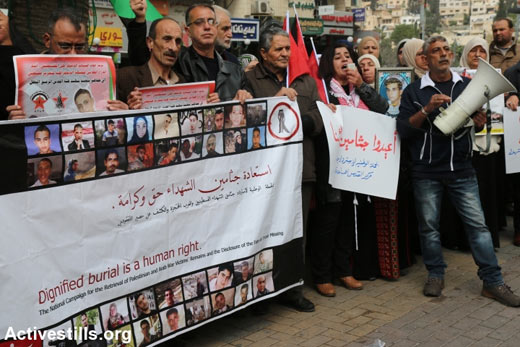 Protest in Nablus demands return of the bodies. Photo by Ahmad al-Bazz, Activestills, 3 Dec. 2015