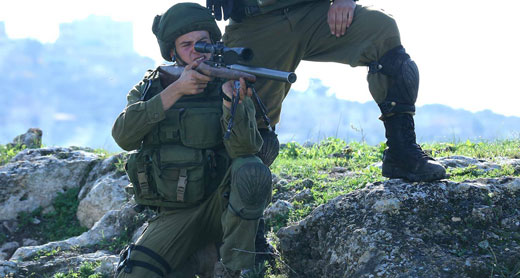 Sniper firing 0.22 bullets at stone throwers, a-Nabi Saleh, 5.12.2014, Photo: Haim Schwarczenberg
West Bank military commander recently confirmed shift to use of live fire instead of crowd control weapons
Recent months have seen a dramatic rise in Israeli security forces' use of live 0.22 inch caliber bullets (Ruger rifle bullets, also known by the nickname Two-Two) in clashes with Palestinians in the West Bank. The firing of this ammunition is an almost weekly occurrence in the West Bank in sites of protests and clashes. Most of those injured have been young Palestinians, including minors. Yet, in the last two months, one Palestinian woman, at least three photographers, and a foreign national who was taking part in a demonstration were also hit by these bullets. B'Tselem does not have the full data on the number of people wounded this type of ammunition.
Two-Twos are live ammunition whose impact is less severe than that of "ordinary" bullets (5.56 mm caliber), yet even so they can be lethal and inflict serious injuries. Two-Twos are fired with a 10/22 Ruger rifle, which is often equipped with an integral suppressor, or from a specially converted M4 rifle ("a shortened M16"). Use of this weapon has elicited controversy even within the Israeli military: in 2001, the head of the security department in the Operations Directorate wrote that the Ruger cannot be considered a non-lethal weapon and may be used only in circumstances that justify live fire. In view of the large number of people hit and even killed by 0.22 bullets early in the second intifada, use of this ammunition was suspended from 2001 to 2008. In the time since use of this ammunition was renewed, B'Tselem has documented the deaths of at least two people from these bullets; however, the real number may be higher, as it is difficult to establish whether a person was killed by these bullets or "ordinary" live ammunition, which is very similar in caliber.
In recent weeks, B'Tselem has documented the use of 0.22 bullets in clashes in various locations in the northern West Bank. In these instances shots were fired contrary to the strict open-fire regulations that, as a rule, prohibit live fire against stone-throwers. The only exception to this rule cited in the regulations is immediate, mortal danger. Moreover, in several cases, the soldiers intentionally engaged with stone-throwers in order to fire 0.22 bullets at them. In one instance, which was documented, the soldiers initiated action to provoke Palestinian youths into throwing stones, so that they could respond with 0.22 fire. In one documented case, soldiers took action designed to provoke youths to throw stones, ultimately enabling the soldiers to respond with gunfire, wounding the youths. In another case, a sniper armed with a Ruger rifle waited for a procession of demonstrators even before any stone was thrown.
The most striking of these incidents occurred in the village of a-Nabi Saleh on 5 December 2014. At the end of the weekly demonstration, a handful of village youths threw stones at soldiers. The military had stationed a sniper armed with a Ruger rifle together with a captain in an open area some distance from the village homes. The youths withdrew to a distance some 140 meters away, beyond the effective range of 0.22 bullets, thereby essentially ending the confrontation. Yet, about half an hour later, the captain and sniper walked some 200 meters into the built-up part of the village, for no apparent reason other than provoking the youths into renewing the stone-throwing, as indeed then transpired. The sniper responded by shooting at a Palestinian youth, who was hit in the thigh. The youth, whose injury was termed light, was taken to hospital in Ramallah. At no point were the troops in mortal danger and in any case, the confrontation was intentionally renewed by the soldiers' who entered the village, apparently on orders from above.
On 9 December, the military commander in the West Bank, Brig. Gen. Tamir Yadai, confirmed that the military had adopted a policy of firing live ammunition at stone-throwers. He stated this in a meeting with settlers from Halamish, who claimed that the decline in security on West Bank roads demonstrates that the military had abandoned them and was compromising their safety. Israeli internet news site NRG published a recording of the meeting, in which Yadai is heard saying (in Hebrew): "I'm won't say we changed the open-fire regulations, but we've taken a slightly [pause] tougher approach with people around here. In places where we used to fire tear-gas or rubber[-coated metal bullets], we now fire Ruger bullets and sometimes live bullets. If I remember the figures correctly, we're at around 25 people hit here in the last three weeks. That's a relatively high figure on any scale." Yadai's statement crowd control weapons had been replaced by live fire raises serious concerns that live ammunition is being fired without appropriate justification. Live fire was already permitted, and indeed used, in cases of mortal danger. It is also extremely worrying to hear the commander of the military forces in the West Bank boasting of a "relatively high figure" of people injured by live bullets, which are supposed to be used only in self-defense in cases of mortal danger, when there is no appropriate alternative, and are certainly not meant to be used for deterrence or punitively.
In July 2009, following repeated warnings by B'Tselem that 0.22 bullets were being used unlawfully to disperse protests and may lead to the death of demonstrators, the previous MAG – Maj. General Avihai Mendelblit – wrote to B'Tselem that "the Ruger and similar means are not classified by the IDF as means for dispersing demonstrations or public disturbances. The rules for use of these means in Judea and Samaria are stringent, and comparable to the rules for opening fire with 'live' ammunition." Earlier that year, in March 2009, Major Yehoshua Gurtler of the MAG Corps wrote to B'Tselem that "the IDF does not consider this means (the Ruger rifle) a substitute for the use of means for dispersing disturbances of the peace (such as stun grenades, rubber bullets, etc." These answers, given to B'Tselem four and a half years ago, were not an accurate reflection of reality in the field even at the time they were given.
For years, B'Tselem has been cautioning against the Israeli military's use of 0.22 bullets, and has repeatedly shown that statements made on the matter by the IDF Spokesperson and by military and Border Police officers contradict those made by the MAG Corps. The practical message conveyed by the military to soldiers in the field is that 0.22 bullets are not lethal ammunition, but rather another crowd control measure. This message is not only unlawful but puts people's lives in danger. As a senior officer told Israeli daily Haaretz in 2001: "The mistake was that the Ruger came to be seen as a means of dispersing demonstrations, in contrast to its original purpose as a weapon in every respect."
B'Tselem calls upon the military to stop all live fire of both 0.22 inch and 5.56 mm caliber bullets at stone-throwers or at unarmed civilians during law enforcement actions. Soldiers must strictly adhere to open-fire regulations, which permit live fire only in situations of mortal danger. Security forces have at their disposal less lethal measures for dealing with stone-throwers. The military must ensure that its troops are suitably equipped with crowd control measures and use them only within the boundaries of safety instructions, as such weapons can also be lethal if used improperly.