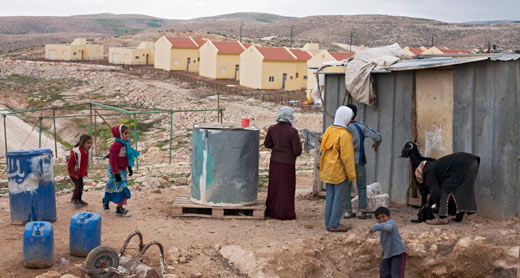 The village Um al-'Kheir, in the Southern Hebron Hills, with the Carmel settlement in the background. Photo: Keren Manor, activestills.org, 10 March 2011.
Israeli authorities blatantly breach the Convention, yet benefit from membership in the club of nations that have signed it
The High Contracting Parties to the Geneva Convention held a conference today. In a press release issued after the conference, the contracting parties reaffirmed the obligation of all parties to uphold the fundamental principles of the laws of war, and called on Israel to respect the provisions of the Fourth Geneva Convention throughout the occupied territory, including East Jerusalem. The High Contracting Parties cited, inter alia, the obligation of the Occupying Power to administer the territory while taking into account the needs of the civilian population, and recalled the illegality of the settlements and the Separation Barrier. They also expressed deep concern over the closure Israel imposes on the Gaza Strip.
The High Contracting Parties also addressed the continued occupation and its impact on the local population. B'Tselem wishes to point out that the occupation, which is meant to be of a temporary nature, is nearing its fiftieth year, with no end in sight. Through all these years, Israel has managed the occupied territory in blatant disregard for the provisions of the Convention: collective punishment, expulsion, destruction of property, settlements, disregard for the needs of the local population and blatant discrimination are all inherent elements of Israel's policy in the Occupied Territories.
Residents of an occupied territory do not choose the occupying power, and in most cases, it perceives them as enemies. For these reasons, and to prevent abuse of the power of the occupying force, the Fourth Geneva Convention has placed clear restrictions on the occupying power, including the obligation that it see to the interests of the residents living there and protect their welfare, safety and property. Israel has chosen to ignore these provisions and find justifications for breaching them, while enjoying the many advantages of belonging to the "club" of states that have signed the Convention. However, these justifications have been repeatedly rejected by international tribunals and legal scholars, and today, also by the Conference of High Contracting Parties to the Geneva Convention.
While the resolution passed by the conference is declarative and has no legal ramifications, it does, nevertheless, reflect the illegality of the ongoing occupation and its attendant human rights violations. It also reflects the baselessness of Israel's claims of compliance with the Fourth Geneva Convention as well as Israel's ever deteriorating international status as the violations persist.