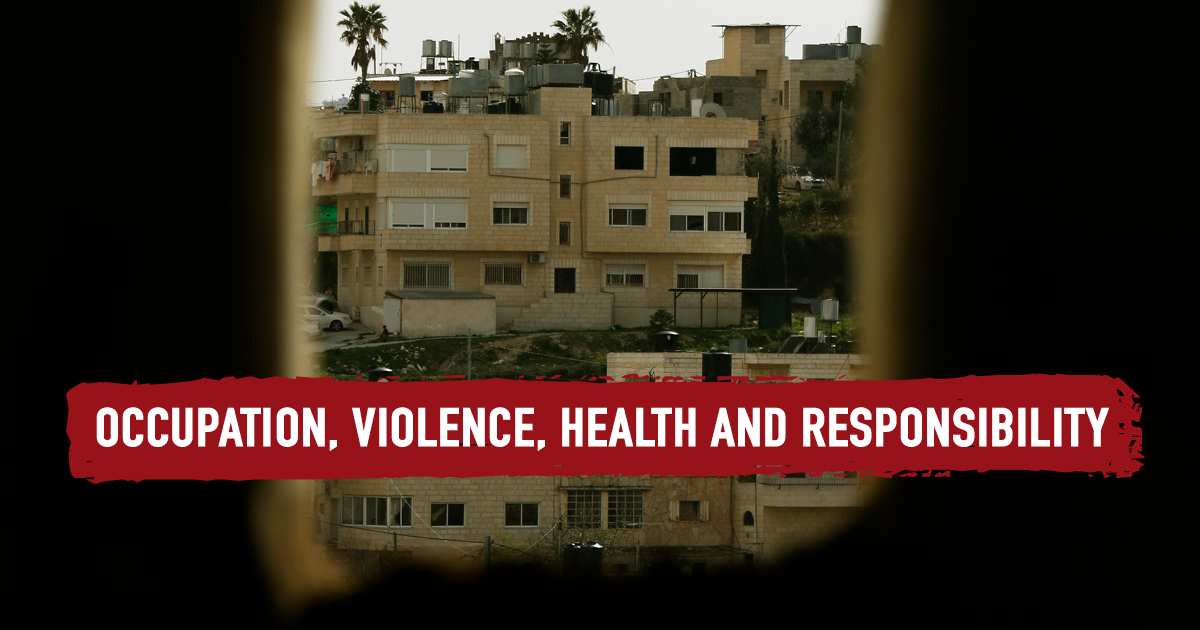 Dear friend,
Fear of the coronavirus has the entire world in its grip, and Israel and the Occupied Territories are no different. Except for one thing: Palestinians in the West Bank and the Gaza Strip are at the mercy of Israel's government to protect them from the pandemic. And so far, Israel is shirking this responsibility. The Israeli authorities believe that their only duty is to restrict Palestinians from entering Israel proper (while also considering the option of cutting certain East Jerusalem neighborhoods off from the city and evading responsibility for the Palestinian residents there), coordinate with the Palestinian Authority, and issue permits for international entities to bring some equipment into Gaza. 

It is our duty to remember, and to remind others, that Israel is responsible for the health of all 14 million people who live under its control between the Jordan River and the Mediterranean Sea – including Palestinians in the West Bank and the Gaza Strip. This responsibility includes responding to emergency needs, providing essential medical care and equipment, and implementing protective measures to prevent contamination. This is especially pertinent as the dire state of the Palestinian healthcare system is a direct outcome of decades of Israeli ocuupation.

To date, 12 coronavirus cases have been confirmed in the Gaza Strip. It is clear that further spread of the virus there would lead to a disaster of horrific proportions, given the extreme crowding and the devastating results of Israel's nearly 13 year long blockade. Gaza's healthcare system collapsed long before it had to cope with the first COVID-19 patient; the extreme poverty and unbearable living conditions have had a dire effect on public health even before exposure to the virus. Israel has created Gaza's reality and is therefore responsible for the health of the two million people who live there. Israel will not be able to feign innocence should this nightmare scenario play out, having not done enough to prevent it in the first place.

The first COVID-19 patients in the West Bank were detected in Bethlehem in early March, and the city was put in lockdown to prevent the spread of the disease. Marwa Ghannam, a B'Tselem data coordinator who moved to the city just days before, shares her impressions and feelings on our photoblog and here:
***
Marwa Ghannam, a data coordinator with B'Tselem, moved to Bethlehem just days before the city shut down.
From a hopeful move to almost complete lockdown
I'm 30 years old, from Haifa. I moved to Bethlehem to live in a large house by myself. I hardly know the city and it's surrounded by checkpoints and the Separation Barrier. I'll have to go through a checkpoint to get to work in Jerusalem and back. But after seven years in Jerusalem, I've found the apartment of my dreams in a fascinating Palestinian city, in an old stone house with lots of windows, sunshine and hope.
When my mother said that the checkpoints could close one day and I wouldn't be able to visit them, I reassured her it wouldn't happen. Because I write detailed reports for B'Tselem about roadblocks and closure of villages in the West Bank, I know it can happen, but I was trying to spare my mom the worry.

Well, on 9 March 2020, it happened. Occupation by virus

The health ministry directives sentenced me – and everyone else in Bethlehem – to fourteen days of isolation. I asked myself: "Closure? Why closure!? For a week now, the Israeli health ministry has been publishing its epidemiological investigations of patients inside Israel, but no one is closing their cities and communities!" It was a shock for me and for the residents of Bethlehem and the West Bank. Friends told me that in 2002, Bethlehem was put under full closure for 40 days and they're supposedly used to it.

So, I started my new life. I worked from home. I got together with friends on video chat and talked to my family from afar to make up for missing them. All I could see, most of the time, was the world outside my window and sometimes in my imagination.

One day, when I went out to get supplies, I saw a man ringing the church bells at the top of the tower up ahead and the voice of the muezzin joined him from the mosque nearby. I walked to my car through the empty city. It was raining. In my head, I was writing the script for an apocalypse.

The fourteen days of isolation are over, but new developments have put the whole country in isolation. I had to decide whether to stay in Bethlehem alone until God knows when, or try to go back to my parents, despite the closure and roadblocks.

I packed a suitcase, started the car and went back to my parents.
 
Marwa Ghannam,
B'Tselem data coordinator
B'Tselem began to prepare for this crisis back in February. When the forecasts became ominous and movement restrictions were imposed in Israel and the Occupied Territories, we adjusted quickly to the new reality and implemented safety measures to ensure that we could continue our reporting work: our field researchers are now carrying out their complicated, sensitive work from home and provide updates to the world about their reality.

While people all over the world are facing significant movement restrictions for the first time, for Palestinians in the Occupied Territories, restrictions of movement have long been the rule, rather than the exception. As we all look forward to the end of this crisis, we know that for the Palestinians, it will not mean renewed freedom of movement but rather its deprivation for the old unacceptable reasons.

Here is some of what B'Tselem has been covering in recent weeks:
B'Tselem Team