On Thursday evening, 20 February 2020, around 8:30 P.M., four 15-year-olds from the Palestinian village of Deir Dobwan, located east of Ramallah, drove west to the village of Beitin. The driver was Seif-a-Din 'Awawdeh, who works in a nearby garage.
The teens passed through a tunnel under Route 60, and after about 200 meters spotted an Israeli military jeep coming from the direction of Beitin, driving against the traffic in the same lane as them. Seif-a-Din tried to make a U-turn to avoid collision but couldn't complete it in time and crashed into a row of boulders by the opposite (left) lane. The car stopped facing Deir Dobwan, with the jeep behind it. At that moment, soldiers got out of the jeep and opened fire, first in the air and then at the car. Muhammad Sarma, who was seated in the backseat, was hit in the thigh and back.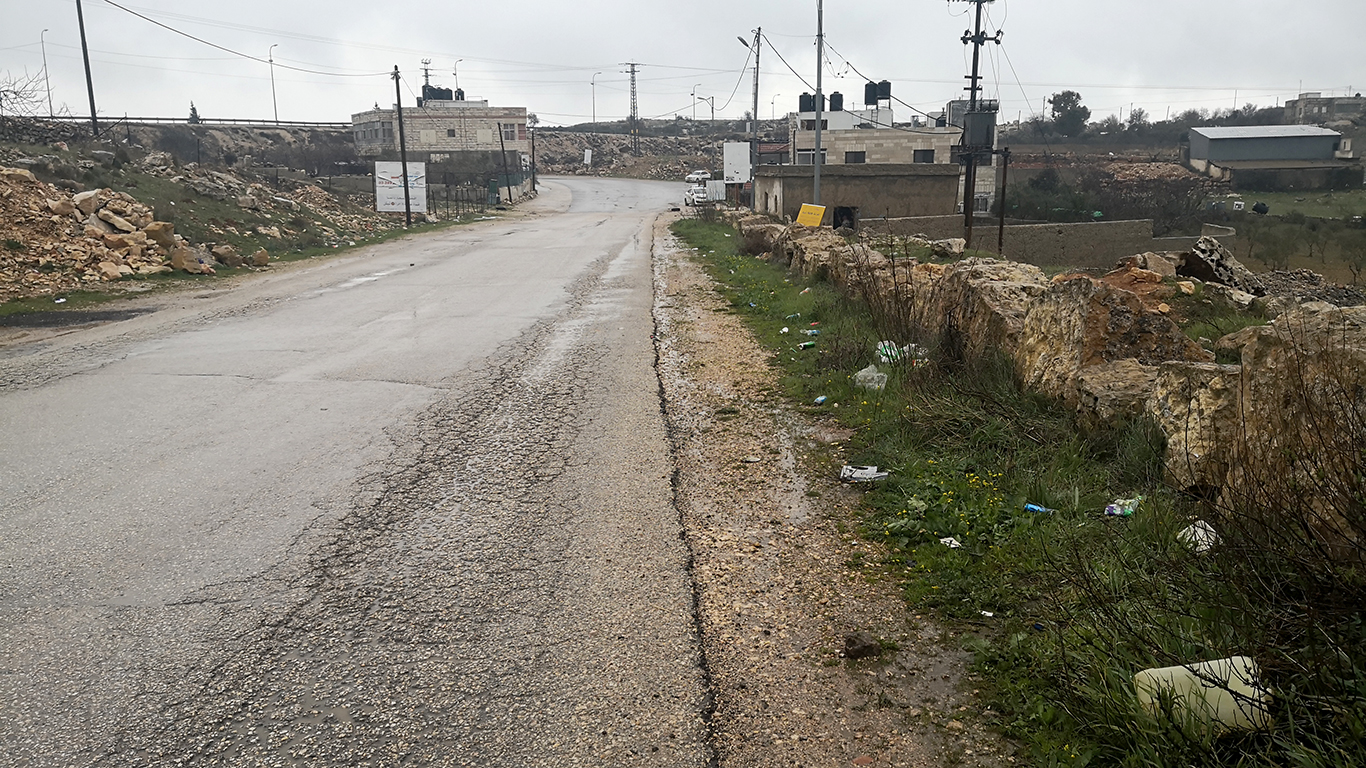 After a few seconds, the soldiers stopped firing and approached the car. They opened the doors and hit Seif-a-Din and D.H., who was sitting behind him, and then pulled them out of the car and continued to beat them. The soldiers also pulled the injured Sarma out of the car and a few minutes later, another military vehicle arrived and took him away. The fourth teen, Mahmoud 'Awawdeh, who was sitting next to Seif-a-Din, was hit in the pelvis, apparently from shrapnel. The soldiers ordered him to get out of the car and sat him by the side of the road.
In a testimony he gave B'Tselem field researcher Iyad Hadad on 22 February 2020, Seif-a-Din recounted:
Seif-a-Din 'Awawdeh with bruises on his face two days after the incident, Photo by Iyad Hadad, B'Tselem, 22 Feb. 2020

"My friends and I went out for a ride from Deir Dobwan to buy some things and hang out together. We passed the bridge between Deir Dobwan and Beitin, and when we were about 200 meters from it, I suddenly saw a military vehicle coming from Beitin. It was about 20-30 meters away and driving towards us in my lane. I was confused, so I made a U-turn in the left lane to avoid them, but there wasn't enough room and I hit some big boulders that were put along the side of the road to stop cars from driving off.

Immediately after the collision, the military vehicle stopped and blocked off the road and the soldiers got out. They stood a few meters behind our car, very close to us, and opened fire. They fired more than 20 rounds, some in the air and some at the car. It went on for several seconds.

We ducked down because we were really frightened. I told myself, "This is it, we're dead". I covered my head with my hands to defend myself. From the moment the shooting started I heard Muhammad, who was sitting in the backseat, yelling "Ouch, ouch." Immediately after that, they opened the doors and started beating us. A soldier hit me with the butt of his rifle in the shoulder, pulled me out onto the road and beat me a few times more on the head, face and back. At the same time, I saw them beating D., who was sitting behind me. They didn't beat Muhammad (Sarma), I guess because they understood from the start that he was injured. After they'd subdued all of us and realized we were only unarmed kids, they searched the car. After a few minutes, another military vehicle came and took Muhammad away, and then more vehicles arrived and spread out in the area.
The soldiers detained the teens for about two hours, during which time they were interrogated by phone and in person by people in civilian clothing. Their interrogators accused them, among other things, of a car-ramming attack and of throwing a Molotov cocktail.
In a testimony given on 22 February 2020, Mahmoud 'Awawdeh recounted what happened next:
Mahmoud 'Awawdeh. Photo by Iyad Hadad, B'Tselem, 22 Feb. 2020

In a testimony given on 22 February 2020, Mahmoud 'Awawdeh recounted what happened next: "The soldier couldn't get to me because the boulder was blocking the car door on my side, so it couldn't entirely open. He made me get out. I got out, terrified they would kill us. I put my hands up and he must have noticed I was a little kid and that's why he didn't hit me and only sat me on the curb. Afterwards, I saw them take out Muhammad (Sarma), who was groaning in pain. They took him aside and after a few moments, a military vehicle came and took him away. After that they sat us by the boulders on the side of the road, a few meters from each other.

At that point, more soldiers arrived. Once in a while they asked for our names, where we were headed and where we were coming from. They spoke to us in Hebrew and sometimes in broken Arabic. They searched the car. We were in shock. None of the soldiers asked us how we were doing. They didn't give us first aid and didn't check if we were injured or not.

After about half an hour or an hour, each one of us was interrogated by phone by someone identifying as the head of intelligence in the West Bank. He asked for our names, where we live, where we were going and why. That happened three times. About an hour later, two people in civilian clothes arrived, one of them masked. The other one interrogated us separately about the same things. We were very cold and frightened. They wouldn't even let us call our parents to explain what had happened, even though we asked them.
Ahmad Abu Sambal , the owner of the garage where Seif-a-Din 'Awawdeh works, happened to pass by and saw the car and the teens by the roadside. He stopped a few hundred meters from the jeep and waited, since he was afraid to approach the scene. At around 11:00 P.M., after approaching until he was several dozen meters away, he recognized the car as the same kind Seif-a-Din drove, and at the same moment received a call from Seif-a-Din's father asking if he knew where his son was. At that point, Abu Sambal realized that Seif a-Din was there and went over to the soldiers.
In a testimony he gave on 22 February 2020, Abu Sambal, a married father of one from Beitin, related:
Ahmad Abu Sambal. Photo by Iyad Hadad, B'Tselem, 22 Feb. 2020

"I got out of the car and went up to the soldiers to see if my employee was there. The soldiers signaled me from afar to go back, but I lifted my shirt and raised my hands in the air, so they wouldn't suspect me. I told them, "That's my car and I want to speak to the commanding officer". Two soldiers walked towards me with their weapons drawn, while a third went to speak with the commander. The commander, who was standing by the wrecked car, agreed to talk with me. I approached him and saw three teens sitting by the road about two meters away from each other, with soldiers guarding them.

I saw Seif-a-Din and as I walked past him, asked how he was doing. He said, "They beat me", but we couldn't talk more. He also told me one of the boys, whom I didn't know (Muhammad Sarma), had been injured.

The bullet holes in Muhammad Sarma's seat. Photo by Iyad Hadad, B'Tselem, 22 Feb. 2020

I introduced myself to the commanding officer, who identified himself as the intelligence officer for the area, and explained to him that it was my car and that Seif works for me. I told him Seif must have been frightened of the military vehicle, tried to avoid it and hit a boulder. I got the impression the officer understood me. I asked him to let the kids go home. He said "O.K., But I want to meet with you on Monday morning, 10:00 A.M., at Ofer military prison". After I got the keys and saw Seif drive away with the other kids, I could finally relax. I went back to my car and left."

The next day, around 1:00 P.M., I called Seif and asked him to bring the car. When he arrived, I was shocked, because I hadn't seen him well the other night. His whole face was swollen, with blue marks on his forehead and around his left eye. I also checked the car and noticed signs of shooting, five or six bullet holes on the right side of the backseat. If you saw it you wouldn't believe the people sitting there came out alive. There were some more bullet holes in the trunk."
Mahmoud 'Awawdeh further recalled in his testimony:
Mahmoud 'Awawdeh's injury. Photo by Iyad Hadad, B'Tselem, 22 Feb. 2020

"After Seif-a-Din's employer stepped in and they released us, we went home. The next day, I went to the medical clinic in the village. They told me I had been lightly injured and disinfected the wound. When I met Seif-a-Din, he had some wounds and minor bruises on his face, near his left eye and on his forehead and head. Muhammad's parents told me his situation is still critical and that he's hospitalized in Israel".
Muhammad Sarma underwent surgery at Shaare Zedek Hospital in Jerusalem, where his family visited him. On 12 March 2020, he was moved to al-Istishari Hospital in Ramallah. As of 26 March he is still hospitalized there.
Immediately after the incident, the military claimed in media reports that soldiers who had set up a roadblock in the Beitin area opened fire at a Palestinian, as they feared he was about to commit a car-ramming attack after he accelerated towards them.
The military's conduct in this case was reckless from the start: first the shooting and wounding of Sarma, then the beatings, and finally the detention of the teens for two hours on fake allegations without notifying their parents. The false claim of fearing a car-ramming attack, which allegedly justified the shooting, is baseless and contradicts the evidence: the car was shot from behind and the teens were released the same night. Furthermore, the following day, the military and the Israel Security Agency no longer designated any of them as suspects in a car-ramming attack.
However, this incident is no exception. It demonstrates, yet again, how easy it is for soldiers to shoot Palestinians (in this case, 15-year-olds), and then justify their action with false claims. The entire military chain of command then quickly adopts these allegations as official statements. It is pure chance that the incident did not end with the killing of one or more of the teens. Even if the outcome were worse, as it is in most cases, the military would have whitewashed the case and held no one accountable.
One has to wonder about all the incidents in which no Palestinian witnesses were left alive to describe what happened. All those instances in which the military was quick to declare a "car-ramming attack" and boasted of "taking out a terrorist". Without witnesses, it is obviously harder to disprove the military's version. The incident in Deir Dobwan not only sheds light on the reckless, life-threatening conduct of the soldiers in this case, but raises questions about other incidents – which are unlikely to ever be answered.