Wadi Yasul is a Palestinian neighborhood in East Jerusalem. It is located between the neighborhoods of Abu Tur and Silwan and is adjacent to the Peace Forest. According to OCHA figures, close to 500 people live in the neighborhood. The Jerusalem Municipality issued demolition orders for all the neighborhood homes so all the families there are facing the threat of expulsion. In late April, the city already demolished two of the houses and displaced two of the families.
The residents of Wadi Yasul built it adjacent to a forest, also located on privately owned land that was expropriated from its Palestinian owners in 1970. In 1977, the Jerusalem Municipality zoned the forest and the area where Wadi Yasul was later established as a green space, where construction is prohibited.
In 2004, the neighborhood's residents submitted a detailed plan to the District Planning and Building Committee for retroactive authorization of their homes. The committee rejected the plan in 2008, citing incompatibility with the Jerusalem 2000 Outline Plan, which states that the area where the neighborhood was built must remain a green space.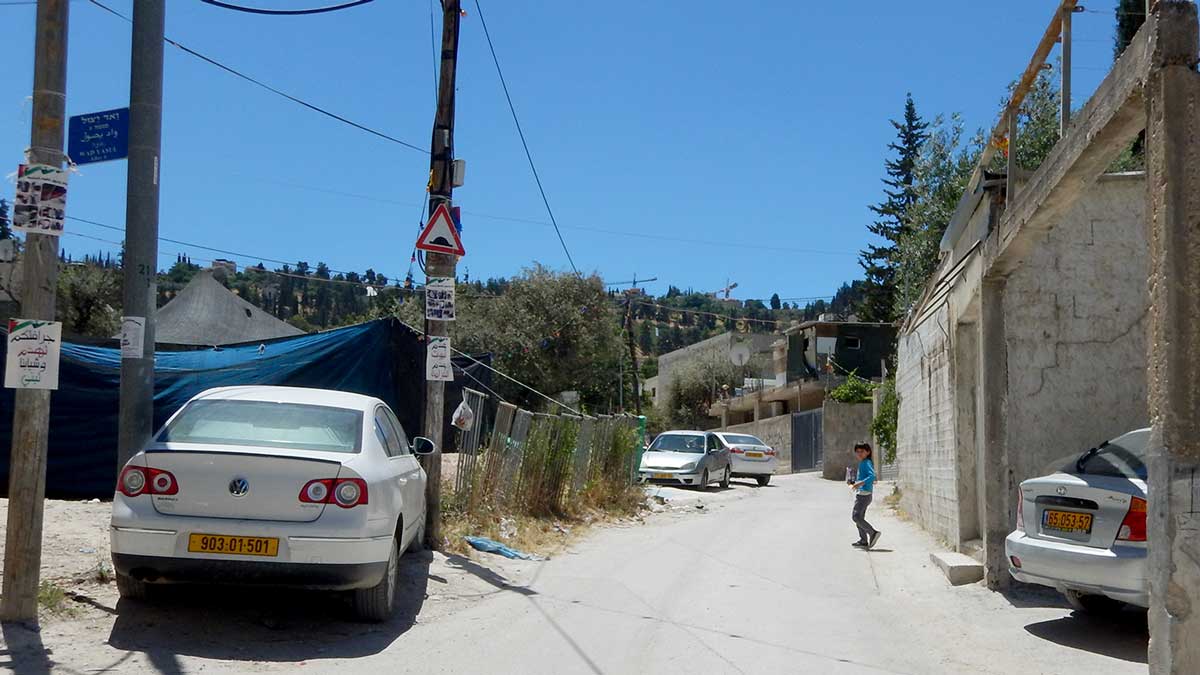 At the same time, the municipality and the JNF (Jewish National Fund) – the body in charge of managing the forest – gave their approval to settler organization El-Ad to move forward with plans for group campgrounds, including building the longest recreational zipline in Israel. Some of the facilities have already been built in the forest, without building permits. While the city did issue demolition orders against them, it has refrained from following through.
In contrast, over the last decade, the city has filed indictments with the Court of Local Affairs against all Wadi Yasul homeowners. The court then issued demolition orders for all of the homes and imposed heavy fines, fining each family tens of thousands of shekels. Three of the families appealed these decisions with the District Court. The appeals were dismissed in April on the grounds that "there are no clear and near planning prospects" for the approval of a plan that would see the appellants' homes, or other homes in the neighborhood, approved. An appeal the families filed with the Supreme Court was also rejected. In late April, 47 other families filed a motion with the District Court seeking an interim injunction staying execution of the demolition orders. The court's decision is still pending. Consequently, all of the homes in the neighborhood are still under immediate threat of demolition.
Ever since 1967, planning policy in Jerusalem has been geared toward establishing and maintaining a Jewish demographic majority in the city. Under this policy, it is nearly impossible to obtain a building permit in Palestinian neighborhoods. The outline plans the city has prepared for these neighborhoods are largely aimed at restricting and limiting building opportunities in Palestinian neighborhoods. One way the plans do so is by designating vast areas as open green spaces, thereby barring Palestinians from building there. The resulting housing shortage forces Palestinian residents to build without permits. At the turn of the millennium, the city estimated that about 20,000 housing units had been built without a permit in East Jerusalem. This estimate was made before the Separation Barrier cut off Kafr Aqab and Shu'fat Refugee Camp from the city. Since that time, many high-rises have been built in those areas.
The justices who heard the appeals that residents filed against the demolition orders issued for their homes chose to follow in the footsteps of all previous Israeli courts. They chose to ignore this policy which has been applied openly for more than fifty years. Instead, they focused solely on the question of whether or not the residents had building permits. District Court Judge Chana Miriam Lomp held that, "the residents have no one to blame but themselves," as they had chosen to build without a permit and did not wait for planning conditions to change. Supreme Court Justice Yosef Elron refused to consider the residents' arguments regarding planning discrimination and the fact that the Jerusalem Municipality deliberately avoids promoting a plan that would regulate construction in the area, saying they were not pertinent "to a criminal proceeding hearing."
On 30 April 2019, the city demolished two homes and two storehouses in Wadi Yasul, leaving 11 people, 7 of them minors, homeless.
The home of Anas Burqan, one of the neighborhood's first residents, was demolished by the city on 30 April 2019. During the demolition, police officers fired a sponge-tipped round at him – which did not penetrate his body – beat him and arrested him. Burqan, 31, a construction worker, is married and has four children, aged one to nine. He spoke about the demolition in a testimony he gave B'Tselem field researcher 'Amer 'Aruri on 8 May 2019:
Anas Burqan. Photo by 'Amer 'Aruri, B'Tselem, 5 June 2019

My family is originally from the Old City. My father built the house in Wadi Yasul in 1992. It had two rooms, a bathroom and a kitchen, and a corrugated metal roof. He built it on a plot of about 2.5 dunams [1 dunam = 1,000 square meters] he had bought. My father kept bees as a hobby, so he wanted to move to Wadi Yasul, where he could get fresh air and get away from the overcrowding in the city, enjoy the scenery and hear the birds chirp. In 1996, my brother Qusai built another home, next to the one my father built.

In the 1990s, there weren't any other houses nearby, and people made fun of us for choosing to live in an isolated area that had no running water or electricity. But my father, who worked for the city as a street cleaner, managed to hook up the house to water and electricity, thanks to his contacts there. City officials told him he shouldn't be concerned because the homes there were not causing any damage or compromising city projects.

After 1997, more people started moving into the neighborhood. As early as 1998, we tried promoting an outline plan for the neighborhood, so we could hook all the homes up to water, electricity and phone lines. The municipality refused to cooperate with us and rejected all our proposals, claiming the area was supposed to be a green zone.

When I got married in 2009, I stayed in this house with my wife and my parents. My siblings moved to Abu Tur.

In 2013, demolition orders were served to all the homeowners in the neighborhood, including me and Qusai. A city official called my brother and me in for a meeting where he said: "Any security-related incident connected to a neighborhood resident will speed the demolition of neighborhood homes." We hired a lawyer who managed to delay the execution of the demolition orders for two years. In 2015, we got fines – I was fined 50,000 shekels and my brother 55,000. We're still paying off the fines in installments of 500 shekels a month.

In late 2018, our lawyer told us proceedings with the city had reached a dead end. In March 2019, the District Court dismissed the appeal my brother and I had filed against the demolition orders, and on 17 April 2019, the city demolished storage houses and huts belonging to our neighbors, but not the homes themselves. My brother and I realized that the moment of truth had come and that our houses would soon be demolished. Our families then lived in a state of fear and anxiety. We couldn't enjoy anything we ate. We couldn't sleep. We were in a state of despair and hopelessness.

The day before Passover, a police car arrived and the officers gave my wife and my brother's wife the demolition orders. Our lawyer said the demolition wouldn't be carried out during Passover, nor – God willing – during the month of Ramadan that came just after it. My brother and I took turns keeping watch at night, because the bulldozers could come at any time of the day or night.

Ruins of the Burqan home. Photo by 'Amer 'Aruri, B'Tselem, 30 April 2019

In the meantime, my wife and I packed our clothes and other items in plastic bags, preparing for the bulldozers. We started looking for rentals and were shocked by prices outside of Silwan and Abu Tur. Places that could suit my family – large enough, with reasonable infrastructure and safe for the children, not on a major road – were available only in Beit Hanina, Shu'fat or Beit Safafa. Rent in these neighborhoods is easily 1,000 dollars a month. Silwan and Abu Tur don't have large apartments that are safe and suitable for children. Even if I did find a suitable place in Silwan, the landlord would likely not want to rent to us because we have four children and people don't want noise.

Once Passover was over, we got very tense. On 30 April 2019, I kept watch until 4:00 A.M., and then went to bed. Two hours later, my brother Mahdi woke me up and said [Israeli] police forces were on the move around the neighborhood and that he could hear a bulldozer. I woke up my wife and children right away. Everyone was in shock. They started crying when I told them our house was about to be demolished.

My brothers and I started moving things out of the two houses and called friends and relatives to come help us take out the furniture. I was in the bedroom, disassembling furniture with a screwdriver, when a special police force commander came in and said: "Good morning. We've come to demolish the house." I answered: "It's a shitty morning," and went back to work with my back to him. Just then, I heard a something that sounded like a shot and felt a hard object hit me in the waist on my left side. I think that the commander, or the police officer who was with him shot me (with a sponge-tipped round).

I fell to the floor, writhing in pain. While I was lying there, armed police forces attacked me. They dragged me outside the house and beat me all over with the butts of their guns. They did in full view of my wife and children and all my relatives and friends. I felt a heavy blow above my right eye. The beating lasted about five minutes. They stepped on my head, hard, and also kicked my backside hard.

I heard members of the police forces arguing among themselves and saying: "Should we take him to the patrol car or leave him here to watch his house getting demolished?" In the end, they took me to the Oz Police Station in Jabal al-Mukabber with my hands tied in front with cable ties. I thought about my wife and children. I knew the demolition was coming, but the beating and the humiliation in front of my whole family was not something I anticipated. I tried to keep calm so they would release me and I could go back to my family. The interrogator accused me of attempting to assault a police officer with a sharp object, a screwdriver. I said: "I was using a screwdriver to take apart the bedroom furniture. The officer is the one who invaded my house and shot me with a sponge-tipped round." After the interrogation, I was transferred to the detention facility at the Russian Compound police station.

I was taken to someone who was a nurse or a doctor, I don't know which. He took pictures of the bruises on my body and gave me paracetamol [over-the-counter pain reliever]. Then, they took me to a detention cell. I was preoccupied with the pain and with thoughts about my wife and children: Where are they now? Where are they going to spend their first night away from home? I was deeply depressed, so I wouldn't eat and I just drank water.

Very early the next morning, I was taken from the detention cell to the Magistrates Court. The District Attorney's Office asked to remand me for five days, but the judge decided to remand me only until Friday. I went back to the Russian Compound feeling sad and miserable. I demanded to see a doctor, and they took me back to the room with the man who I don't know whether he was a nurse or a doctor. He gave me paracetamol and then I fainted and collapsed on the floor because I hadn't eaten anything since I was arrested. I woke up in the same room, hooked up to an IV drip. The next day, at 7:15 P.M., they took me to court. I saw my daughter Butul there. She ran to me, and the judge yelled: "How can you let the child come in and see her father with his hands and feet in restraints?" I said to the judge: "She saw me being beaten, and our house demolished. Seeing me like this is not what's going to scar and traumatize her."

On 2 May 2019, Magistrates Court Judge Elazar Bialin dismissed the motion made by the police to remand Anas Burqan to custody for five more days and remove him to Anata for two weeks. The judge ordered his release on bail and sent him to house arrest at the home of his brother Mahdi in Abu Tur until 6 May 2019. During the demolition of Anas Burqan's home, all the furniture owned by the family was destroyed. Anas's family and his brother Qusai's family rented apartments in the Abu Tur neighborhood.
Suhayb Burqan, 20, Anas Burqan's brother, was at the home during the assault. He spoke about it in a testimony he gave B'Tselem field researcher 'Amer 'Aruri on 8 May 2019:
On the night of the demolition, I was also at Anas's home and I started moving things outside. While Anas was taking apart furniture in the bedroom with a screwdriver, two police officers in black uniforms came in. One of them said good morning to us, and then said the house was going to be demolished today. Anas answered: "It's a shitty morning". Then Anas turned around and continued taking the furniture apart, with his back to the two officers. Then, while I was carrying things out of the house, I saw one of the special forces men fire a single sponge-tipped round at Anas from close range - without Anas even going near him. I heard Anas screaming, saying: "I've been shot!".

Then dozens of special forces stormed the house. They assaulted Anas. They beat him and kicked his arms and legs. They beat him with the butts of their guns too. Then they took him out of the house. They had everyone leave the house and go out into the yard. Anyone who wouldn't leave was beaten. I tried to shield my head with my left arm, and then they hit it with the butt of a gun.

I saw Anas getting beaten and two other guys who were bleeding. The got everyone away from the house to make way for the bulldozer to come in and demolish it. At that point, an ambulance came and took me to al-Maqassed Hospital. They treated my arm and bandaged it. Then we went back to the neighborhood. The bulldozers had gone.