At about 1:30 A.M. on Thursday, 9 August 2018, the Israeli air force dropped a guided bomb on a home in the al-Ja'frawi neighborhood, which lies on the southeastern outskirts of the Gazan town of Deir al-Balah. The strike was part of a massive exchange of fire between Israel and armed operatives in Gaza. The latter fired rockets at communities within Israel and injured 23 people, one of them seriously. The bomb, which did not explode, went through the roof of a house rented by Muhammad and Inas Abu Khamash and into their living room. The bomb killed Inas, 22, an education student who was nine months pregnant, and Bayan, the couple's one-year and 10-month-old daughter. Muhammad, an officer with the Hamas government police force, was injured by shrapnel and taken to Shuhadaa al-Aqsa Hospital in Deir al-Balah, where he was also found to have a fractured left ankle. Bits of the bomb went through the eastern wall of the home, hit the wall of a mosque that lies a few meters away and exited through the roof.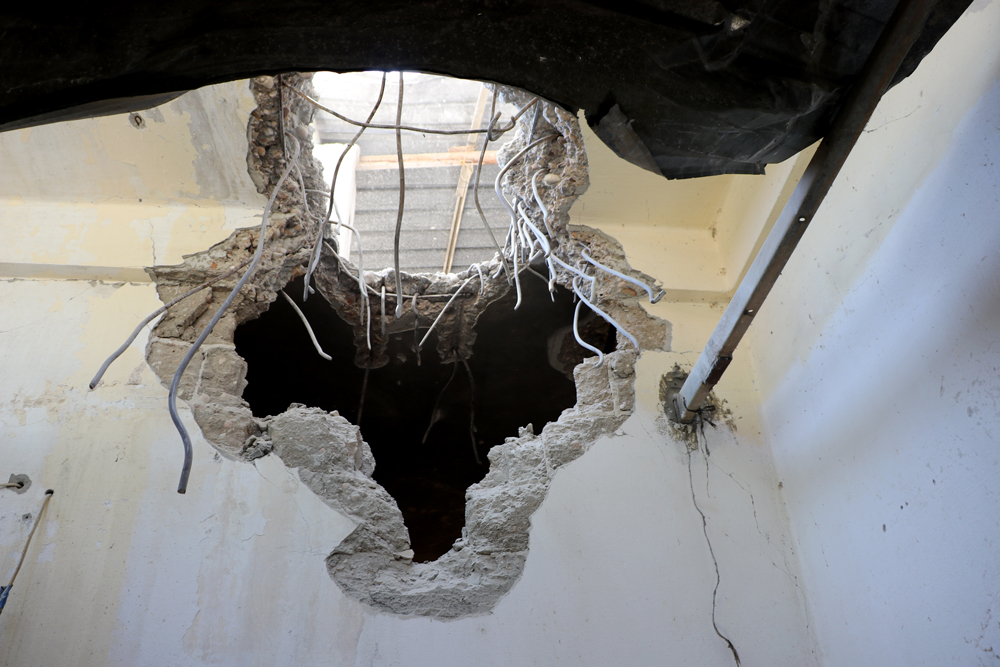 Muhammad described that night in a testimony he gave B'Tselem field researcher Khaled al-'Azayzeh on 13 August 2018:
Muhammad Abu Khamash with his daughter Bayan. Photo courtesy of the family

I attended late evening prayers at a-Taqwa wal-Ayman Mosque opposite my house. Then I went home. I sat with my wife and then we put our baby daughter Bayan to sleep on her mattress on the living room floor, at the entrance to the house. Because of the heat and the power cuts, we usually sleep in the living room, where there's more air. I turned the radio on to listen to the news because of the fighting. My wife asked me to turn it off and I did. I lay down next to her and Bayan and we fell asleep.

I woke up in Shuhadaa al-Aqsa Hospital. I was told that at about 1:30 A.M., a bomb or a large missile fired from a fighter plane had landed on my house, gone through the ceiling and fallen right on top of us. The neighbors told me that I was reciting verses from the Quran and praying while I was almost passed out.

It was only the next morning (Saturday, 11 August), when my brother Kamal came to see me, that he told me about Inas and Bayan. He tried to prepare me for the news by reminding me that our brother Mukhtar was killed in the Return Protests on 14 May 2018. Then he told me that my wife and daughter had fallen as martyrs. I told him he was wrong. But then my uncle arrived and told me the same thing. I was shocked, because I'd gone to sleep with my family and woken up in hospital. I hadn't even felt the bomb, so it was hard to believe it had happened.

I'm still in shock and feel like I'm living in a nightmare. I can't believe this happened. My wife Inas was studying to be an elementary school teacher at Al-Azhar University in Gaza City. She was in her fourth year and had only two semesters left. Bayan was a bright, mischievous girl and very attached to me. She used to wait for me behind the door when I went to pray at the mosque and peek out to surprise me when I came back. When she woke up at night, she'd call for me by my name: "Muhammad, Muhammad!" She loved going together to my sister, who lives near us, and playing with her cousins.

I graduated from a police academy in Sudan. I came back to Gaza after the 2014 war. I never imagined that the occupation would hit my own home. I was asleep with my family and could never have imagined we'd be a target for anyone. I was waiting for the new baby. I was going to call her Rozan. My wife had already made a list of things we needed to get before the baby was born – clothes and other stuff. I'd gotten it all ready for the baby and for my wife, but everything vanished in a second. I lost my whole family, for no reason whatsoever.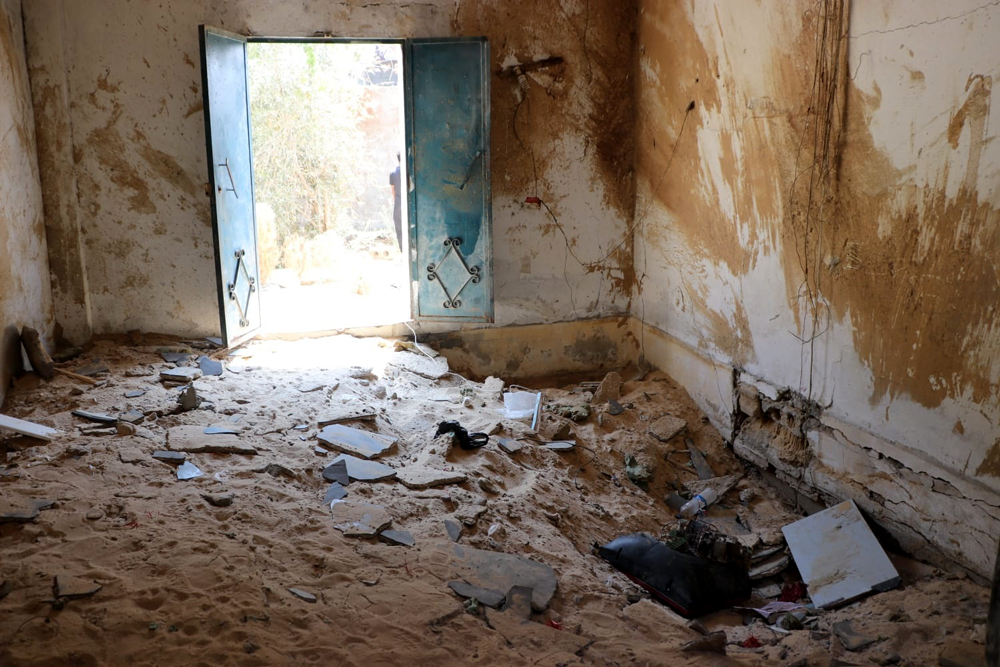 K. M., 53, married with eight children, lives nearby. In a testimony he gave B'Tselem field researcher Khaled al-'Azayzeh on 13 August 2018, he related:
At 1:30 A.M. on Thursday, 9 August 2018, I was woken by the sound of thudding and crashing coming from the direction of the mosque. I went out to the street and saw water flowing down to the road from the roof of the mosque. Some neighbors had gathered nearby. One of them climbed up and closed the faucets on the roof. I asked people to go home because the security situation was dangerous. That night there were exchanges of rocket and missile fire between the resistance and the occupation army.

On my way home, I passed by the gate of the mosque and the house that Muhammad Abu Khamash was renting. I heard someone calling for help inside the house. I shouted to the neighbors and to my sons and they joined me. My son A., 14, jumped over the door and opened it. I went inside and found Muhammad lying, bleeding, in a hole about one meter deep and two meters long in middle of the living room. I saw body parts on the walls. The power was out, so we used the lights on our phones. I stopped people from coming in and asked them to call an ambulance. About ten minutes later, two Red Crescent ambulances arrived. The paramedics drove Muhammad to Shuhadaa al-Aqsa Hospital. He was seriously injured. People asked him to recite the "shahadatain" prayer and he did. He was half passed-out.

The bodies of Inas and Bayan were dismembered and crushed. My wife helped the paramedics gather the body parts. The furniture was also shattered. There was a hole in the ceiling, on the western side, about 80 to 100 centimeters wide. The bomb wasn't there. I learned later that after it hit the house, it went through the eastern wall and hit the roof of the mosque.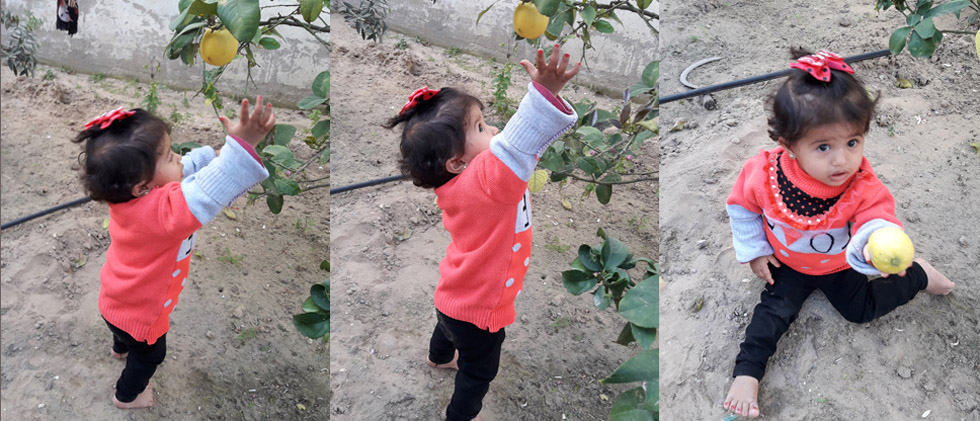 Israel did not even bother to explain why the bomb was dropped, so it is not clear what the target was – whether it was the Abu Khamash house or something else. The only thing that is clear is the result: a woman about to give birth and her less than two-year-old daughter were killed.
Firing missiles and dropping bombs into densely-populated areas such as the Gaza Strip endangers civilians by definition. This is not hypothetical. Israel, which prides itself on sophisticated technology and intelligence, has killed thousands of civilians in the Gaza Strip with airstrikes, including hundreds of children. In Operation Protective Edge alone, at least 1,055 Palestinians who were not involved in the fighting were killed by airstrikes – almost half of all the Palestinians killed during the fighting – including 405 children and 229 women. Israel kept this policy up for weeks, bombing home after home, family after family, despite the predictable outcomes.
Israel insists that this policy is legal and justifiable. Accordingly, no-one has ever been held accountable for the lethal outcome, and the policy is still backed by the senior levels of government and military. Yet no legalistic maneuvering can whitewash a policy with such horrifying, foreseeable consequences.