On 6 December 2017, in the early hours of the morning, I was with Muhammad in the surgical ward at the European Hospital. At 2:00 A.M., he stopped breathing. Even though I knew how badly he was doing, and that he wouldn't last much longer, it was hard to accept his death. I loved him so much
This is how Saleh Abu Hadaf, 40, described the death of his nine-year-old son, Muhammad, who was wounded in an Israeli missile attack during Operation Protective Edge, in Gaza on 8 August 2014. His testimony was given to B'Tselem field-researcher Khaled al-'Azayzeh on 10 December 2017.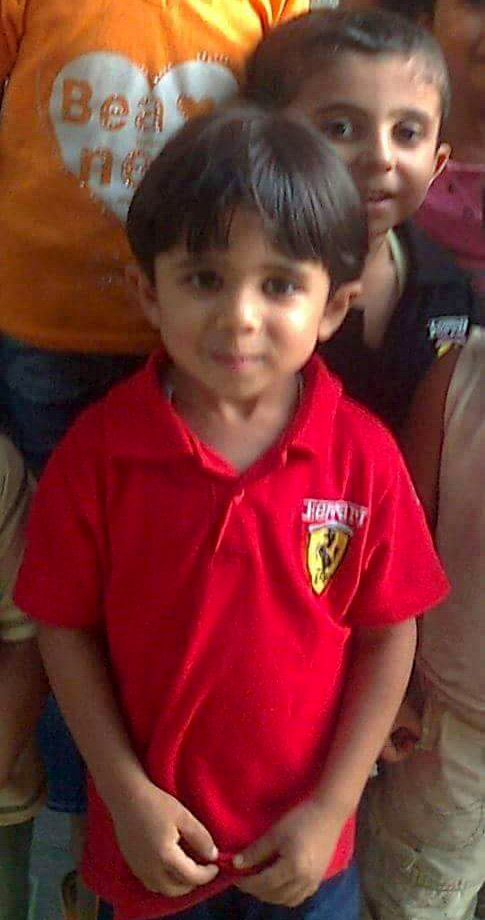 When the military operation began, the Abu Hadaf family – parents Saleh and Nisrin, then 35 and 37, and their five children between the ages of three and eight – left their home in al-Qararah, north of Khan Yunis, and moved to Saleh's sister's house in Khan Yunis. A few days later, the military bombed the family's home in al-Qararah.
On 8 August 2014, when a ceasefire was in effect, the parents and their children returned home to pick up some items that had survived the bombing. In the afternoon, while they were at the entrance to the ruins of their home, the military fired two missiles that landed near it. The missiles were presumably targeted at three members of the larger Abu Hadaf family, who were standing at their own doorstep nearby and were not taking part in the fighting. The three, aged 8, 15 and 19, were killed. Saleh and Nisrin Abu Hadaf and four of their children were injured and taken to hospital in Khan Yunis. Muhammad, who was 6 at the time, was wounded in the abdomen and spine. While the doctors operated on him, he had to be resuscitated and suffered lack of oxygen to the brain. He was transferred to the European Hospital in Rafah, where he remained for 15 days. During that time, it was found that his legs had been paralyzed.
Muhammad flew to Turkey with his aunt for further treatment. About two weeks later, he was joined by his brother, 'Ayash, who was then 5 and had been partially paralyzed in the bombing, and his father, Saleh. Several months later, the family returned to their home in al-Qararah, which Saleh had partly rebuilt it with steel rods, asbestos and stiff fabric.
In early December 2014, Muhammad was hospitalized again, in Gaza.
Nisrin Abu Hadaf described the treatments her son underwent and her own feelings in those days, in a testimony she gave to B'Tselem field-researcher Olfat al-Kurd on 10 December 2017:
When Muhammad was being treated in Turkey, I can't describe how terrible I felt. I was wounded and so were my sons. On top of that, Muhammad was far away and I didn't know exactly how he was doing. I only got updates on the phone. My sons needed me, but I was physically and emotionally exhausted. Muhammad was given physiotherapy in Turkey, as well as medicine and injections. When he came back to Gaza, he was admitted to the European Hospital again. He was partially paralyzed and couldn't walk. He had to use a wheelchair. Most of the time he just lay on his back, hooked up to a respirator through the throat. After that, he was transferred to the Red Crescent hospital in Khan Yunis for physiotherapy, but it didn't help. He stayed paralyzed. When he was there, they gave him an abdominal feeding tube instead of the nasal one he'd been fed through ever since the injury, but after they put it in he started vomiting and got worse.
In 2015, Muhammad was transferred to Hadassah Ein Karem Hospital in Jerusalem, where he underwent surgery in his stomach and throat. He stayed there for about 40 days before returning home to al-Qararah. While at home, Muhammad lost his eyesight and the ability to speak and move. An added worry was now the financial burden of routine care, which cost up to 800 ILS a week (approx.. 230 USD), on top of other expenses such as a wheelchair, an abdominal feeding device and a private nurse to care for him when he was readmitted to hospital.
In his testimony, Saleh recalled that period:
Saleh Abu Hadaf

I took Muhammad to several hospitals in Gaza and to several doctors. He was lifeless, not moving, just breathing. He couldn't see or speak. He was admitted to the Red Crescent hospital, and I paid 1,000 ILS [approx. 290 USD] for a private nurse to care for him. I bought him a wheelchair for 2,000 ILS . I managed to get an adjustable bed, an air mattress, a suction device and inhalation equipment for free with the help of the a-Salameh charity in Khan Yunis, but over the years we've spent huge amounts on transferring him between hospitals and on his medication.

I worked on and off and spent everything I earned on Muhammad. My father, my sister and my brothers gave me money, but they're all clerks and they don't have a lot to give. Sometimes I got help from my wife's family and from friends, too. The situation hurt everyone in the family because we had to be very frugal.
All those years we lived in a wrecked house, without real walls, windows or doors. It was very hot in the summer. In the winter, water came in through the ceiling because the asbestos had holes.
In October 2017, the family managed to move to a new home in al-Qararah, which they built with the help of Nisrin's family and a grant from UNRWA. Muhammad underwent more tests on 2 November 2017 and was hospitalized at the European Hospital near Rafah due to abdominal edema. He had two unsuccessful surgeries. On 6 December 2017, Muhammad passed away at the hospital.
His mother said:
Muhammad's condition remained serious the whole time, until we lost him on Wednesday at two in the morning. My husband was with him. I was nine months pregnant and couldn't be there. When Muhammad passed away, my husband was afraid to tell me. He was worried about how I would react. I found out that morning, at seven o'clock, from my mother, brother and sister. When I heard, I couldn't control myself. I cried and screamed for my son. Those were hard moments. I lost my son Muhammad. It was decided by Allah. Then I praised Allah and prayed for God to have mercy on him and forgive him.
Bombing and shelling densely populated areas was one of the most horrifying aspects of Israel's conduct in what Israel called Operation Protective Edge. This policy led to the killing of at least 1,055 Palestinians – almost half of those killed in the operation – of which 405 were children and 229 were women. Despite the outcome, Israel insisted that the policy was lawful. This claim which is entirely unfounded, as it is based on an unreasonable interpretation of what can be considered a "legitimate target", a complete subversion of the principle of proportionality, and instrumental application of the requirement for precautions. It overtly disregards of the deadly outcomes of this policy, including the killing of entire families. Israel persisted in this policy for weeks, home after home, family after family. According to estimates by UN agencies operating in the Gaza Strip, some 18,000 houses were destroyed or badly damaged and more than 100,000 Palestinians left homeless as a result of this indiscriminate firing. According to figures released by OCHA, 29,000 of these people were still homeless three years later , at the end of August 2017.
In addition, more than 11,200 Palestinians were wounded during Operation Protective Edge, including more than 3,400 children and 3,500 women. Most of the wounded persons had to make do with the deficient medical services available in Gaza and to pay for many of the treatments themselves, without compensation from Israel for the damage it caused.
Muhammad Abu Hadaf is a victim of this policy. He was six years old when the military fired a missile at a house neighboring his own ruined home. For three years, his family and doctors fought for his life, as he was transferred from one hospital to the next – in Gaza, Turkey and Israel – paralyzed, blind and unable to speak. On 6 December 2017, Muhammad Abu Hadaf died of his wounds at the European Hospital in Rafah. He was nine years old.