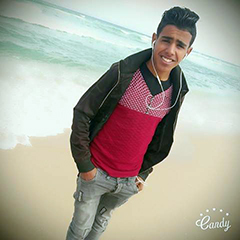 On the evening of 21 March 2017, at around 9:00 P.M., three Gaza residents - Yusef Abu 'Athrah, 15, and Muhammad al-'Aker, 24, who both live in Rafah Refugee Camp, and 'Abdallah a-Rikhawi, 29, who lives in the city of Rafah - set out for land that belongs to Abu 'Athrah's family in a-Shokah, east of the city of Rafah. The land lies some 300 to 400 meters from the fence between Gaza and Israel. Relying on Abu 'Athrah's familiarity with area, the three Palestinians were planning to walk from his family's plot to the fence in order to cross into Israel to seek work.
At around 10:00 P.M. they reached the Abu 'Athrah plot, gathered wood for a campfire, and started preparing supper. About two hours later, around midnight, while their food was cooking, the military fired a tank shell at them.

In testimony he gave to B'Tselem field researcher Muhammad Sa'id on 22 March 2017, 'Abdallah a-Rikhawi described what happened:
We were sitting on the ground by the campfire. Suddenly I heard a loud explosion nearby and saw thick smoke rising a few meters away from us. I immediately jumped up and ran away, and saw my friends running in different directions. I ran a few meters when I heard another explosion very close to me. I lay down flat on the ground and saw smoke several meters away. Because of the smoke and the dark, I couldn't see anything. I didn't know where my friends were. I called out to them a few times, to know if they were all right, but they didn't answer.
I started crawling to get away from there. I was terrified. As I was crawling, I heard more explosions, coming one after another in quick succession. I got up and started running blindly without seeing where I was going. I'd never been in the area before and was completely unfamiliar with it. I kept running through the fields until I was about 700 meters away. I could still hear explosions.
The shells fired killed Yusef Abu 'Athrah when he was about 300 to 400 meters away from the fence. Muhammad al-'Aker was hit by shrapnel in the abdomen and both legs.
In testimony he gave to B'Tselem field worker Muhammad Sa'id on 23 March 2017, Muhammad al-'Aker described the moments after the shelling began:
I heard a loud explosion very close to us and felt sand and gravel flying around me. I started running and my friends did too, each one in a different direction. The explosions continued around us. The military also fired a lot of flares.

I kept running as fast as I could through the fields. It was very dark and I fell over several times, but I was so scared that I just got up and kept running. I had no idea where my friends had gone and couldn't hear either of them. I just kept running to get away from there, while the explosions continued.

The explosions went on for about half an hour. When I was some distance away from the border, I sat down on the ground to rest. My chest and stomach hurt badly and I saw that my left hand and left leg were bleeding. I stayed put and heard drones flying above me. A short while later, I heard an ambulance driving through the farmland nearby. I called out for help and the ambulance stopped near me. Two paramedics came over and helped me into it. In the ambulance I saw a body wrapped in a plastic bag. When one of the paramedics asked me what had happened, I told him we had been bombed and that I didn't know where my friends are. He opened up the plastic bag and asked if I could identify the body. I saw Yusef Abu 'Athrah lying inside the bag, covered in blood.
Al-'Aker was taken to a-Najar Hospital in Rafah, where he received initial treatment. He was then transferred to the European Gaza Hospital in Khan Yunis, where he underwent surgery and was hospitalized for four days. A-Rikhawi made his way back to Rafah on foot. He went to a-Najar Hospital, where he learned that Abu 'Athrah had been killed and al-'Aker injured. He then returned home. In his testimony, he explained why he had decided to try and cross the fence into Israel:
I've been out of work for years. I looked for work for a long time, any job at all, to provide for my children, but I couldn't find anything because Gaza's economy is in very bad shape. Over time, my financial situation grew worse so I couldn't even buy food for my kids. I racked up large debts to the grocery stores and other various shops. That's why I thought I'd try to sneak across the border into Israel, so I could work there, even though I knew I might die along the way. But I didn't expect to be shot at before we even reached the fence. We thought we were safe on the farmland where we were sitting when we were shot.
The Israeli media reported that "according to the IDF, the three young men were identified as doing something on the ground in an area covered in vegetation, and were suspected of trying to plant an explosive device on the fence. In response, IDF tanks fired several shells at them. The IDF is now examining whether they were indeed terrorists who were planning to carry out an attack."
The military's response, as quoted by the media, attests to a 'shoot first and ask questions later' policy. B'Tselem's investigation found that the two men and the teen had been several hundred meters away from the fence and were in no way attempting to plant an explosive device. The military opened fire on them although they posed no danger, and with no reason to suspect otherwise except their actual presence in the area. Clearly, that is not enough to justify shelling people and the military's action was unwarranted and exaggerated.
For decades, B'Tselem referred such incidents to the military law enforcement system in order to promote real accountability for the killing of Palestinians – to no avail. In many cases, no investigation was opened; yet even when investigations were carried out, they invariably ended in some form of cover up. Consequently, B'Tselem decided to stop applying to the MAG Corps to demand that incidents in which Palestinians were harmed by soldiers be investigated. Nevertheless, B'Tselem continues to promote accountability in other ways, which is why we investigate incidents independently and publish our findings. That said, the responsibility for investigating and holding the persons responsible for these incidents accountable still lies with the military. However, as long as the MAG Corps upholds its whitewash policy, there is nothing to deter Israeli security forces from using lethal firepower against Palestinians who are not endangering them.