At about 5:00 P.M. on 18 November 2016, soldiers shot and killed 25-year-old Muhammad Abu Sa'ed of Nuseirat Refugee Camp from a distance of some 15 meters. He was shot during the weekly protest near the Gaza perimeter fence, to the east of al-Bureij R.C.
B'Tselem's inquiries show that, like every Friday, a demonstration began at about 12:30 P.M. by the perimeter fence, east of al-Bureij R.C. At that time, there were several dozen protesters; two military jeeps were on the other side of the fence, and some eight soldiers were standing on an earth embankment nearby. By 2:00 P.M. more protesters had arrived, bringing their total number to some 300-400. Some, who were standing approximately 20 meters from the perimeter fence, carried Palestinian and Fatah flags. At that point, another military jeep arrived and another ten or so soldiers (male and female) joined the troops already on the scene. Some of the soldiers stood on an earth embankment situated some 10 meters east of the perimeter fence.
Some of the demonstrators, who were a few meters from the perimeter fence, threw stones at the soldiers. According to eyewitness accounts, the soldiers fired live ammunition in the air and at demonstrators' legs, and also fired tear-gas canisters. At about 4:00 P.M., most of the demonstrators moved about 150 meters to the south. Most of the soldiers followed suit, moving to an earth embankment and an asphalt road located roughly 100-150 south of where they had been, at a point about 10 meters east of the perimeter fence. The protesters and soldiers were more exposed to one another in this new location. Some of the protesters continued to throw stones at the soldiers, and eyewitnesses said the soldiers threw several red and green smoke grenades as well as stun grenades, while also continuing to fire live ammunition into the air and at the demonstrators' legs.
Shortly after 4:30 P.M., Abu Sa'ed and a few other demonstrators crossed over the barbed wire fence on the ground. They then went through an opening that had been breached in the perimeter fence, and threw stones at the 20 or so soldiers who were standing at a distance of 10-15 meters from them, on the earth embankment and on the asphalt road. The soldiers were firing at them. On 8 December 2016, S.D., 27, a resident of al-Maghazi R.C., recounted to B'Tselem field researcher Khaled al-'Azayzeh what happened next:
While this was happening, a sniper there noticed us. He stood next to one of the jeeps, propped his rifle on the front of the jeep, and prepared to fire. The guys, including Abu Sa'ed, ran back into the Palestinian territory. I stayed on the asphalt on the Israeli side. Then I saw a solder running with something in his hand. He shook the object hard and then threw it toward me. The object landed near me on the asphalt and began to spin around itself. Colored smoke came out of it. The guys started shouting, calling to me to move away and go back to where they were. The smoke grenade let off a lot of thick smoke, and I could no longer see the soldiers. Actually I couldn't see anything. Meanwhile the heavy shooting continued and I was hit in my left hand..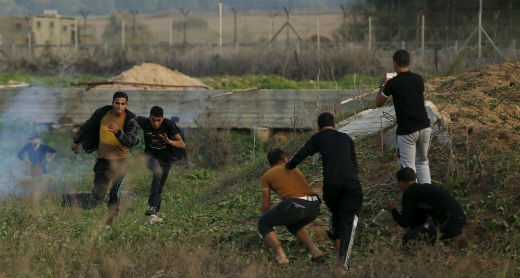 Palestinian protesters flee Israeli gunfire during protest near the Gaza Strip perimeter fence east of Gaza City. Photo by Mohammed Salem, Reuters, 20 Nov. 2015
Abu Sa'ed, who was standing by the opening in the fence, threw a large clod of earth at a female soldier who was standing a few meters away. It struck her in the shoulder. She moved back and hid behind a military jeep stationed close to the fence. The soldiers who were standing on the earth embankment began to fire live ammunition intensively. Abu Sa'ed was struck in the chest. On 20 November 2016, H.M., a 28-year-old resident of al-Maghazi R.C., described to B'Tselem field researcher Khaled al-'Azayzeh the events that immediately followed:
The soldiers who were standing on the earth embankment began heavily firing live ammunition. Abu Sa'ed was hit in the chest. He said to me, "I've been hit, I'm sorry." I was standing right next to him and said, "Are you kidding me?" He replied: "I'm serious." He took a few steps toward me and then fell down beside me and the other guys who were there. He said he couldn't breathe. I checked his body and found that his chest was bleeding. J. and I took off his clothes to see if he had any other injuries. We found a bleeding hole in his chest.
S.D. walked to an ambulance located about 300 meters west of the perimeter fence. Several protesters carried Abu Sa'ed to the ambulance, which took them to Shuhada al-Aqsa Hospital in Deir al-Balah. Abu Sa'ed was dead on arrival at hospital. S.D. was discharged from hospital after three days. Another protester was also injured during the demonstration after a tear-gas canister struck him in the head. He was treated at several hospitals in the Gaza Strip and then discharged.
B'Tselem's inquiry indicates that the soldiers, who were firing live ammunition intensively at the demonstrators, killed Abu Sa'ed and injured S.D. They did so notwithstanding the fact that neither of these individuals nor any of the other demonstrators posed any tangible threat. The incident also raises concern that the use of live ammunition – which intensified after Abu Sa'ed threw the clod of earth that hit a soldier – was undertaken by way of revenge for his action. Abu Sa'ed was killed close to the spot where 'Abd a-Rahman a-Dabagh had been killed on 9 September 2016. He is the twenty-first Palestinian to be killed in the Gaza Strip since demonstrations by the perimeter fence began in October 2015.
In the past, this type of incident would prompt B'Tselem to contact the military law enforcement system, demanding that it investigate and take steps against those responsible. However, about six months ago B'Tselem announced that it would no longer refer complaints to this system, which serves only as a whitewash mechanism and does not seek to uncover the truth or ensure justice. Naturally, B'Tselem's decision does not exempt the system of its obligation to perform its function and investigate all those responsible for this incident. However, experience has shown that even when an investigation is launched, the chance that it will lead to any meaningful outcome is extremely slim.