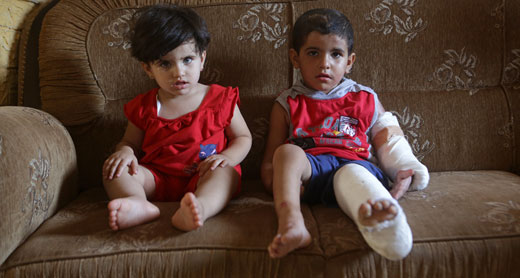 Survivors Jana (2) and Yamen (3) who lost their parents Ahmad and Sumaya Abu Jaber and their sisteer Hala in the attack. Photo: Anne Paq, Activestills.org, 10 Sept. 2014
On 29 July 2014, approximately half an hour after midnight, the air force bombed three houses in al-Bureij Refugee Camp, all of which belonged to the Abu Jaber family. One house was vacant, as its occupants had gone to one of the temporary shelters established in the Gaza Strip.
The bombing killed 17 members of the Abu Jaber family and two other people who had met that evening with a member of the Abu Jaber family.
'Omar 'Abd al-'Al, 55, a neighbor whose son Ahmad 'Abd al-'Al was killed in the attack, described what happened:
On Tuesday evening, 29 July 2014, I was at home with my children. It was 'Id al-Fitr holiday. During the war, there were air raids and artillery shelling in many parts of al-Bureij Refugee Camp. That day, the bombing was mostly in the northern part of the camp.

At about 11 P.M., Ahmad went out and I stayed home with the rest of the family. At 00:30 A.M., I heard an explosion that was so loud, I thought the bombing was aimed at my house. I went outside with my family. Our neighbors came out, too. We discovered that Hamdan Abu Jaber's house, which used to stand no more than 100 meters east of our house, didn't exist any more. It was completely destroyed.

* He gave his testimony to Khaled al-'Azayzeh on 1 September 2014.
One of the house bombed had been home to Hamdan and Fada Abu Jaber who lived with three of their sons, two of whom were married with children. One son had a one-year-old baby boy, and the other had three children ranging in age from a year and a half to four years old. During the fighting, Hamdan and Fada's three married daughters were also staying with them, having fled their homes in other parts of the Gaza Strip considered more dangerous.
The second house hit was home to Haniya Abu Jaber, a 65-year-old widow, her daughter, her son, his wife, and their two daughters – who were 1 and 3 years old. Haniya alone survived the bombing. She described what happened that night to B'Tselem's field researcher:
That night, there was a lot of bombing in different parts of al-Bureij Refugee Camp. At sunset, my son Anwar went out and bought us dinner, and we all ate it together – me, my daughter Anwaar, my son Anwar, his wife Lina, and their two baby girls, Lin and Salma. It was the 'Id al-Fitr holiday and we were celebrating it together. Then Anwar and Lina went up to their apartment and the girls stayed downstairs with Anwaar and me.

About half an hour after midnight, the power went out and then, suddenly, the whole house collapsed on top of us. I heard no explosion. I lost consciousness. I woke up the next day in Shuhadaa al-Aqsa hospital in Deir al-Balah. My left leg was badly injured and I had a big wound on my head. When I woke up, I started shouting and asking about my children. My nephew 'Adnan was with me. After I pressed him, he told me they had all been killed: my daughter, my son, his wife, and their little girls. The next day, my niece visited me and told me about all the other members of the family who had been killed.

I was in hospital for three days. I was a wreck, physically and mentally. I lost my entire family and my home. I'm now living next to its ruins, in my brother Mahmoud's house.

They bombed our homes without any warning. They didn't phone us the way they did with other people. They didn't fire a warning missile or inform the neighbors. My son Anwar was my provider. Now I'm alone, an old, wounded woman. I lost everything. I don't know how I'll carry on living.

* She gave her testimony to Khaled al-'Azayzeh on 1 September 2014.
Nihad Abu Jaber, 45, a relative who lived next door to the bombed houses, also told B'Tselem how events unfolded that night:
On Tuesday, 29 July 2014, I went to sleep. Suddenly, I heard a very loud explosion. I woke up in a fright. The house was full of dust and smoke, and the power was out. I started fumbling around in the dark. I managed to get out of the room and found the rubble. I understood the explosion had occurred inside our house. I went into the room my mother and sister shared. Using a flashlight, I found them both under the wreckage. I also found Yamen, my cousin's baby boy. The blast had thrown him from their house into ours, a distance of about two meters. Some neighbors came and helped me get the three of them out from under the debris. My mother and sister were lightly injured. Yamen sustained burns, head injuries and fractures in his left arm and leg.

I looked around and saw that my uncle Hamdan's house had been reduced to rubble. The same thing happened to the house of my uncle Husni's widow. There was a big hole where the house had stood. My aunt Haniya's house was also in ruins, and parts of it were scattered on houses nearby. The neighbors and I started looking for more survivors. We searched with our hands, using cellphones as flashlights. We managed to get several members of the family out, and then we started pulling out the dead bodies […].

We were bombed with no advance warning, with no prior phone call and no warning missile.

* He gave his testimony to Khaled al-'Azayzeh on 1 September 2014.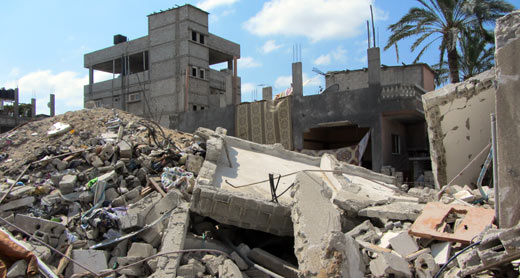 The ruins of one of the Abu Jaber family homes.  Photo: Khaled al-'Azayzeh, B'Tselem, 1 Sept. 2014
The people killed in the incident:
The parents: Hamdan Muhammad Suliman Abu Jaber, 77
Faddah Ghanam Hassan Abu Jaber, 60
Their children: Ahmad Hamdan Muhammad Abu Jaber, 36
His wife Sumayah 'Abd a-Rahman Muhammad Abu Jaber, 32
Their daughter: Hala Ahmad Hamdan Abu Jaber, 4
Jaber Hamdan Muhammad Abu Jaber, 26
Dina Hamdan Muhammad Abu Jaber, 25
(came with her children from al-Mghazi R.C.)
Her son Muhammad Raed Muhammad Abu Jaber, 3
Her daughter Sama Raed Muhammad Abu Jaber, 1
'Aishah Hamdan Muhammad a-Sa'ud (Abu Jaber), 23
(came from al-Bureij R.C.)
Fadel Hamdan Muhammad Abu Jaber, 19
Their granddaughter: Tuqa Salah Khalil Abu 'Issa, 5 months old
(came with her mother from a-Shati R.C.)
People killed in the house next door:
Anwar Muhammad Salem Abu Jaber, 35
His wife Lina Kifah Mahmoud Abu Jaber
Their daughters: Leen Anwar Muhammad Abu Jaber, 3
Salma Anwar Muhammad Abu Jaber, 1
His sister: Anwaar Muhammad Salem Abu Jaber, 25
Ayman Salah Sa'id Abu 'On, 25
Ahmad 'Omar Sa'id 'Abd al-'Aal, 23