The day 'Ali was killed, I woke him up early, around 6:00 A.M., and asked him to go help his grandfather feed and milk the sheep. He loved working with the flock. Before he left, he said to his mother, "Mom, today is my birthday, and I want you to make me a cake." We're village folk and we don't usually celebrate birthdays, but his mother said, "Okay, 'Ali, I'll bake you a big, sweet cake to enjoy with your brother and friends" (Ayman 'Abu 'Alia, 'Ali's father).
On Friday morning, 4 December 2020, at around 9:00 A.M., a group of young men and teenagers from the Palestinian village of al-Mughayir, which lies northwest of Ramallah, climbed a hill east of the village that overlooks the Alon Road. The group hurled stones at the road to protest a new outpost that settlers established in early November 2020 near the community of Ras a-Tin, southeast of al-Mughayir. The settlers in the outpost have been attacking and harassing farmers and shepherds in the area and scaring them off their own land. Soldiers were lying in wait for the youths near the hill and fired tear gas canisters at them. More residents joined the group, until there were about 50 of them on the hill. Some threw stones at the soldiers, who responded by firing tear gas canisters and rubber-coated metal bullets.
By 11:00 A.M., the clashes had moved to the eastern outskirts of the village, where more than 10 soldiers took up positions on a low hill. The soldiers continued firing at the Palestinians who were standing at the bottom of the hill about 20 to 70 meters away.
About 150 meters from the confrontation, some 100 residents stood and watched what was going on. Among them was 'Ali Abu 'Alia, a tenth-grade student who was celebrating his 15th birthday that day. According to eyewitnesses, at around 1:30 P.M., an Israeli sniper bearing a Ruger rifle, which fires 0.22 caliber bullets (dubbed 'two-twos' – live ammunition with a lesser impact than ordinary bullets) lay down on a dirt road at the top of the hill and opened fire, hitting Abu 'Alia in the abdomen just as he was crossing the road. Abu 'Alia was taken to hospital in Ramallah, where he was pronounced dead several hours later.
The sniper opened live fire at Abu 'Alia although he was endangering no one. Officially, live fire — including 'two-two' bullets — is permitted only when the lives of security forces or other persons are at risk. In reality, the military has long regarded this restriction as a non-binding recommendation. The use of live fire in circumstances where the victims did not pose any danger is not exceptional: since 2015, at least 38 Palestinians have been killed by live fire in the West Bank, including 16 minors, in incidents where Palestinians threw stones or were suspected of stone-throwing, even when they did not endanger the lives of security forces or of anyone else.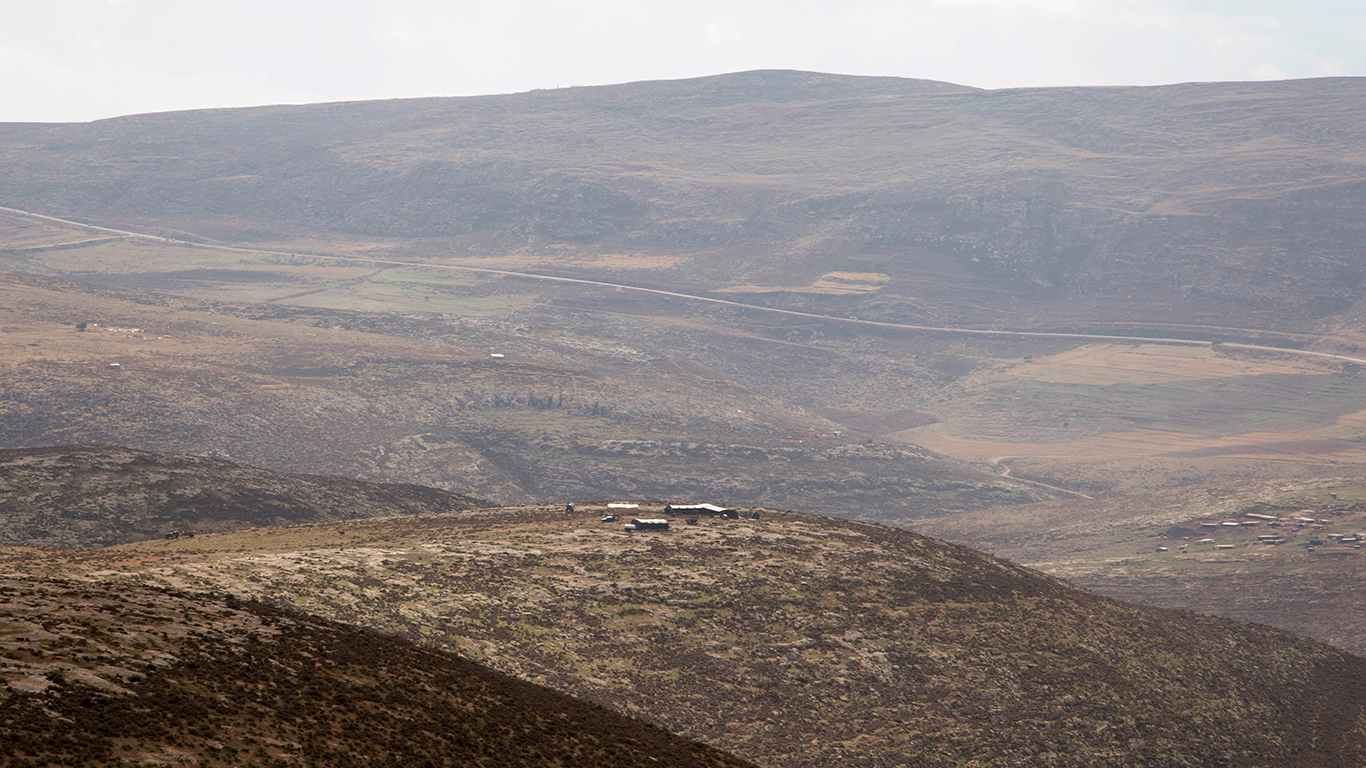 Specifically regarding 'two-two' bullets, reality on the ground indicates that the military deploys snipers who use them as though they were standard, non-lethal crowd control weapons – although they have already proven lethal. Since 2015, at least nine Palestinians have been killed by 'two-two' fire. Abu 'Alia was the tenth victim.
The killing of 'Ali Abu 'Alia reflects the real open-fire policy that Israel employs throughout the West Bank. Live fire is permitted even when there is no justification, in blatant disregard of the predictable injury or death of persons who pose no danger. The responsibility for implementing this policy lies not only with the soldiers on the ground, but also with the entire chain of command, including commanders who repeatedly approve opening fire in such circumstances and legal advisors who rely on pseudo-legal excuses to justify this policy.
As usual, the military was quick to announce an MPIU investigation. Yet as years of experience show, the purpose of this statement is not to uncover the truth, prevent such cases from recurring or achieve justice for Abu 'Alia's family. Rather, it is to silence criticism by creating a false impression that the Israeli law enforcement system is taking the case seriously. In reality, the state is concerned with whitewashing the investigation and protecting those responsible for killing Abu 'Alia.
B'Tselem field researcher Iyad Hadad collected the following testimonies.
F.'A. (17), a twelfth-grade student, was standing several meters from 'Ali Abu 'Alia at the time of the shooting. In a testimony he gave on 6 December 2020, he recounted:
Before 1:30 P.M., the soldiers didn't shoot live fire and I didn't hear any 'two-two' bullets, either. They mostly fired tear gas and "rubber" bullets. At 1:30, I saw about four soldiers gathered at the top of the hill. In front of them was an officer, and a sniper lay next to him. Opposite the soldiers, below, were about 20 to 30 youths standing by the roadside and behind the stone fences, about 30 to 70 meters away from the soldiers. The youths were hiding from the sniper.

At that point, I was leaning against the fence of the al-Haj Muhammad family's plot. Not far from me, I saw 'Ali, who was also watching what was happening. The boys confronting the soldiers were far away from us. While we were watching, 'Ali told me, "I'm happy today. I don't want to stay long because it's my birthday, and I want to go home to celebrate."

Soon after that, 'Ali crossed the dirt road and came over to my side, to watch from there. Suddenly, while 'Ali he was on the way over and exposed, the sniper fired a single shot and hit him in the stomach. 'Ali put his hand on it and started screaming, "My stomach, my stomach."

At first I thought it was a joke, because I knew that he liked fooling around and also because all I'd heard was a single, faint sound and no live fire. 'Ali was only about three meters away from me. I realized he was serious when I saw him trying to walk, hunched over, holding his hands to his stomach and shouting, "My stomach, my stomach." He also said, "I've been hit! I've been hit!" and then fell over on his back.

I looked at his stomach to see where he'd been injured. I saw a tiny hole, the size of a cigarette, in the middle of his shirt. He was hardly bleeding. One of the residents, W.N., picked 'Ali up and carried him about 40 meters, and then some guys put him in the backseat of their car. A volunteer paramedic who was there and another guy got into the car with them.
W.N. (23), a resident of al-Mughayir, was standing next to Abu 'Alia at the time he was shot, about 150 meters away from the sniper. In a testimony he gave on 6 December 2020, he described what happened:
At around 1:30 P.M., I saw a soldier with a 'two-two' rifle lying on the ground in a sniper position, and next to him an officer who I think was helping him take aim. At that moment, 'Ali was standing about three meters behind me, and we were both watching the protest from about 150 meters away. I saw the officer point at the guys who were spread out in the field, but the soldier didn't shoot because they were careful and hiding behind boulders and dirt mounds.

I turned around to take a lighter from my friend and unfortunately, just then, 'Ali went several meters ahead to the middle of the road, right into the sniper's shooting range. I didn't see him go and didn't have a chance to warn him. The sniper fired one shot that sounded very faint. I immediately realized that 'Ali had been hit. I ducked down to protect my head, because I was afraid the sniper would shoot in our direction again. 'Ali shouted, "My stomach!" and fell to the ground. At first he fell on his side, and then he rolled over on his back.

I went over to him right away. I moved his hand, which was covering the injured spot. He'd been hit right in the middle of his stomach, a bit above the navel. He was unconscious. I picked him up easily. His body was limp. I ran with him about 50 meters to a private car that was there, along with a paramedic who came to help me. We put 'Ali in the backseat, and the paramedic got in the car with the driver and his cousin. They rolled up his clothes, and I saw the bullet's entrance wound in his stomach. Then they drove to the hospital.

In the evening, I went to hospital in Ramallah to see how 'Ali was doing. At around 6:30 P.M., the doctors announced he was dead. I keep thinking about this incident and its outcome and can't find any justification for the sniper's shooting. He killed a boy who was standing quietly and wasn't endangering anyone. He didn't even take part in the protest.
In a testimony he gave on 16 December 2020, 'Ali's father, Ayman Abu 'Alia (42), a married father of six, described what happened that day:
About 10 years ago, my son Wisam died of cancer at the age of ten. This is the second death, but this time it's even harder and more painful because it was caused by an occupier and thief who has no compassion or mercy – not towards a child, an elderly person, a tree or a stone. I have no words to describe the crime of those who killed my son.

The day 'Ali was killed, I woke him up early, around 6:00 A.M., and asked him to go help his grandfather feed and milk the sheep. He loved working with the flock. Before he left, he said to his mother, "Mom, today is my birthday and I want you to make me a cake." We're village folk and we don't usually celebrate birthdays, but his mother replied, "Okay, 'Ali, I'll make you a big, sweet cake to enjoy with your brother and friends."

Later, around 1:30 P.M., I was sitting on our porch. Suddenly, I saw a car coming quickly from the demonstration area, honking and driving towards the village exit in the direction of Turmusaya. A few minutes later, my brother Hamdi called me and asked, "Is it true that your son has been hit?" I answered that I didn't know. He told me the kids from the village were saying 'Ali had been injured and taken by a private car to hospital. My pulse started racing and I started sweating. I really feared for 'Ali's life. All my life, I've worked day and night to raise and nurture him. I was waiting to see him turn from a boy into a teen and then into an educated man who contributes to society. My head began racing with fear as if I were in a nightmare.

I rushed over to the demonstration area. The kids there told me 'Ali had been injured lightly and was doing well. I didn't believe them and drove with my brother to the hospital in Ramallah, where I was told 'Ali was in surgery because of a 'two-two' gunshot wound to the stomach. I realized my son's life was in danger. I nearly collapsed. Only the support of my family and village residents, who stood by me and strengthened me, kept me from collapsing. I waited for the doctor to come out of the operating room. Every minute felt like a year.

At around 6:30 P.M., one of the doctors came out and told us that 'Ali was dead. The pain was indescribable, but I kept my composure. The next morning, we set out in a large funeral procession from the hospital to the village cemetery. Then something happened that's hard to explain. It started raining only around the funeral and not in other places in the area, during the funeral. It was as if the heavens were weeping for my son's pure soul.

Since the three days of mourning ended, the rest of the household and I have felt grief-stricken and heartbroken. My daughter Asil named her son, who was born since then, after 'Ali and two other villagers told me that they'd named their children after him. 'Ali had a big heart and everybody loved him. He loved playing football wherever he was – on the street, at school, in the neighborhood. He dreamed of playing for the Palestinian national team when he grew up.