Life under occupation: Khirbet Qalqas, a Hebron neighborhood, has been cut off from the rest of the city for over 17 years
Khirbet Qalqas, home to some 3,000 people, is a neighborhood in southern Hebron. It used to be an independent village and is separated from the rest of the city by Route 60. The lives of Khirbet Qalqas residents naturally revolve mostly around the city: many of them work and do their shopping in Hebron and go there for health and education services. For instance, the farmers sell crops in the vegetable market in Hebron's city center, and about 100 high-school and university students go into the city every day to study.
There are four roads leading in and out of Khirbet Qalqas. The main one, to the north, connects the neighborhood directly with Route 60, and from there with the rest of the city. When the second intifada broke out in 2000, the Israeli military placed dirt and rock piles on either side of Route 60, so the neighborhood resdients can no longer use the road.
For more than 17 years, in order to reach Hebron's city center, residents have had to take one of two other routes instead. Each entails difficulties and risks: One option is to walk from home to Route 60, climb over the pile of dirt of stones placed on one side of the road, cross the road, climb over the pile of dirt and stones on one other side of the road (about 150 meters all told), and find a taxi that will take them to Hebron city center. Crossing the highway is very dangerous: from 2014 to 2017, five Khirbet Qalqas residents and one from nearby a-Rihiya were fatally run over as they crossed the road, two of them children.
The other option is to take their own car or a taxi (costing about NIS 50 [USD 14]) from home to the city center, and drive along a bypass route some eight kilometers long. The drive sometimes takes more than half an hour, as it passes through the al-Fahs Checkpoint ("the Sheep Checkpoint"). The checkpoint is at an intersection with Route 60, south of the area defined H2 where Israeli settlers live, and near the industrial zone. It consists of two long iron gates placed on either side of Route 60. The gates are open most of the time, but are usually staffed by soldiers who inspect the vehicles passing through and detain the passengers for varying lengths of time.
Like other instances of travel restrictions imposed by Israel elsewhere, closing off vehicular access to Route 60 from the neighborhood has primarily harmed weaker segments of the population, such as individuals who need medical care in the city (including some 20 who suffer from kidney failure and cancer), and those who cannot afford the cost of taking the bypass route. That said, the blocked access road keeps all residents of Khirbet Qalqas from leading a normal routine and makes every excursion out of the neighborhood an exhausting and sometimes perilous journey.
For a period of several months, beginning in August 2017 – after Khirbet Qalqas resident Muhammad Abu Turki was run over and killed on Route 60 – hundreds of neighborhood residents held demonstrations once a week, on Fridays, to protest the road closure. The protests consisted of praying near the road obstructions, and were dispersed by soldiers firing stun grenades and teargas.
In one fell swoop, Israel's actions cut off the neighborhood and its residents from the city on which they heavily rely, making their lives unbearable. Ordinary day-to-day activities have become a matter for considerable deliberation, and many prefer to forgo them in order to avoid the considerable hassle involved. The situation in Khirbet Qalqas is yet another example of what it means to live under occupation, with Israel abusing its power to make decisions that drastically change residents' lives without so much as consulting them. This reality will continue as long as the occupation continues.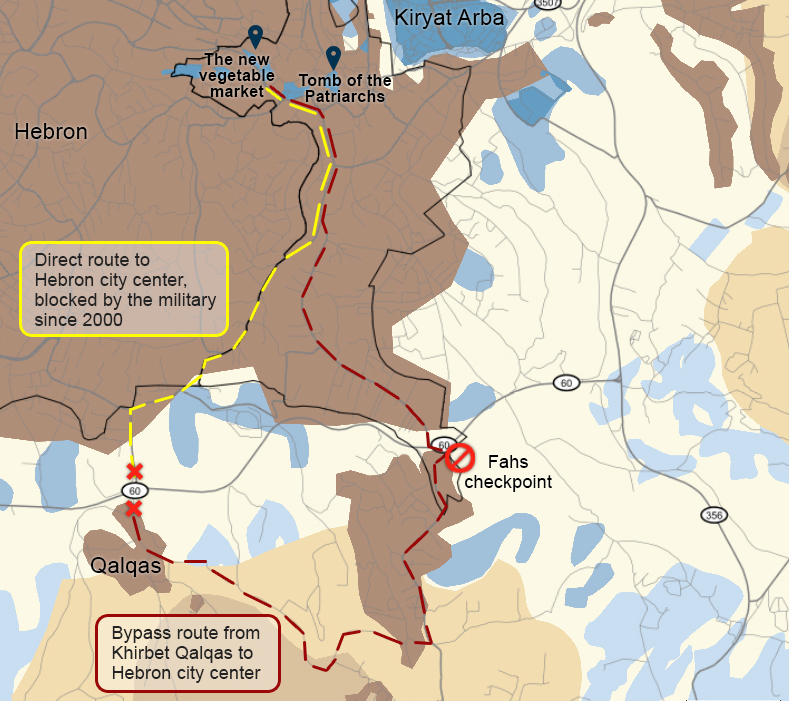 To expand map, click here.
Residents of Khirbet Qalqas described their daily lives in testimonies they gave B'Tselem field researchers Musa Abu Hashhash and Manal al-Ja'bri:  
Muhammad Abu Turki, 21, is as student of pharmacology at Abu Dis University. His mother was run over and killed in 2014 as she crossed Route 60, heading into Hebron. He spoke with B'Tselem field researcher Musa Abu Hashhash on 26 March 2018 and described the difficulties the roadblock causes: 
I live in Khirbet Qalqas with my family: my father, my sister, and my brother, his wife and their four young children. We live near the northern entrance to the neighborhood. Since 2000, my father has been completely paralyzed and is bedridden. My mother was killed in December 2014 while crossing Route 60 on her way back from visiting my married sister, who lives in the neighborhood of Wadi al-Hariyah in Hebron. 

I am currently in my third year of pharmaceutical studies at Abu Dis University near Jerusalem. When I first started studying I rented an apartment near the university, but it was expensive and also there was no one else to take care of my father, so I moved back home to Khirbet Qalqas. 

The fact that we can't use the main road makes for a daily ordeal. I leave home every morning at 6:00 so I can get to university on time. I walk to the obstruction at the entrance to the neighborhood, cross it and Route 60 – more than 100 meters – until I reach the obstruction on the other side and hope to hail a taxi. I usually have to walk another kilometer or so until I find a taxi to take me to the central station in Hebron, and from there I travel to Abu Dis. By the time I head home there are no taxis at the station, so I wait a long time until a taxi arrives or pay 15 shekels (~4 USD) to order one. In total, I pay an average of 50 shekels (~14 USD) a day to get to university and back. 

The closure of the main road has made our daily lives unbearable. I have to set out really early to find a taxi, especially if I have an exam that day. If the entrance to Khirbet Qalqas were open, I could be in Hebron in five minutes. Every day I waste more than half an hour getting from home to the main taxi station in Hebron. We all suffer. Most of the residents have to go by foot and cross the highway. My mother was one of six people killed crossing the highway. 
Sarah Abu Madi, 51, a divorced mother of 13 children, has atherosclerosis. In a testimony she gave B'Tselem field researcher Manal al-Ja'bri on 7 November 2017, she related the daily hardships she faces: 
I live with four of my daughters more than a kilometer way from the entrance to the neighborhood. I have coronary disease, kidney stones and pain in my joints, including my knees. One of my daughters, Sumayah, has had rheumatism for the past nine years. We both have to go in regularly for treatment in hospitals in Hebron. 

In 2000, the Israeli military blocked the entrance to our neighborhood with piles of boulders and earth. Since then, we've walked to the obstruction and then cross Route 60 on foot. That's very dangerous, because the cars drive along that road at high speeds. After we cross the obstruction on the other side of the road, we take a taxi or bus to Hebron. Walking from home to the other side of the road is difficult for me and my daughter. Sometimes, a neighbor takes pity on us and gives us a ride. My son 'Abd al-Hamid is disabled, but he sells vegetables with a horse and cart. When he's in the neighborhood, he takes us. I have no income, so we can't pay 50 shekels to take a taxi through Wadi a-Saman and al-Fahs. 

I have six married daughters who don't live in Khirbet Qalqas. Like any mother, I want to visit them often. But I can't. I get to visit them once every two months at most. They also find it hard to visit me because of the rough walk, especially when they come at night with their babies. 

About six months ago another of my daughters, 'Aeshah (22), who lives close by in the neighborhood, went into labor after dark. We couldn't find a car to take her to hospital and she gave birth at home. We all panicked. None of us had ever delivered a baby. It took 40 minutes for an ambulance to get here and take her and the baby to Muhammad 'Ali Hospital in Hebron. It was terrifying. Our lives in the neighborhood mean daily suffering, which I hope will end one day. 
'Abd al-Hamid Abu Sneineh, 34, is Sarah al-Madi's son. A married father of one, he works as a vegetable vendor. In a testimony he gave B'Tselem field researcher Manal al-Ja'bri on 7 November 2017, he described how difficult it is to lead a daily routine in the neighborhood: 
I had polio as a child and it left my left hand paralyzed. I sell vegetables in the Hebron market and also by horse and cart. Since the military blocked the road that leads into Hebron, several people from the neighborhood have been run over, including women and children, because it's a highway and hundreds of cars travel over it every hour. Many neighborhood residents cross the road every day on foot and I see people carrying sacks of foods, cooking gas canisters, and groceries. People of all kinds cross here on foot, including old people, patients, and women carrying babies.

I have to cross Route 60 with my horse-drawn cart to get to Hebron and back. Seven years ago, my horse stumbled while crossing the obstruction. I fell off and injured my paralyzed hand and the index finger on my other hand. They had to amputate the finger. Still, I keep working with the cart because it's the only way I can provide for my wife and little girl. It's really tough. Sometimes I have to ask passers-by for help to lift the cart over the obstruction. There is another route, but it's eight kilometers long. Most of the people who live in the neighborhood are poor and don't have driving licenses or cars, so they have to cross the road on foot.

Recently, we've started holding demonstrations every Friday to protest the closure. Hundreds of us come to pray near the blocked entrance every week, and then soldiers come and hurl stun grenades and teargas at us. 
'Abd al-'Aziz Abu Sneineh, 34, a married father of three, is a truck driver and farmer. In August 2017, his brother was killed crossing Route 60 on his way to Hebron. In a testimony he gave B'Tselem field researcher Musa Abu Hashhash on 21 December 2017, Abu Sneineh described the difficulties of daily life in the neighborhood: 
Most of my work is in the city. I grow vegetables in the neighborhood and then sell them in the city. I also transport gravel and stones in my truck. My 14-year-old son is deaf and goes to a private school for the deaf in the city. 

About ten years ago, the Hebron Municipality widened the alternate route into the city and paved it, but it's twice the length of the old access road that's been blocked. The distance from the entrance to the neighborhood to the Hebron vegetable market is only four kilometers. But nowadays, I travel at least eight kilometers to transport the produce to the market, travelling via Khallat al-Wad, Wadi a-Saman, the al-Fahs Checkpoint, and from there to the city center. It takes me more than half an hour. Before the closure, it took just a few minutes. 

Sometimes, soldiers and Border Police set up flying checkpoints at the entrance to al-Fahs and I have to wait an hour or more for inspection. Sometimes, police officers also wait there and give traffic tickets. Last week, the police gave me two tickets – 500 shekels (~142 USD) each – for overloading the truck. But I have to fill the truck up to minimize the expense of the long transport route. Instead of eight kilometers in total, I travel at least 15 kilometers to Hebron and back. 

Every morning, I drive my son to the private school. Because he can't hear, he can't cross Route 60 alone like the other children, it's too dangerous. I don't want to him to be run over like my brother, who was killed by a truck as he was crossing the road back into the neighborhood. 
Other residents who don't have a car suffer even more – they have to cross the road on foot every day, or pay 40-50 shekels (~11-14 USD) to take a taxi along the alternate route. 
Muhammad Sbeih, 35, a married father of four, owns a grocery store in the neighborhood. He described the difficulties of running the store in a testimony he gave B'Tselem field researcher Musa Abu Hashhash on 21 December 2017: 
A few years ago, I opened the grocery store and most of the neighborhood's residents buy their basic groceries from me. To get to the store from central Hebron, the suppliers have to drive about eight kilometers along the bypass route. They think twice before coming here and often they put it off. They make me buy in bulk to so they can make fewer trips and to make up for their lost time and fuel. 

When they don't come, I have to drive into the city myself to stock up. I take the long route, which is eight kilometers in every direction and goes through Khallat al-Wad, Wadi a-Saman and al-Fahs. When the military and Border Police place flying checkpoints at the entrance to al-Fahs, I get stuck in line waiting for inspection, sometimes for hours on end. 
Zaynab al-Atrash, 39, is a married mother of eight and a homemaker. In testimony she gave B'Tselem field researcher Musa Abu Hashhash on 8 November 2017, she related the difficulty of crossing Route 60: 
Zaynab al-Atrash with her baby. Photo by Manal al-Ja'bri, 8 November 2017

My husband and I live with our eight children in Khirbet Qalqas, south of Hebron. Since 2000, the military has blocked the road to Hebron on both sides, so to reach the city I have to walk more than half a kilometer from home to the obstruction, cross the road on foot and take a taxi – and then do the same on the way back. 

I have a baby and have to be very careful not to fall over when crossing the obstructions. In the winter, the mud makes getting over particularly difficult. There's a lot of traffic along Route 60 all the time and the cars speed along, so it's very dangerous to cross. Several people have been run over there in recent years. We don't have public transport to bring us to the obstruction, and taking a taxi via the long alternate route is very expensive. 

In the last few days my baby was sick and I had to take him to see a doctor in Hebron, because we don't have a regular clinic here. The way there and back is exhausting. I also have to go into the city to buy things, because there aren't many shops here. It's really hard to walk there carrying the baby and all the groceries, so I usually make the trip together with my husband. 
Our lives are very hard. Khirbet Qalqas has become a prison. It's been like that for 17 years, since I was a young girl. This suffering must end.  
Location: