My husband, 'Ahed Zaqut, was 49. He worked as a clerk in the Sports Department of the Palestinian Broadcasting Corporation and was also a coach in several soccer clubs in Gaza.
I lived with 'Ahed and with Khaled, 13, his son from a previous marriage. We lived in an apartment in the Italian Tower in a-Nasser neighborhood in Gaza City. Khaled is like my son. I raised him since he was three years old. Our apartment, which was 140 square meters, was on the tenth floor. We bought it in 2005 for USD 56,000 and were paying for it in monthly 300-dollars installments to the Islamic Bank in Gaza. I worked as a clerk in the Gaza Municipality. A large part of our earnings went to cover these payments and we lived off whatever was left. We counted the days and dreamed of the time we would finish paying off the mortgage.
In 2012 our home was flooded and we used the opportunity to renovate and get new furniture. We used our savings and the money from selling the old furniture. I paid for some of the new furniture in cash and for the rest in installments. We bought furniture for Khaled's room, a kitchen table and a living room set, and we had a new kitchen put in.
When the war began last summer, we stayed at home as did the rest of our neighbors. The tower had 13 floors and another three underground floors for parking. There were shops and caf?s on the ground floor. The first floor housed study centers and the Hamas Ministry of Public Works. The second floor was empty.
On 30 July 2014, at 8:00 o'clock in the morning, we were asleep in our bedroom and Khaled was asleep in his. We woke up suddenly from the sound of bombing nearby. 'Ahed went to check what had been hit. He saw nothing and went back to bed. I went to the kitchen. A few minutes later, our apartment was bombed. Everything filled with dust and I didn't know exactly what had happened, who was alive and who had been injured. I started shouting for 'Ahed and Khaled. Khaled shouted back, and I ran to his room and got him out of there. The window in his room was shattered and there was a big hole in the wall. I asked him about his father. I was in a panic. Later I learned that 'Ahed had been very close by, but I couldn't see him through the dust and black smoke. Khaled thought his father was in the living room. The apartment caught fire and I opened the front door to let out the smoke. I couldn't see 'Ahed and got even more frantic. Hazem, my husband's brother who lived in the apartment above us, came in with neighbors and civil defense workers. They found 'Ahed under debris in the bedroom, just as he was breathing his last breath.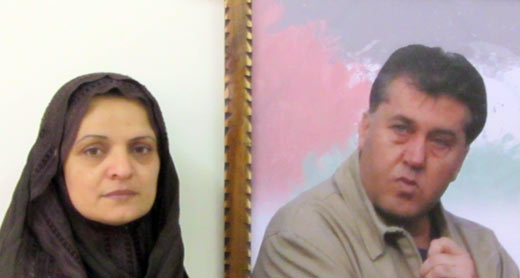 Mayadah Zakut with a picture of her husband 'Ahed. Photo:  Khaled al-'Azayzeh, B'Tselem, 14 June 2015
I sat on the stairs and screamed and wept when I heard 'Ahed's brother say he was dead.
I went with Khaled, my brother-in-law Hazem, his wife and their three children to their uncle, who lives in the neighborhood. We stayed in his home for the rest of the war, although every now and then we went back to the tower and spent several days in Hazem's apartment. I have nothing left – clothes, documents, or anything else. Everything that we had in the apartment was destroyed by fire.
For some time after that I was in shock and felt terrible. I didn't think they would bomb our tower. The war continued but I wasn't really aware of what was going on around me. Sometimes I thought that after the war, I'd fix up the apartment and go back to live there with Khaled.
On 26 August 2014, at 10:00 o'clock at night, I was at the house of my husband's uncle. The military called my brother-in-law Hazem, who was also there, and informed us that we had ten minutes to get out of the tower. Hazem called the tower's security guard to let him know, and the guard said that all the other tenants had already left the building.

The Italian Tower before the bominbg (left) photo: Amir 'Anan, and after (right). Phofo: Amnesty International
At midnight, the Israeli air force bombed the tower where our apartment had been. I heard the bombardment very clearly. When the first missile hit the tower, I remembered how 'Ahed and I began to look for an apartment to buy, and how we painted our place and arranged our furniture. I thought about my life with 'Ahed in our apartment. I recalled the renovations and the new furniture we bought. We lived there together for nine years and took care of every little detail in our home.
One of the things that hurt most was that I didn't have time to take any memento of 'Ahed from the apartment before it was bombed. I left behind medals and trophies and tokens of appreciation that he was awarded throughout his sporting career, as well as photographs of him. It all went up in flames, even our wedding photos. I have nothing left to remind me of the family life I once had.
Now, I live in a rented apartment in a-Sheikh Radwan neighborhood in Gaza City. It's a furnished apartment that my brother used to live in before he went to Japan.
Khaled moved in with his paternal grandmother. Being separated from him is another calamity that befell me. I have no legal custody over Khaled so I can't insist that his family let him live with me.
Mayadah Saleh Khalil Zaqut, 42, is a widow. She lives in a-Sheikh Radwan neighborhood, Gaza City. She gave her testimony at her rented apartment to B'Tselem field researcher Khaled al-'Azayzeh on 14 June 2015.