The village of Khirbet Zanutah, located in the southwestern Hebron Hills, is home to 27 families who total 150 residents. For several generations the villagers, who earn their living as shepherds, have been living in naturally formed caves to which they have added stone entrances. During the 1980s they began building stone houses and temporary structures. There is an archeological site in the village and an ancient mosque that were been marked as such during the British mandate era.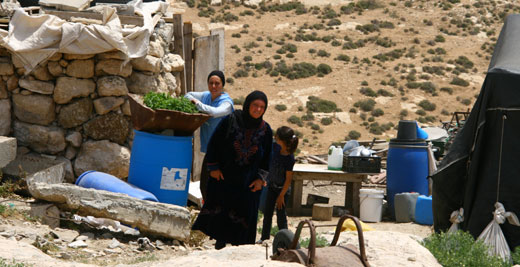 Palestinian women, Khirbet Zanutah, South Hebron Hills, 3 May 2012. Photo: Sharon Azran, B'Tselem.
In 2007 the Civil Administration issued demolition orders for most of the village structures for having been built without permits. However, no master plan was ever drawn up for this village, so there was no plan on which building permits could be sought. The Civil Administration justified the absence of a plan, arguing that the village was too small to have a master plan prepared for it – and that the distance from the village to the nearest town, a-Dhahiriya, is too great.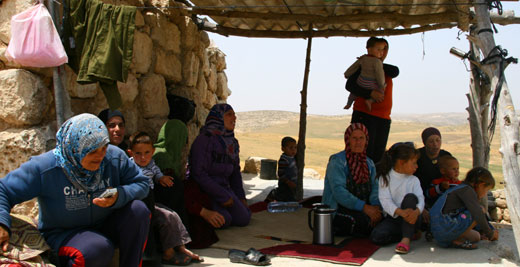 Palestinian women, Khirbet Zanutah, South Hebron Hills, 3 May 2012. Photo: Sharon Azran, B'Tselem.
In November 2007, the Association for Civil Rights in Israel (ACRI) filed a petition to the High Court of Justice on behalf of the villagers, submitting the villagers' objections to the demolition orders issued by the Civil Administration for 22 structures in the village, which include residences, sheep pens and a donkey shed. The court issued an interim injunction prohibiting implementation of the demolition orders. In May 2012, at the request of ACRI, the interim injunction was expanded to include other demolition orders issued to six residences, three cisterns and two sheep-pens in the village.
On 30 July 2012 the petition was heard. The justices instructed the state representatives to present an alternative solution for the village residents and to advise the court within 30 days whether the state intends to submit a plan that would enable and regulate construction in the village.