Case study for "By Hook and by Crook" report
Beit El
Established: 1977
Population: 5,600 (in Sept. '09)
Land status: "state land", land requisitioned by military orders, incursions into land privately owned by Palestinians, and one plot purchased by Hemanuta (a subsidiary of the Jewish National Fund).

Illegal construction: Part of the construction in the settlement was authorized. According to Brig. Gen. Spiegel's database, illegal construction was carried out in the following areas: the northern neighborhood (Beit El B), comprising 80 permanent structures and caravans; the north-eastern neighborhood, comprising 20 permanent structures for residence and public buildings, including a school, another 40 caravans and 10 industrial structures; the council offices' compound; a caravan neighborhood east of the settlement comprising 45 caravans; eight permanent structures west of the settlement; six permanent structures in the center of the settlement, deviating from the approved building plans; and preparation of an area for a new neighborhood east of the settlement, by the access road to the settlement.
Adjacent outposts: 1. Tel Haim A, established in Nov. 2000 on privately owned Palestinian land. 2. Jabal Artis, established in Feb. 2001 on privately owned Palestinian land. 3 Mizpe Assaf, repopulated in May 2001, on privately owned Palestinian land.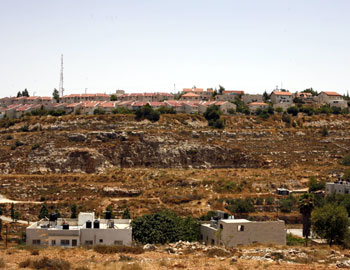 The settlement of Bet El. Photo: Silan Dallal, B'Tselem