Unlike the changing versions supplied by the IDF Spokesperson, an investigation conducted by B'Tselem substantiates the circumstances in which 20-year-old Rozan a-Najar was killed. Deliberate shots fired by a member of the security forces killed her and wounded two of her colleagues. Yet, even in these outrageous circumstances, a routine of whitewashing ensures very slim chances of anyone being held accountable.
On 1 June 2018, during a protest held north of Khuza'ah in the Gaza Strip as part of the Return Marches, held since late march, Israeli security forces deliberately fired at Palestinian paramedics wearing medical crew uniforms who were 25 meters from the fence: Rozan a-Najar, a 20-year-old paramedic from Khza'ah was killed; two others were wounded. Thousands participated in the protest, with some torching tires and throwing stones at Israeli security forces stationed on the other side of the fence separating Israel and the Gaza Strip. The troops fired teargas canisters and live rounds at the protesters. After the late afternoon prayers, more people came and joined the protest. Paramedics cared for protesters suffering from teargas inhalation. At around 6:00 P.M., a group of paramedics approached the fence to evacuate two young men suffering from teargas inhalation. The paramedics were wearing identifying uniforms and, as they approached, kept their hands up in the air.
 
Rami Abu Jazar, 29, from Khan Yunis served as a volunteer paramedic with Rozan a-Najar. He described the incident in a testimony he gave B'Tselem field researcher Khaled al-'Azayzeh on 3 June 2018:
Rami Abu Jazar. Photo by Khaled al-'Azayzeh, B'Tselem, 3 June 2018

We stood close to the protesters and heard people crying out that two guys had fainted near some concertina wire that had been laid on the ground about 10 meters away from the fence with Israel. We decided to go over there to give them treatment. Rozan and I walked first. We raised our hands up above our heads to set the soldiers at ease, to make them see we're paramedics. We were all wearing medical vests with first-aid crew symbols on them. We got to the two young men, and when we started evacuating them, the soldiers started firing a heavy barrage of teargas canisters at us. I think they were firing from one of the military jeeps. Rozan and Rasha started choking. I asked Mahmoud to care for Rozan and I took care of Rasha. Then, the four of us moved away from the fence. The young men and other paramedics who stayed behind managed to get out the two guys who'd been hurt by the gas.

After we had moved away, we started feeling better and decided to go closer to the protesters. We stood about 10 meters away from them, which was about 25 meters away from the fence. There were no protesters near us. At around a quarter to six, we saw two soldiers get out of a military jeep, kneel and aim their guns at us, taking up a sniper stance. Rozan was standing to my right and Rasha was behind me. We were talking. Suddenly, they fired two live bullets at us. I looked at Rozan and saw her point to her back and then fall down. A second later, I fell too, because I had been hit above the left knee. I was later told that Rozan had been hit in the left side of the chest. Mahmoud was hit by shrapnel in the right hand and the pelvic area.
A medical crew took the unconscious Rozan a-Najar to a medical tent in the tent compound. From there, she was taken by ambulance to the European Hospital south of Khan Yunis. After about thirty minutes of resuscitation attempts, she was pronounced dead. Rami Abu Jazar and Mahmoud 'Abd al-'Ati were also taken to the European Hospital, where they received treatment for the shrapnel wounds and other cuts they had suffered. They were discharged from hospital the same day.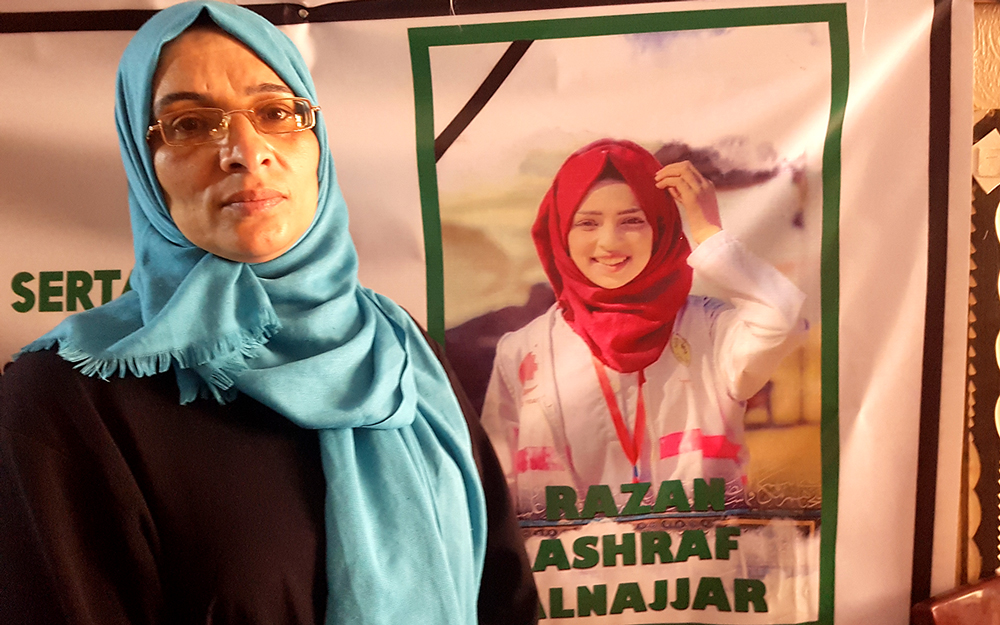 Rozan a-Najar's mother, Sabrin a-Najar, 43-year-old married mother of six who lives in Khuza'ah spoke about her daughter in a testimony given to B'Tselem field researcher Olfat al-Kurd on 1 July 2018:
Rozan was a naive child. She loved life and was always smiling. She dreamed of studying nursing at the university, but our finances wouldn't allow it so she made do with first aid courses at Naser Hospital in Khan Yunes. When people were called on to come to the Return Marches on the Gaza Strip border, Rozan was among the first to go help because she believed in humanitarian work. I saw her when she volunteered at the protests. She flitted around like a butterfly, running back and forth to care for the injured. When Rozan was in the field, I was proud and calm, because she was a paramedic, and I believed the Israeli military wouldn't harm her.

On Friday evening, a neighbor phoned to tell us Rozan had been injured. I called my husband Ashraf and we drove over to the European Hospital south of Khan Yunes right away. I saw her lying there, lifeless. I took her in my arms and said: "Rozan, wake up. It's just teargas. You're fine. Get up. Get up, my love." Her clothes were covered in blood. I started crying and screaming. My spirit broke. I knew I'd never see her again. That I'd lost my daughter and I'll never get her back. I'll never be able to hug her ever again.

Life ever since Rozan died has been very difficult for me. Sometimes I call her when it's time to eat, because I feel that she's with us and she hasn't died. I keep praying for her to receive the grace of God and go to heaven. What wrong did Rozan commit that she had to be killed?
The IDF Spokesperson tried to clear the military of responsibility for a-Najar's death, initially saying that soldiers did not fire at the spot where she had been standing. Later, the military said a-Najar might have been killed by a ricochet, before finally accusing her of serving as a human shield for rioters. Contrary to the many versions offered by the military, the facts of the case lead to only one conclusion. An investigation conducted by B'Tselem proves 20-year-old a-Najar was fatally shot by a member of the security forces who was aiming directly at her as she was standing about 25 meters away from the fence, despite the fact that she posed no danger to him or anyone else and was wearing a medical uniform.
The killing of a-Najar is a direct result of the open-fire policy Israel has been implementing since the protests began. The lethal results of this policy are well known: Since the protests began on 30 March 2018, 127 Palestinian protesters have been killed –  including at least 18 minors – the vast majority of whom posed no danger to the Israeli security forces stationed on the other side of the fence. In addition, about 4,100 people have been wounded by live fire. Medical staff were among the casualties. On 14 May 2018, two weeks before a-Najar was killed, security forces killed another paramedic, Musa Abu Hasanin, 34, at a demonstration near Jabalya R.C. According to figures up until 10 July 2018 as released by the World Health Organization, 357 medical staff had been hurt: 26 by live fire; 37 were directly hit by teargas canisters; 12 were hit by shrapnel; no details were given for the rest. In addition, 58 ambulances sustained damage.
The disavowal of responsibility for a-Najar's killing by the IDF Spokesperson and other Israeli state officials should not be construed as an instance of the competent authorities informing the public of the facts. Far from it. They are simply part of the efforts made by the authorities responsible for this policy to mitigate the damage to Israel's image by hiding and whitewashing the facts. Yet, propaganda and reality are two different things. In reality, Israel is indifferent to the killing of Palestinians. Otherwise, it would long ago have changed its open-fire policy and stopped shooting at unarmed protesters on the other side of the fence who pose no danger to anyone. Evidence of this criminal policy is found time and time again as the military persists in implementing it unchanged, enlisting its whitewashing apparatus to back it up, which almost always ensure no one will be held accountable for the killing of Palestinians even in outrageous circumstances such as a-Najar's killing.