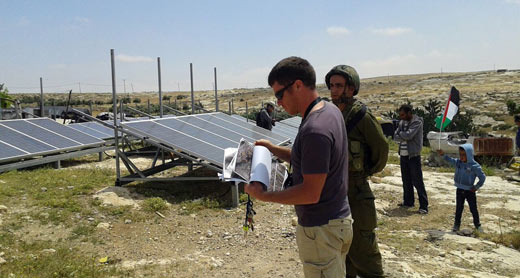 Photos: The CA representative and soldiers near one of the village's structures. Photo credit: Nasser Nawaj'a, B'Tselem
A Civil Administration representative accompanied by soldiers arrived this morning at the village of Khirbet Susiya in the South Hebron Hills, which is facing the risk of imminent demolition. The representative, known to the residents as Carlos, took photos and GPS measurements of village structures. Based on past experience, local residents fear that this action means the CA is preparing to demolish the village in the near future.
Background
At any moment, the Civil Administration might demolish all homes in the Khirbet Susiya, expelling the residents from their land. This follows a decision by Israel's High Court of Justice to not issue an interim order to prevent the demolition, given in a petition filed by the residents and Rabbis for Human Rights arguing that the CA rejected their master plan for unprofessional reasons, using a double standard and discriminating against Palestinians. This harsh, unlawful move is part of Israel's policy in Area C, intended to facilitate the takeover of Palestinian land for settlements, and the expulsion of Palestinian communities from Area C to Areas A and B in preparation for the annexation of lands to Israel.