Dear friend,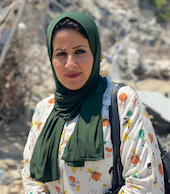 I'll never forget that evening: May 10, 2021, just before the Iftar meal that breaks the Ramadan fast. I was standing in the kitchen when I heard a series of deafening blasts. I told myself not to worry, because it was probably more sonic booms created by Israeli airplanes. The usual. But I quickly realized they were bombing Gaza. The airstrikes continued, non-stop, throughout the night. Houses were shelled, people were killed, and others fled their homes.
 
In the morning, I packed my bags. I live in the a-Shuja'iyeh neighborhood of Gaza City. It's close to the perimeter fence and we didn't feel safe. My children were scared, especially Zeinah, who's only 14. She didn't leave my side for a moment. Two days later, on the first day of 'Eid al-Fitr, we moved to my sister's.
The bombings grew heavier every day. I was shattered. I couldn't eat or sleep and didn't have a moment's peace. I was horrified by the death all around us. My son Yusef, 12, started running a fever with every airstrike. To shut out the noise, he would go to sleep with his hands over his ears. Zeinah was paralyzed with fear. Haya, 17, barely ate and kept repeating, "We're going to die." My 16-year-old son Yasser asked, "Mom, aren't they declaring a Hudna? What are they saying on the news? I'm tired, I'm so scared." Every night, Yusef said, "Mom, don't go far. Stay close to my brothers and me. We have to either die together or live together. You can't die and leave us and I can't die and leave you." I didn't know what to say. All I could do was hug him and cry. I kept asking myself: When will it be our turn?
Then, they announced the war was over. I hugged my children and husband, overjoyed we'd made it in one piece. We went back home. When I saw the extent of the damage, I collapsed. The walls were cracked, there were no windows or doors, and everything was destroyed and covered in debris, dust and shattered glass. I've been through four wars. Every time, I had to leave my house with my family. Every time, I came back and found it that way. Why? What crime have we committed? Every time, we start over from scratch. Every time, the Israeli military comes back and destroys my home.
 
After the war, I started traveling around the Gaza Strip collecting testimonies from victims and their families. It was almost too much to bear, hearing the heartache and sadness over and over again. A woman weeping over her husband, a family miraculously saved, a mother crying in pain for her little girl, grandparents who keep looking at the door expecting their loved ones to walk in. One woman told me she'd watched her home crumble to nothing; another moved to live by the cemetery so she can visit her son's grave first thing in the morning and before she goes to bed at night.
 
I laid my pen and pad down and cried with the families. With the young guy who told me how he'd lost his leg while trying – and failing – to save a wounded person. With another who described helplessly watching his parents die, slowly, until they drew their final breaths. With the mother whose son had burned to death before her very eyes. I walked the ruined streets, with mourners' tents in every house and square. Demolished roads, collapsed infrastructure, towers and buildings wiped off the face of the earth, bits of furniture and clothes scattered everywhere. All that's left is the sadness and depression enveloping everyone, and countless broken dreams.
 
I started working as a field researcher with B'Tselem four years ago. It's never been easy. There's always something going on in the Gaza Strip. I remember going to the border during the March of Return protests and standing not far from the protesters as the snipers fired at them. It was dangerous and terrifying. But nothing can compare to the horrific scenes I've witnessed since the last war.  
 
These are the testimonies of the people that B'Tselem's researchers in Gaza – my colleagues Khaled al-'Azayzeh and Muhammad Sabah and myself – spoke with. They are the voices of Gazans who lost their loved ones, their homes, everything.
 
Olfat al-Kurd
B'Tselem Field Researcher in the Gaza Strip