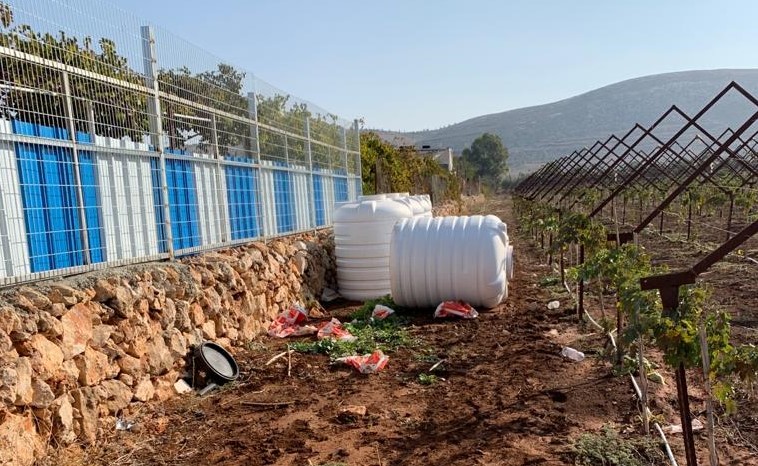 On Monday, 9 November 2020, late at night, settlers invaded two privately-owned plots east of the village of Turmusaya, destroyed some farming equipment and stole other parts.  
The settlers first invaded the plot of Nidal Rabi' (68), a father of three. They stole two large water containers and 14 faucets, and destroyed water pipes about 100 meters long. The damage is estimated at 5,000 shekels (~1,555 USD).
They then invaded the plot of Rajeh Jbarah (55), a father of ten. There, they stole a generator, a chainsaw, two vertical band saws, a circular saw and work tools – hammers, chisels and screws. They also broke ten window boxes and five light fixtures and sprayed a Star of David on the fence, as well as graffiti reading "Israel is alive and will never die." The damage was estimated at thousands of shekels.
The landowners discovered the theft and vandalism the same night and reported it to the Israeli DCO and the Israel Police, who sent representatives the next day to collect statements and assess the damage. During the day, the police summoned the farmers to give statements at the Binyamin police station. Although they went to the station and gave their accounts, they have not heard anything about the investigation since.