Jalud, Nablus District: Settler cut barbed-wire fence surrounding home, steal expensive equipment and wreak havoc
On 2 December 2021, Hisham Hamud (30) discovered that settlers had damaged part of the barbed-wire fence surrounding his house and stolen work tools, including a welding device, a drill and a generator worth thousands of shekels from the storage in his yard on the southern side of the village. The settlers also poured soil into Hamud's car engine, punctured its four tires, uprooted seedlings in the yard and wreaked havoc.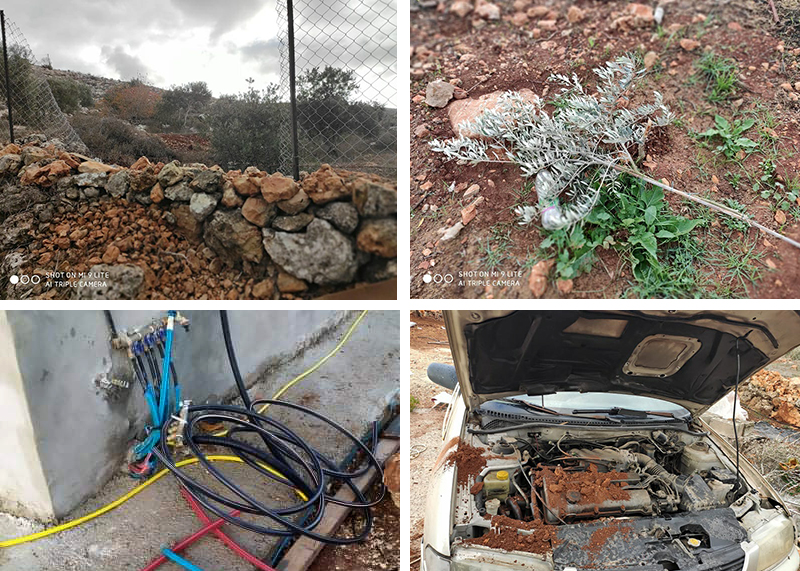 Khirbet a-Tawamin, South Hebron Hills: Settlers vandalize family's residential cave and steal equipment
On the evening of 7 November 2021, settlers invaded the cave of a family from the community who were not home at the time. They broke some of the family's belongings, stole objects and lighting fixtures, emptied water containers placed by the cave and damaged an agricultural irrigation system.
Deir Jarir, Ramallah District: Settler torch agricultural structure, damaging olive trees in the fire
On 4 October 2021, Anwar Abu Mokho (59) discovered that settlers had torched an agricultural structure he owned, which contained a bed, bedding, buckets, a water container, a closet and cooking utensils. Five 10-year-old olive trees near the structure were damaged in the fire.
Turmusaya, Ramallah District: Settlers attack olive harvesters; when the victims try to defend themselves, soldiers fire tear gas and "rubber" bullets at them
On 23 Oct. 2021, Turmusaya residents were harvesting olives on their land, near which the Adei Ad outpost was established, joined recently by a settler "farm". Some 20 masked settlers attacked them with clubs and stones, injuring several of them. Dozens of residents came to help protect the land, and soldiers who arrived fired tear gas and "rubber" bullets at them. The settlers also torched a car and damaged several others. This incident is no exception: such settler attacks are another tool Israel uses to take over Palestinian land in the West Bank. Read more
Al-Birah, Ramallah District: Settlers puncture tires of 36 cars and spray hate slogans
On 9 November 2021, at 3:40 A.M., security cameras recorded three settlers who entered the northern neighborhood of the town, punctured the tires of 36 vehicles and spray-painted the walls of six homes and 12 cars with slogans including, "Enemies here live," "There will be war over Judea and Samaria" and "Price tag," as well as Stars of David. Residents of the neighborhood estimated that the settlers left through the dirt road leading to the nearby settlement of Beit El. The day after the incident, representatives of the Israeli DCO arrived at the town escorted by soldiers, photographed the damage and listened to residents' testimonies. Several young Palestinians hurled stones at the soldiers, and the latter threw stun grenades and fired tear gas canisters at them. No one was injured.  
On 23 October 2019, B'Tselem documented a similar incident in which settlers entered the neighborhood, vandalized cars and spray-painted slogans. On 27 October 2020, settlers torched the al-Bir wa al-Ehsan mosque in the town, which lies about 800 meters away.   
Burqah/Homesh: Settlers attack landowners coming to area of evacuated settlement to plant trees
On Monday, 15 November 2021, at around 11:00, about 15 residents of the village of Burqah in Nablus District came to their land, from which the settlement of Homesh had been evacuated in 2005.   
 
The landowners arrived in four cars and a tractor and brought seedlings to plant in their land but were surprised to find several settlers there when they reached the area. While attempting to leave the area for fear of a confrontation, a minibus drove up with more settlers.
 
The settlers, some of whom were carrying firearms and others holding batons and pepper spray, attacked the landowners in their cars using live fire, batons and stones. Shadi Abu O'mar (37) was injured after settlers hit him repeatedly on his head with a metal rod, as well as sprayed him with pepper spray, which caused him to lose consciousness. Five additional Palestinians were injured by baton blows and stones, and all were evacuated to Rafidia Hospital in Nablus. In addition, the settlers smashed the windshields of three of the landowners' cars.
Marda, Salfit District: Settlers puncture car tires and scrawl hate graffiti on house fences
In the early morning hours of 13 October 2021, residents discovered that settlers had entered the village under cover of darkness, punctured the tires of 11 cars and sprayed the slogans "Price tag" and "Demolition for enemies, not for Jews" on house fences, as well as a Star of David on one of the cars.
Qusrah, Nablus district: Muhammad Hassan attempted to defend his brother's house from an invasion of settlers and soldiers – and paid for it with his life
On 3 July 2021, settlers escorted by soldiers stoned homes in Qusrah, southeast of Nablus. The soldiers did not lift a finger to stop the attack, and the villagers tried to defend themselves by throwing stones. At one point, a soldier shot Muhammad Hassan in the shoulder, who was trying to defend his brother's home by throwing stones from its roof. As in other cases, in this instance too, settler violence is not a local, sporadic initiative but, rather, part of Israel's policy. Read more
Burin, Nablus District: Settlers stone home and break olive tree branches; Soldiers escorting them stand by
On 11 September 2021, at around 4:00 P.M., about 20 settlers stoned the Soufan family on the southern side of the village of Burin while several soldiers and a settlement security guard stood by. The settlers smashed the solar panels of a sun boiler on the roof of the house, a water container and the windshield of a car belonging to one of the villagers. During their retreat, the settlers broke the branches of 17 olive trees tens of meters from the attacked home.
Qaryut, Nablus District: Soldiers guard settler as he harvests and steals Palestinian family's olive crop
On 11 October 2021, Shaher Hazem (53) went, after prior coordination with the military, to his olive grove on the western side of the village. The grove spans about 10 dunams and has 68 fruit-bearing olive trees. When he got there, Hazem was surprised to find a settler, escorted by several soldiers, who told him he had already picked the olives. Hazem inspected the trees and discovered that the settler had indeed harvested almost all of them and had scattered metal spikes in the grove that damaged his tractor tire. He was forced to return home empty-handed. In previous years, Hazem extracted about 600 liters of oil from the grove.  
As the settlement of Eli was established near the grove, the military allows Hazem to access his land only once a year, after prior coordination. Last year, the same settler harvested olive trees on Hazem's land, cut down five of them and scattered spikes on the ground to sabotage the tractor. 
Subscribe to Damage to property

Israel's regime of apartheid and occupation is inextricably bound up in human rights violations. B'Tselem strives to end this regime, as that is the only way forward to a future in which human rights, democracy, liberty and equality are ensured to all people, both Palestinian and Israeli, living between the Jordan River and the Mediterranean Sea.