The health care system in the Gaza Strip is severely lacking and cannot fully provide for the needs of the local population. Approximately a year and a half ago, we reported on the difficulties of patients in Gaza who go untreated. Little has changed since. The flaws in the system are due, in part, to neglect over the nearly four decades of Israel's direct occupation of the Gaza Strip, and to the Israeli siege on the Gaza Strip imposed after Hamas came into power in June 2007 - a siege with which Egypt has been cooperating for its own reasons. As part of the siege, Israel limits the import of medical equipment into Gaza. It also imposes restrictions on doctors traveling outside the Gaza Strip to pursue further medical training and specialization.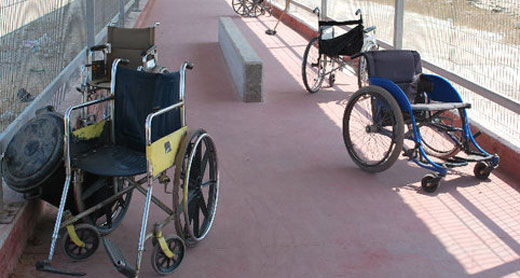 Wheelchairs at Erez Crossing. Photo by Medical Aid for Palestinians, Oct. 2011 
One outcome of this situation is a harsh reality in which many patients need medical treatment that can only be provided outside the Gaza Strip - in the West Bank (including East Jerusalem), Jordan, or Israel. As a rule, Israeli authorities permit patients to enter Israel for medical care only in life-and-death cases. Although permits are sometimes issued for people suffering from severe but non-life threatening conditions, even then the treatment is sometimes cut short because authorities refuse to issue additional permits. The criteria for issuing permits for what Israel calls "quality of life" medical care are unknown. This leaves patients in a constant state of uncertainty. Many have no choice but to go without care, including people suffering from severe orthopedic problems, hearing and visual impairment and other grave illnesses.
Given the lengthy bureaucratic process involved in receiving a permit and the undeclared criteria for eligibility, even some patients in critical condition have not received permits in time and have not received the care they needed in time.
As noted, the bureaucratic process is an arduous one, be it for obtaining lifesaving treatment or for other medical care: patients must first get a referral from their physicians to submit to the Department of Civil Affairs in Gaza. The department schedules an appointment for the patients at the relevant hospital and files a request with the Israeli authorities for entry permits for the patients and those who are to accompany them to hospital. Once the request is filed, a few of the applicants are summoned for interrogation by the Israel Security Agency at Erez Crossing. If the Israeli authorities refuse to issue a permit, they provide no explanation for the decision. In some cases, the day of the appointment arrives with no answer from the authorities, so the patient is back to square one and must go through the whole process all over again.
In December 2015 the media reported that Israel had raised the minimum age threshold for people accompanying patients, now allowing into Israel only individuals over the age of 55. This means that in most cases, parents will not be able to accompany their children going in for treatment and often enough neither will grandparents, who tend to be young in the Gaza Strip. Admittedly, an exception to the rule can be made if the person undergoes a "security assessment", but experience shows that this lengthy procedure is usually unsuccessful.
WHO (World Health Organization) figures: Requests by patients from Gaza to enter Israel via Erez Crossing for treatment in the West Bank, Israel or Jordan
| | | | | | |
| --- | --- | --- | --- | --- | --- |
| Year | Total no. of requests | Approved | Denied | Unanswered | Summoned for interrogation |
| 2015 (through October)  | 18,077 | 14,143 | 1,035 | 2,899 | 146 |
| 2014 | 18,266 | 14,921 | 528 | 2,817 | 179 |
| 2013 | 13,776 | 12,120 | 40 | 1,616 | 178 |
Rafah Crossing, the only exit point from the Gaza Strip not controlled by Israel, is under Egypt's control. But Egypt also limits passage through the crossing, in both directions. Apart from a few days a year, Rafah Crossing has been closed since 2013, effectively shutting off the only alternative route for receiving medical treatment outside of Gaza.
According to the World Health Organization (WHO) and Gaza's Ministry of the Interior, Rafah Crossing was open for only 24 days in 2015. On four of those days, it was open only to pilgrims returning from Mecca. In 2015, only 148 Gazan patients were allowed into Egypt for treatment. In comparison, from June 2012 to July 2013, when Rafah Crossing was regularly open, Egypt allowed in for treatment some 4,000 patients a month.
From September 2015 to January 2016, B'Tselem's field researchers in the Gaza Strip collected testimonies from patients who were referred by their doctors for treatment in the West Bank (including East Jerusalem), Israel or Jordan and submitted requests for permits to enter Israel accordingly, but were denied or received no answer.
Israel cites security considerations as the reason for the prohibition on Gazans entering its territory, based on the absurd premise that each and every applicant constitutes a potential security threat. These arguments do not justify the sweeping ban on entering Israel in order to access medical care, especially as every applicant is subjected to stringent security checks.
Giving Gazans a permit to enter Israel in order to access medical care is not an act of charity on the part of Israeli authorities. A decade after the Disengagement Plan, Israel still controls the movement of Palestinians in and out of Gaza: it controls almost all of Gaza's land and sea borders and prevents the operation of an airport and seaport there. With few exceptions, Israel also does not allow Gazans to travel abroad via Allenby Crossing, which connects the West Bank and Jordan, or via Israeli airports.
This extensive control obliges Israel to permit Gazans, including those in need of medical care that is not lifesaving, to leave the Gaza Strip. This includes the duty to allow Gazans passage through Israel in order to reach the West Bank and Jordan. Depending on the circumstances, Israel can require individuals to undergo a security check as a criterion for receiving a permit.
Testimonies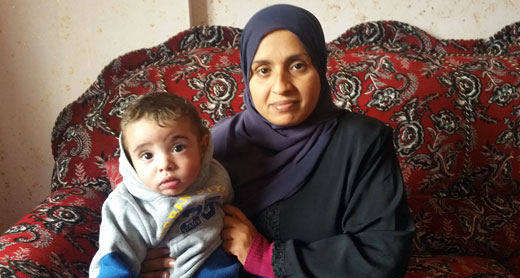 Testimony of 'Awatef Hamuda Hussein Abu Daher, 41, a widow and mother of four. A nurse at the Palestinian Red Crescent's al-Quds Hospital in Gaza, she lives in Deir al-Balah. Her infant son was born with congenital defects in the heart and in other internal organs:
My husband was killed in the war in the summer of 2014, when he went back to check on our house. I was pregnant at the time. Routine check-ups during the pregnancy found that the fetus had defects in the heart, stomach and intestines. Hospitals in the Gaza Strip are not equipped to deal with these problems, so I was sent to give birth in Israel. My son Na'im was born on 11 March 2015 at Tel Hashomer Hospital in Israel.
After the birth, Nai'm was kept at the ICU in Tel Hashomer for about a month. I stayed with him and my other kids stayed with my sisters. I was on the phone with them all the time. After about a month, Na'im's life was out of danger. My sister Ibtisam took over from me at the hospital, and I went back home to my other kids. Ibtisam stayed with Na'im for a whole month until he was discharged. Then they came home.
We were told to come back for examinations and follow-up in June 2015. My daughter Mais was sick and I was very busy with my hospital work and at home, so Ibtisam took Na'im for the follow-up in Israel.
At Tel Hashomer, they found that Na'im had blockage in a coronary artery. They hospitalized him and tried to perform cardiac catheterization on him, but it didn't work. So they opened him up and cut off the blocked section of the artery. Na'im stayed in hospital for 18 days. During that time, I replaced Ibtisam at the hospital. I stayed there with him for about a week and then we went home to Gaza.
On 1 August 2015, I took Na'im for a check-up at the hospital, after we got a permit to enter Israel. The doctors said that his condition was stable but scheduled him for another operation on 1 December 2015. We went back to Gaza the same day. When the date of the operation drew near, I filed a request for a permit with the Department for Civil Affairs, as always. My sister was supposed to go with Nai'm.
We filed the request but got no answer. On the scheduled date, Ibtisam took Nai'm to Erez Crossing and waited for about two hours by the DCO office. The clerks there said that she didn't have a permit. Ibtisam went back to the Department of Civil Affairs in Gaza and asked them to request a permit for me instead of her, so that we'd make it in time for the operation that day. They tried, but again received no answer from the Israeli side.
We scheduled a new date for the operation on 5 January 2016 through the Department of Civil Affairs. I filed another request for a permit for me and for Na'im, but again we received no answer. On 7 January 2016, the Department of Civil Affairs notified me that the Israeli DCO at Erez Crossing wanted to summon me for a meeting with the Israel Security Agency at the crossing. I'm still waiting for them to schedule the meeting.
Na'im is suffering from lack of oxygen. Sometimes, when he's short of breath, he turns blue. He's on medication. Right now he's at my sister's place, because she lives closer to the hospital and is also at home so she can care for him. I take him home on the weekends.
I can't stop worrying. I'm scared I won't get a permit, especially since I heard that Israel is refusing to give permits to people under the age of 55 who wish to accompany patients.
* Given to B'Tselem field researcher Khaled al-'Azayzeh

Testimony of 'Ali Khader Muhammad Bashir, 46, a married father of eight and owner of a clothing store in the town of Deir al-Balah. He is hearing impaired and suffers a neurological problem:
About fifteen years ago, I started suffering from hearing problems. Five years later, I got a hearing aid with the financial help of the Deaf and Dumb Society in Gaza. Over the years, I've gone from doctor to doctor in the Gaza Strip and they prescribed me all sorts of medications, but nothing made me better, quite the contrary.
Three years ago, I also started suffering from problems with my balance as well as vertigo and weakening of the nerves in my legs. I don't know if it's connected to the hearing problems. I was hospitalized in Nasser Hospital in Khan Yunis for ten days, but they couldn't help me and my health kept getting worse. I can't lift heavy things any more because it's too difficult.
Every doctor who examined me diagnosed me with something else. I took a lot of drugs that the doctors prescribed but nothing helped.
A few months ago, in May 2015, I was referred to Palestine Hospital in Cairo, but Rafah Crossing was closed so I couldn't go. Two months after the set date the doctors gave me another referral, this time to a-Najah Hospital in Nablus. The appointment was set for 15 July 2015 and I filed a request for an entry permit through the Department of Civil Affairs in the Ministry of the Interior. I waited but no answer came, so I called the department and the officials there told me that the Israeli side had refused to give me a permit.
Three months later, I got another referral for a-Najah Hospital and was told to come in on 12 October 2015. I filed another request for a permit with the Ministry of the Interior, but three days later they notified me that it was refused. I asked to renew the referral but managed only to get a referral for a hospital in Egypt, under the assumption that hopefully Rafah Crossing would be open.
Getting the referral renewed every time is a hassle and a nightmare. I have to go to Deir al-Balah again and again until I'm given the referral, and every time I have to close my store and waste an entire day running around between doctors and offices.
Nowadays I can't keep my balance at all and I can't stand up straight. I keep feeling that I'm about to fall down. That means that I can't pick anything up from the floor because I can't bend down for fear of falling over. I even have to pray seated on a chair. I still have hearing problems, too. It's hard to hear clients, so fewer and fewer come to my store. Because of all these problems, I stopped attending family events and social gatherings.
Over the years I've spent a lot of money on treatments that didn't help me at all. I spent thousands of shekels on medication that wasn't available in government pharmacies.
*Given to B'Tselem field researcher Khaled al-'Azayzeh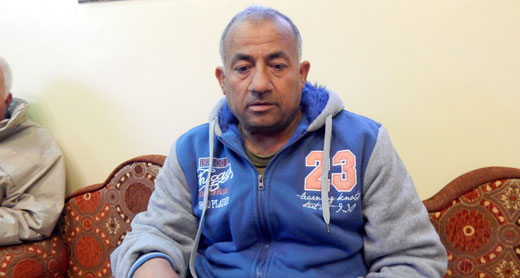 Testimony of 'Adnan Wasfi 'Adnan Barbakh, 51, a father of eight and former administrator in the Palestinian Authority. He lives in the a-Sheikh Nasser area in the town of Khan Yunis and has a heart condition:
In 2005 I had a serious heart attack at home. My family took me to Nasser Hospital in central Khan Yunis and the doctors said I had to undergo cardiac catheterization. They kept me there for a week and then transferred me to the Palestine hospital in Cairo, where I underwent open-heart surgery. I stayed in the Cairo hospital for about a week and then returned to Gaza, with instructions for follow-up and prescriptions for daily medication.
The illness has made my life very difficult. I'm constantly exhausted, I have to watch my diet and I have to avoid dust and strong wind. On 15 September 2015 I started feeling short of breath and felt as if I was suffocating. My sons wanted to take me to hospital but I wouldn't go, because I thought it was an attack that would pass once I took my medicine. But my condition kept getting worse and now I feel constantly short of breath and tired.
On 20 October 2015 I went for a check-up at Nasser Hospital. The doctors said I had to undergo cardiac catheterization and revascularization. They gave me an urgent referral for surgery in al-Hayyat Hospital in Jordan and the procedure was scheduled for 1 November 2015. The idea was to leave Gaza via Erez Crossing.
I filed a request with the Department of Civil Affairs in the Ministry of the Interior and was told I would get an answer by phone within a week. A week later I hadn't heard from them, so I went back to the department and they said they were still waiting for an answer from the Israeli side. In the meantime, my condition is getting worse every day. I get tired walking even short distances. I see how worried my family is.
In early January 2016 I was told that Rafah Crossing would open for two days, so I thought of making the journey through Egypt. But the crossing was packed with people trying to get out of Gaza. For two days running, I went there and waited for hours in long lines but couldn't get through.
* Given to B'Tselem field researcher Muhammad Sa'id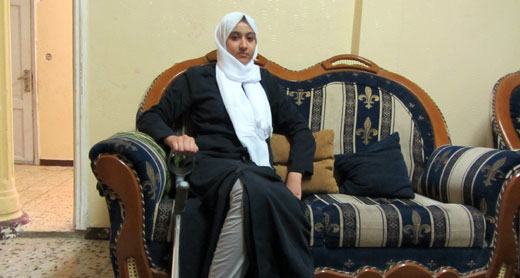 Testimony of Ulfat Muhammad Khaled Kasab, 16, a ninth-grader who has a defect in her pelvic bone. She lives in a-Sheikh Radwan neighborhood, Gaza City:

I was born with genu valgum (knock-knees) and had several rounds of surgery in Gaza and in Egypt, but they all failed. In 2008, I went to Egypt and underwent five months of treatment with my mother and two sisters, all of whom have the same problem. My father came with us. In Egypt, they operated on me and I traveled back to Gaza in an ambulance. Because of all the treatments and operations over the years, I'm two years behind on my studies. In 2011 I went back to Egypt with my father to see a private doctor. He told us the treatment I needed wasn't available in Egypt.
In February 2014, I was referred to al-Makassed Hospital in [East] Jerusalem. The Israelis refused to give my father a permit so he could accompany me. My mother had surgery around that time so I went to Jerusalem with my aunt Manal. I got there on 9 February 2014 and had surgery to straighten my left leg. The doctors inserted a graft in my leg and secured it. The operation was a success. I stayed in hospital for twelve days and then went back to Gaza.
Since then, I've been to al-Makassed Hospital several times for follow-up and other treatments. The last time was in February 2015. On that visit, they scheduled me for another operation on 20 October 2015 to lengthen my left leg.
This time, I didn't get a permit and missed the operation date. When I was informed that the Israeli side had refused my permit, I felt very bad and I completely broke down. I'd been hoping so much that the pain and treatments would stop and that I'd be able to walk normally without crutches and without people staring at me in the street. I'd also hoped to go back to school on a regular basis. The refusal dashed all my hopes. I was scheduled for another appointment on 8 May 2015 and again on 3 November 2015, but the Israeli side refused to issue me a permit.
Now, I take vitamins and calcium and painkillers prescribed by doctors in Gaza. I get around on crutches and my legs hurt very much. I go to school by bus, and on rainy days I prefer to stay home because I'm afraid of slipping with my crutches, making my condition even worse. Because I've been out of school so much, my grades have really slipped and I'm now in the ninth grade instead of the eleventh.
I was so happy when I started feeling better after the treatments in al-Makassed in Jerusalem. I started hoping that I could have a normal life after years of suffering, and that people would stop treating me like a cripple. Like all girls, I dream of studying and getting married. Now, I'm frustrated and an emotional wreck because I can't complete the treatment.
* Given to B'Tselem field researcher Khaled al-'Azayzeh אל-עזאייזה. 
Testimony of Asmaa Da'ud 'Othman 'Ashur, 54, a mother of seven. A homemaker who livesin Khan Yunis, she suffers from diabetes, high blood pressure and thyroid dysfunction:
In late 2012 I started suffering pain in my pelvis. I went for several medical exams and was told I had to have a cyst removed. On 13 January 2013 I underwent surgery to remove the cyst in Nasser Hospital in Khan Yunis and was then sent home. A few days later, I felt terrible pain in area that was operated on and I went back to hospital. The doctors gave me painkillers and antibiotics and sent me home.
The pain lasted for several months. There were times when I couldn't even get out of bed. The incision from the operation didn't heal and an abscess developed there. The doctors drained the pus twice and said that the area hadn't healed because I have diabetes. Some of the doctors said the operation hadn't worked.
In the end, the doctors at Nasser Hospital referred me for further treatment at a-Shifaa Hospital in Gaza City. For a whole year, they examined me and took X-rays and gave me more medication and more painkillers, but they couldn't find exactly what was wrong with me. By then, I could no longer walk.
In November 2013, the doctors referred me to al-Makassed Hospital in East Jerusalem. When I got there, the doctors couldn't work out why I was unable to walk. They gave me medication and local treatment for the infected wound in the small of my back and sent me back home.
I've also been to public and private clinics in Gaza. In the end, the doctors at Nasser Hospital referred me again for treatment outside the Gaza Strip, this time to al-Mezan Hospital in Hebron. On 30 April 2014, I went to Hebron and the doctors said I needed surgery on my spine. But when I got back to Gaza, the doctors said the surgery was risky and advised me not to go through with it, so I decided against it.
I'm confined to a wheelchair. I'm also in terrible pain and can't sleep. I keep taking sedatives and painkillers. After my latest check-ups, I was told that I am suffering from erosion of my pubis and have to undergo another operation. The doctors are afraid to perform the surgery in Gaza, so they referred me to a-Najah Hospital in Nablus.
My son went to the Department of Civil Affairs at the Ministry of the Interior several times and the hospital set my appointment for 19 November 2015. The department submitted the medical referral with a request for a permit to enter Israel, and we were told they would notify us when they had an answer, but we never heard back from them. On the day of the appointment, my son went to the department offices at 8:00 A.M. and was told that the Israeli side had denied the request without any explanation.
* Given to B'Tselem field researcher Muhammad Sa'id
Testimony of Faruq Iyad Muhammad al-Hams, 19, a resident of Yabnah Refugee Camp in Rafah. He has a benign growth in his shoulder that is pressing on nerves, causing him intense pain and limiting movement: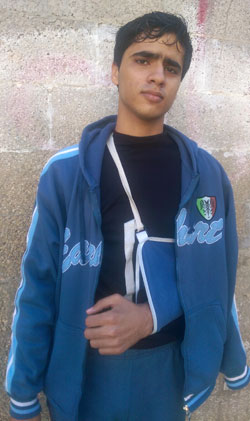 I am currently studying education at al-Aqsa University in Khan Yunis. Four years ago, I started feeling pain in my back. I went to the local clinic in the camp and the doctors gave me medication and painkillers for two years, but I didn't get any better. It got difficult to move my left shoulder and things slowly got worse, to the point that it hurt too much to move my left arm. That made it difficult to sleep because lying down made it hurt even more, so I started sleeping sitting up.
I went to an orthopedist who sent me to do an X-ray and an MRI. The orthopedist checked the results and said I had a lump in my shoulder that could be cancerous. I was sent for a CT scan. The doctor who checked the scan said that the lump was benign but should be removed immediately because it's pressing on nerves. She sent me for a biopsy that confirmed that the growth was benign.
The doctor referred me for surgery in a-Najah Hospital in Nablus and the surgery was scheduled for 4 August 2015. I filed a request for a permit through the Department of Civil Affairs but didn't get an answer from the Israelis. The surgery was rescheduled for 16 August and I applied again for a permit, but again got no response. I set two more appointments, for 3 November and again for 8 December, but both times received no answer. In the meantime, I've submitted a request with the Ministry of the Interior in Gaza to go to Egypt in the hope that the crossing will be opened.
My back and left arm cause me incredible pain. My arm is almost paralyzed and I get dizzy with pain. It makes it very hard to study and I can't attend classes regularly. I go to the university only once or twice a week and my grades have seriously slipped. My grade point average went down from 85 to 69. It's hard to function at home and I can't even dress without help.
* Given to B'Tselem field researcher Muhammad Sabah