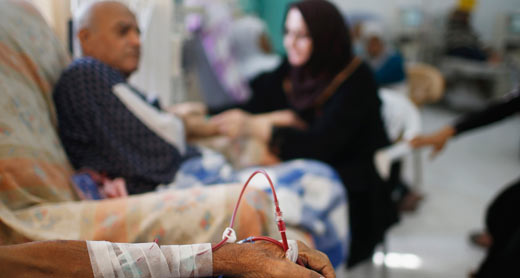 Patients in a-Shifa hospital, Gaza. Photo: Suhaib Salem, Reuters.
Gaza's health care system is riddled with deficiencies and is unable to fully meet the needs of the population. Israel allows most patients with life-threatening conditions to receive treatment in the West Bank or inside Israel. Yet this is not the case for many others who have conditions that are not life-threatening but cannot receive adequate care in Gaza. Over the past few months – ever since Egypt began severely restricting travel through Rafah Crossing – these patients have been left with no way of obtaining the medical care they need.
Background
The poor state of Gaza's health care system is the result of neglect over the course of 40-odd years of direct Israeli control combined with the siege Israel laid on Gaza, with Egyptian cooperation, after Hamas rose to power in June 2007. When the siege was in effect, Israel imposed restrictions both on bringing medical equipment into the Gaza Strip as well as on doctors' travel out of Gaza to courses and programs that would lend them greater proficiency and skills.
In certain medical fields, including oncology and hematology, Gaza's health care system is very limited, and patients must travel to Egypt, Jordan or Israel to receive appropriate treatment. However, ever since the siege was imposed, Israel and Egypt have severely restricted travel by Gaza residents, leaving many patients with non-life-threatening conditions out in the cold.
Israel currently allows most patients with life-threatening conditions who cannot receive treatment in the Gaza Strip to enter its own territory or the West Bank for medical treatment, provided they apply for a permit and subject to security clearance. In contrast, patients with non-life-threatening conditions who require care unavailable in the Gaza Strip, such as various orthopedic conditions or certain eye diseases, are hard-put to obtain similar permits to enter Israel or the West Bank.
A document prepared by the Israeli Ministry of Defense does not spell out the criteria for receiving such permits, merely providing the unspecific explanation that permits will be issued for "the purpose of receiving life-saving medical treatment or medical treatment without which quality of life is entirely altered, all subject to unavailability of the sought medical treatment in the Gaza Strip".
The approval process for an entry permit to Israel may include the requirement of coming in person to Erez Crossing for security questioning by the Israel Security Agency (ISA). Therefore, men between the ages of 16 and 38 sometimes choose not to apply in the first place, fearing a summons for questioning and possibly a subsequent arrest. According to the World Health Organization (WHO), in 2013, Israeli security forces apprehended four patients en route to receiving medical treatment in Israel or in the West Bank as well as three individuals escorting patients. WHO's data for 2014 states one patient and one escort were apprehended.
WHO's figures on applications for entry permits for medical treatment in the West Bank and Israel, 2014: 
| | | | | | |
| --- | --- | --- | --- | --- | --- |
| Month | Total  no. of applications   | Approved | Denied |  Pending |  umber of applicants summoned for interrogation (of total applications) |
| Jan. | 1,538 | 1,350 | 37 | 151 | 33 – 2 permits approved |
| Feb.  | 1,485 | 1,289 | 50 | 146 | 13 – 1 permit approved |
| March | 1,806 | 1,553 | 33 | 220 | 18 – 1 permit approved |
In late May of 2011, after four years of restricting the use of Rafah Crossing, Egypt began allowing almost free passage to medical patients either into its territory or through it, to Jordan. However, since the government of Egypt was replaced in July 2013, Rafah Crossing has been open only intermittently with only a few types of travelers allowed through - foreign passport holders, pilgrims and individuals suffering from serious medical conditions – mostly cancer patients. Since the beginning of 2014, the crossing has been closed on an almost permanent basis. It opens only for several days each month. According to the WHO, in January 2014, only 88 medical patients were allowed to travel to Egypt for medical treatment, 36 in February and 40 in March. In comparison, prior to July 2013, an average of 300 medical patients were permitted to cross the checkpoint every month.
In light of the new Egyptian restrictions, Israel has begun issuing more entry permits to Israel or the West Bank to patients from Gaza.
In recent months, B'Tselem has collected testimonies from dozens of patients from the Gaza Strip who have been left without any medical care as a result of Egypt's closure of Rafah Crossing and Israel's continued restrictions on entry into its own territory and the West Bank for medical treatment. Israel prevents Gaza residents from operating seaports and airports and refuses to allow them to travel abroad via Allenby Bridge – the border crossing between the West Bank and Jordan, or through Israeli airports, leaving Rafah as their only gateway abroad. But, since the beginning of this year (2014), not only has the crossing been opened only on a very few days, many patients were not allowed passage, leaving them with no avenue to essential medical attention.
Israel cites security concerns as justification for some of the restrictions it imposes on Gaza residents. It can resolve these concerns by imposing certain travel restrictions and individual security screenings. Security considerations cannot justify indiscriminate restrictions on all Gaza residents. So long as Israel does not allow sea and air travel out of Gaza and controls one of its two land border crossings, it has an obligation to allow Gaza residents, particularly those in need of medical care, to leave Gaza and travel through Israeli territory in order to reach the West Bank and Jordan, subject to individual security clearance.
Testimonies:
Majda al-Bardini, 26, of Deir Al-Balah, has suffered esophageal problems since birth and been treated at a-Shifaa Hospital in Gaza ever since. Yet the doctors' attempts to dilate her esophagus have failed and she is underweight and restricted to a liquid diet. In December 2013, her doctors referred her for further treatment at St. Joseph Hospital in East Jerusalem. This is what she told B'Tselem field-researcher Khaled al-'Azayzeh:

At the end of last year, the doctors gave me a referral for treatment at St. Joseph Hospital in Jerusalem. I got the referral on 16 December 2013 and the procedure was scheduled for 26 January 2014. For two months my Nidal brother checked with the Civilian Affairs Office every day to see if I got the transit permit, but I didn't. We had to book a new appointment for the treatment, for 11 March 2014. My mother was supposed to come with me.

On the afternoon of 9 March 2014, someone called saying he was from the Israeli DCO [District Coordination Liaison]. He spoke in Hebrew with my brother and mother. He asked her about my condition and whether I'd been treated in Israel before and if so, where. He told my mother they'd get back to us with an answer.

The next day, 10 March 2014, the Civilian Affairs Office called and said I could go for the treatment, but on my own, without an escort, and that I had to be at Erez Crossing at 7:30 A.M. on 11 March 2014. The next day Nidal went to the Civilian Affairs Office to find out why mother couldn't go with me. They told him the Israelis didn't say my mother couldn't get a permit, but they decided I didn't need an escort. I refused to go on my own. The surgery I'm supposed to undergo on my esophagus is very long. It's supposed to take seven to nine hours and I'm expected to stay in the hospital for 30 to 40 days. I really need my mother to be by my side and take care of me. I've never traveled on my own, and it goes against our customs.

I sent the referral and the medical report on 2 March 2014 and asked for a new appointment. I was given an appointment for 19 March 2014, but I only found out about it that day so I didn't have time to submit an application for an entry permit at Erez Crossing, so I rescheduled for 21 March 2014. I filed an application for a permit, and listed my mother as an escort. On 20 March 2014 I was told I had a permit to go, but on my own. They didn't say why my mother couldn't come with me. I didn't go.

I later asked for another appointment at St. Joseph Hospital. Hopefully I can get a permit for my mother too, so she can go with me to the procedure.

On 28 May 2014, B'Tselem field-researcher Khaled al-'Azayzeh followed up with Majda al-Bardini, who told him that after she bein gunable to get a permit for her mother, she tried to get a permit for her sister-in-law, but that application was also denied. On 25 May 2014, al-Bardini application again for a permit for her mother, after she got a new hospital appointment for 18 June 2014.
'Azmi 'Assaf, 52, of Jabalya, is married and a father of five. He has been suffering from a herniated disc for four years. He has been treated by doctors at a-Shifaa and Kamal 'Odwan Hospitals in Gaza, but the treatment has not improved his condition and his doctors referred him to Jordan for further treatment. 'Assaf told B'Tselem field-researcher Muhammad Sabah:

On 26 February 2014, I contacted the Civilian Affairs Office and applied for a permit. I attached a medical report, a referral, a photocopy of my ID card, confirmation of the appointment at the hospital in Jordan and an entry permit to Jordan. The clerks there asked me to wait for the permit.

On 3 March 2014, I went back to the Civilian Affairs Office. The clerk checked the computer and told me my application had been denied. I asked why and he said they didn't know. I was given a document in Hebrew, with my name on it that said the application was denied.

I was disappointed and frustrated. I lost hope, and it just made the pain worse. I was on edge, and it hurt my family. I can still move and walk, but I don't know what'll happen next year. I'm not a young man, and the pain is very hard on me.

I don't know why Israel rejected my application. I have no security problems and I don't belong to any organization. I worked construction in Israel for about 25 years. I built a lot of houses in Israel. I may have built the home of the person who decided to deny my application.

We have no other solution. Rafah Crossing is closed and there's almost no way to travel through it. If I register for travel through Rafah, it may take four or five months till I can travel. That's a long time for a person my age. I didn't ask to get treatment inside Israel, just to get to the crossing into Jordan to get treatment there. I don't understand why Israel won't let me travel for treatment. In a few years, my condition will be worse and more complicated. I might not be able to walk or work at all because of the pain and the weakness in my legs. I need the treatment as soon as possible.

Update: On 7 May 2014 the NGO Doctors for Human Rights appealed to Erez DCo on behalf of 'Azmi 'Assaf, seeking to have the decision to deny his application to travel through Israel in order to get to Jordan through Allenby Bridge. On 22 May 2014 the DCO rejected the appeal, on the grounds of incompatibility with "current policy".
Kamel al-Burdini, 24, of Deir Al-Balah, has a malignant tumor in his leg, diagnosed about 18 months ago. In a testimony he gave to B'Tselem field-researcher Khaled al-'Azayzeh on 29 March 2014, he spoke of his attempts to travel to East Jerusalem or Egypt for medical care.

About 18 months ago, I started suffering from pain under my right knee. I had tests and x-rays done at al-Aqssa Hospital in Deir Al-Balah. The doctor gave me anti-inflammatory treatment and pain killers. I took the medicine, but felt no improvement. About 15 days later, I had more tests and a CT scan at a-Shifaa Hospital in and an MRI at al-Quds Hospital which belongs to the Red Crescent in Gaza. It turned out I had a cancerous tumor under the right knee. The doctors gave me a referral for further treatment at Al-Makassed Hospital in Jerusalem because the doctors in Gaza weren't sure about the type of tumor.

I made an appointment at Al-Makassed in Jerusalem for 27 June 2013. I applied for a permit to enter Israel at the Civilian Affairs Office in Gaza. I went back to the Civilian Affairs Office about ten days later to see if there was an answer. The clerks told me I had to see the ISA at Erez Crossing. I agreed. I was told to wait for them to schedule an appointment with the ISA. I waited for a long time but nobody called.

At the same time, I arranged to get a referral for treatment at the Dar al-Salameh oncological hospital in Egypt. In June 2013, after I received no update about the meeting with the ISA, I went to Egypt through Rafah. I went to the crossing every day for six days in a row. I was there from 7:00 A.M. to 1:30 A.M. every day, and couldn't go through because it was so crowded. I couldn't shove my way through all the people, so I just sat outside and waited for an opportunity. In the end, I was transported in an ambulance.

At the oncological hospital, they ran tests and it turned out that the cancerous tumor in my right leg had spread to the lungs. The oncologist, Dr. Mustafa Nijam, said I needed chemotherapy and recommended I get it in Gaza rather than Egypt because it would be hard for me there and you need rest and healthy food. I went back to Gaza after about six weeks. Dr. Nijam told me to come see him again in three months.

I got five courses of chemotherapy in Gaza. The last one was ten days ago. I was hospitalized for three days at a-Shifaa Hospital every time, because the doctors didn't want to give me the doses all at once, but gradually. I felt terrible for about a week after each time. I was dizzy and vomited a lot. Because Rafah Crossing is closed, I couldn't return to the oncological hospital as I was told to do, and I continued to receive treatment at a-Shifaa Hospital in Gaza.

During the chemotherapy, my leg felt better, as if the tumor had gone. But now I feel it again. I have to get to tests in Egypt, so the doctor can see what can be done. I may need surgery to remove the tumor. The doctors in Gaza said they weren't sure about the success rates of this kind of surgery and they were concerned about damaging the nerves in the leg. That's why I want to get the Egyptian doctor's opinion. He's more experienced.

I'm now on strong pain killers, like Tramadol and other drugs. A pack of Tramadol costs about 40 shekels [approx. USD 12], which I pay out of my own pocket, because the drugs I got through the Ministry of Health weren't strong enough. I spend about 500 shekels [approx. USD 140]a month on pain killers. My brothers help me pay for it.

I have had a referral from the hospital and the Ministry of Interior for treatment in Egypt since 20 October 2013, but the crossing is closed most of the time and I haven't been able to go. They extended my referral most recently on 27 March 2014. I follow the updates on Rafah Crossing all the time, and two days ago I heard on the news that the crossing would be open for three days as of Saturday, 29 March 2014. My brother Samer, who is 35 and is supposed to go to Egypt with me, went to the crossing and handed in my passport to the Palestinian side. Tomorrow, Sunday, 30 March 2014, I'll go with my brother Samer to Rafah Crossing and I hope they'll let us through.

On 18 May 2014, field-researcher Khaled al-'Azayzeh said that Kamel al-Burdini managed to get to Egypt on 30 April 2014. He had the surgery, remained in hospital for more than a month and then returned to the Gaza Strip.
Muhammad al-Agha, born in 1979, of Khan Yunis is married and has four children. He is unemployed and has had a leg handicap since injured by shrapnel during the targeted killing of an armed Palestinian militant in January 2009. He underwent several surgeries and ended up with one his leg three centimeters shorter than the other and damage to his fourth and fifth vertebrae.

Al-Agha received physiotherapy in the Gaza Strip, but the pain persisted. He was unable to continue working and could no longer make a living as a contractor. He was referred by his doctors in Gaza for treatment at Al-Makassed Hospital in Jerusalem. This is what he told B'Tselem field-researcher Khaled al-'Azayzeh in the testimony he gave on 2 April 2014:

I have been suffering from pain in the leg and back ever since then. I can't walk far. The pain gets worse during the night and when it's cold. I've had to stop working as a construction contractor because of the injury and I've lost my livelihood. We now live off of a 1,200 shekel pension [approx. USD 340] instead of the 5,000 [USD 1430] I used to make as a contractor. Our standard of living has deteriorated significantly. We hardly get by and we can only buy essentials.

I live on pain killers so that I can sleep and walk. When my doctors saw they couldn't help me, they gave me a referral for an operation at Al-Makassed Hospital in Jerusalem. I got the referral on 29 September 2013 and the surgery was scheduled for 6 November 2013.

I applied at the Civilian Affairs Office in Gaza for an entry permit to the West Bank via Israel. I waited for a long time, but the date of the scheduled for the surgery went by and I still didn't get an answer. I rescheduled for 14 January 2014. This time, I received a notice saying that Israel won't issue me a permit. I went to the Palestinian Center for Human Rights for help. A while later, the center told me the ISA wanted to see me at Erez Crossing on 26 February 2014. They told me to prepare a medical report in English and I did.

On 26 February 2014, I got to Erez Crossing at 11:00 A.M. with all the medical documents. I went into the crossing, and after waiting for about an hour and a half, I was taken in to see the ISA. After the security screening, I was taken into a room where there were three people dressed in civilian clothing. One of them, who was sitting behind a desk, asked me about my medical problem. I sat on the floor and straightened out my legs, showing him that one is shorter than the other. Then he asked for my address and told me to show him my house on a computer that was on the desk. He asked me if I had any friends and I said I didn't. He asked me if I knew anyone from Hamas or the Islamic Jihad and I said I had no ties to any organization.

Then, the officer asked his assistants to take me to another room. I sat there, alone, for about half an hour and then they brought me back to him. He asked me if I had thought of something in the meantime. I said I had no security problems and that I had no reason to fear the ISA. A few minutes later, they took me out of the room. I took my things and went back to Gaza, not knowing whether or not they'd let me travel.

About four days later, I got a call from the Civilian Affairs Office and was told that there was no problem and I could go ahead with the arrangements for the trip. I went to the Civilian Affairs Office and the supervisor there checked the computer himself and said I had no problems. In the meantime, the time scheduled for the surgery passed so I rescheduled with Al-Makassed Hospital for 1 April 2014. Yesterday, the day before the scheduled appointement, I went to the Civilian Affairs Office to inquire, and they told me that the Israeli side denied my application.

I went back to the Civilian Affairs Office today to figure out what happened. I was given the rejection paper from the Israeli side. They told me they received it on 18 March 2014.

Now I don't know what to do. I don't have a passport to go to Egypt. Rafah Crossing is closed and the security situation in Egypt is difficult and dangerous. Besides, a trip to Egypt costs a lot of money so I'd rather get the treatment in Jerusalem.

On 28 May 2014, field-researcher Khaled al-'Azayzeh said that al-Agha tried to reapply for a permit at the Civilian Affairs Office. Al-Agha was told that it was not possible because he was defined as "precluded for security reasons".