On 23 July 2014, the Israel Security Agency (hereafter: ISA) reported hitting several top members of the Islamic Jihad organization, including Sha'ban Khaled Sha'ban a-Dahduh, who was described as a regiment commander in the organization's Gaza City Brigade. A-Dahduh was killed in the early evening of 21 July 2014, when the military bombed the four top floors in the Majd a-Salam (Tower of Peace) eight-story office building, in Gaza City's a-Rimal neighborhood. In addition to a-Dahduh, eleven members of the Dirbas and al-Kilani families were killed in the attack, five of them children.
Adv. Abd al-Karim Siyam, 38, told a B'Tselem's researcher that he and his family had left their home in the a-Tufah neighborhood of Gaza because of the shelling, and took shelter in his office, on the second floor of the office building that was bombed. Siyam said that on 21 July 2014, after the meal marking the breaking of the Ramadan fast for the day, he was praying at the entrance to the building with his father and a cousin. He described what happened next: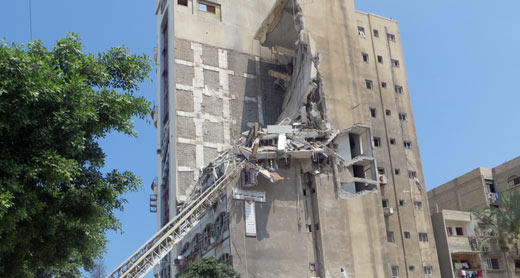 The office building where members of the Kilani and Dirbas families were killed. Photo by Muhammad Sabah, B'Tselem 21 July 2014
We prayed, and then we sat for a while, and suddenly we heard the crash of wreckage and windows shattering. I also heard children screaming, and only then, I realized that the tower was being bombed. I opened the door to the building and started calling for people to come out. Then I saw my wife, my brothers, my mother and the children coming down from the office to the lower part of the tower. They were in shock, scared, and they were crying and shouting with fear. The fourth and fifth floors of the building had collapsed.

People from the Civil Defense then came to evacuate the injured and take away the bodies. We went to the houses nearby. We made sure all the children and family members were okay, and then a cousin on my mother's side came and took us to their house in a-Naser neighborhood in Gaza City.

* He gave his  testimony to Muhammad Sabah on 19 August 2014.
One of the offices on the fifth floor of the building was the refuge of members of the Dirbas and al-Kilani families. All told, they were 11 people, who had fled their homes in Beit Lahiya: five brothers and sisters from the al-Kilani family, as well as Ibrahim Dirbas, the husband of Taghrid al-Kilani (one of the sisters), and their five children aged 3 to 11. Before they moved to the office building, they had fled to their brother Ahamd's house in a-Tufah neighborhood, Gaza City, but they had to flee from their too, because of persistent shelling and shooting. They were all killed in the attack on the building.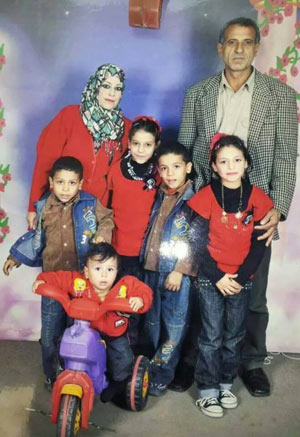 Photo: Taghrid and Ibrahim al-Kilani with their children. Photo courtesy of the family
The people killed in the incident:
The siblings: 'Ayidah Sha'ban Muhammad Dirbas, 47
Surah Sha'ban Muhammad Dirbas, 41
Mahmoud Sha'ban Muhammad Dirbas, 37
Inas Sha'ban Muhammad Dirbas, 30
Taghrid Sha'ban Muhammad al-Kilani, 44, and
her husband, Ibrahim Dib Ahmad al-Kilani, 52
Their children: Rim Ibrahim Dib al-Kilani, 11
Sawsan Ibrahim Dib al-Kilani, 10
Yasin Ibrahim Dib al-Kilani, 9
Yasser Ibrahim Dib al-Kilani, 7
Elias Ibrahim Dib al-Kilani, 3
Sha'ban Suliman a-Dahduh, 34