In October 2020, settlers established a new settlement outpost on land belonging to Beit Dajan about two kilometers away from the village, which lies east of Nablus. Since then, at least one of the settlers has regularly roamed the land, firing shots in the air or throwing stones at Palestinian farmers working their land or grazing their flocks. The new outpost is the latest in a series of outposts built east of the settlement of Elon Moreh along the Jabal Bilal (Har Kabir) ridge. This settlement chain cuts the village of Beit Dajan off from the historical route leading north to the Palestinian communities of Wadi al-'Far'a (Tirza Valley) and onwards to the Jordan Valley. In mid-April, Israeli security forces removed the outpost, but it was rebuilt in a nearby spot the very same day.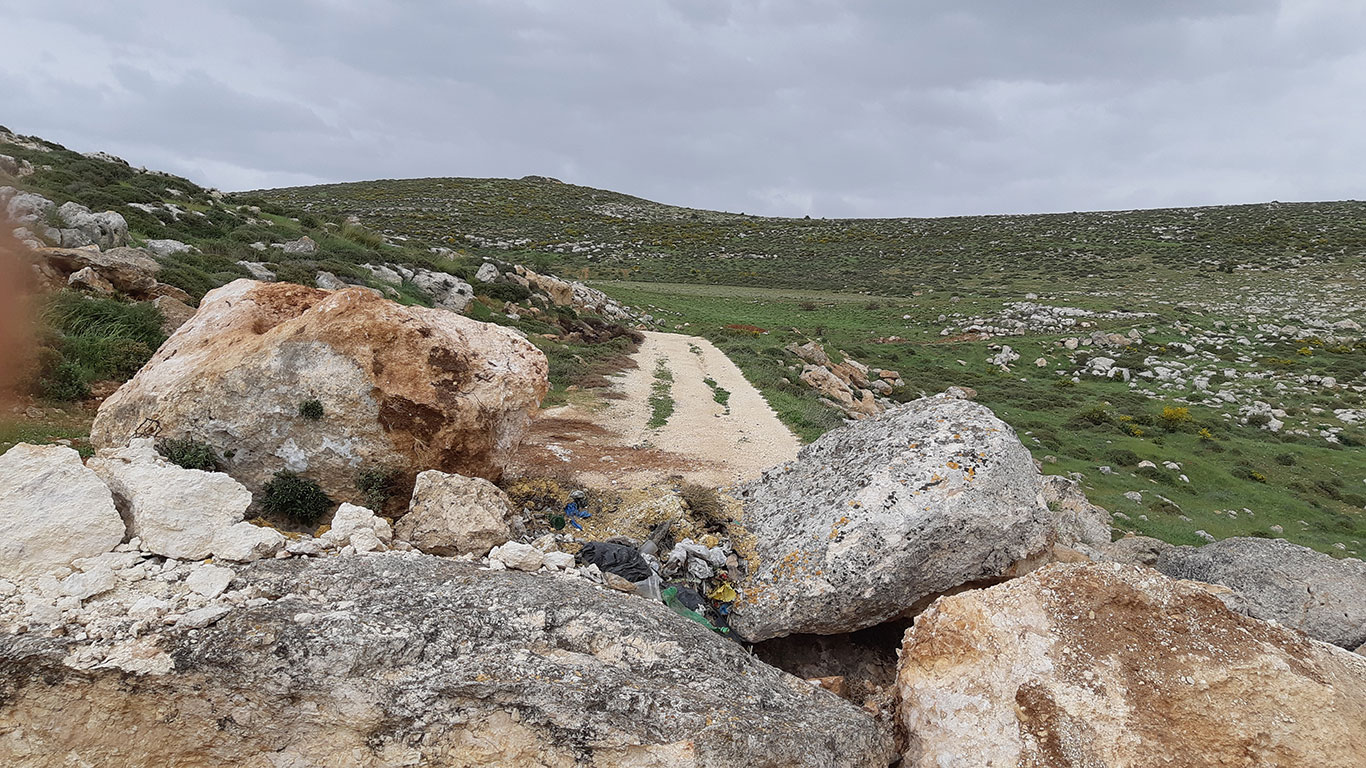 After the outpost was established, village residents set up a protest tent, which the military quickly tore down. Since then, they have demonstrated against the outpost every Friday, with hundreds attending. Some of the protestors throw stones at soldiers, and the soldiers throw stun grenades and tear gas canisters and fire rubber-coated metal bullets at the protestors. Since the beginning of 2021, soldiers have also resorted to using live fire, injuring three protestors, according to UN figures. After the demonstrations began, the military blocked the roads leading towards the outpost with dirt mounds, preventing Palestinians from accessing their farmland by car.
On Friday, 19 March 2021, the weekly protest began at around 12:30 P.M. About 150 residents of Beit Dajan and nearby communities began marching towards the outpost. A group of 20 to 30 residents who were in the lead reached the hills northeast of the village, while the others remained some distance away. After climbing one of the hills, the protestors noticed three soldiers, one of them an officer, standing about 150 meters away. One of the soldiers was several dozen meters away from the other two.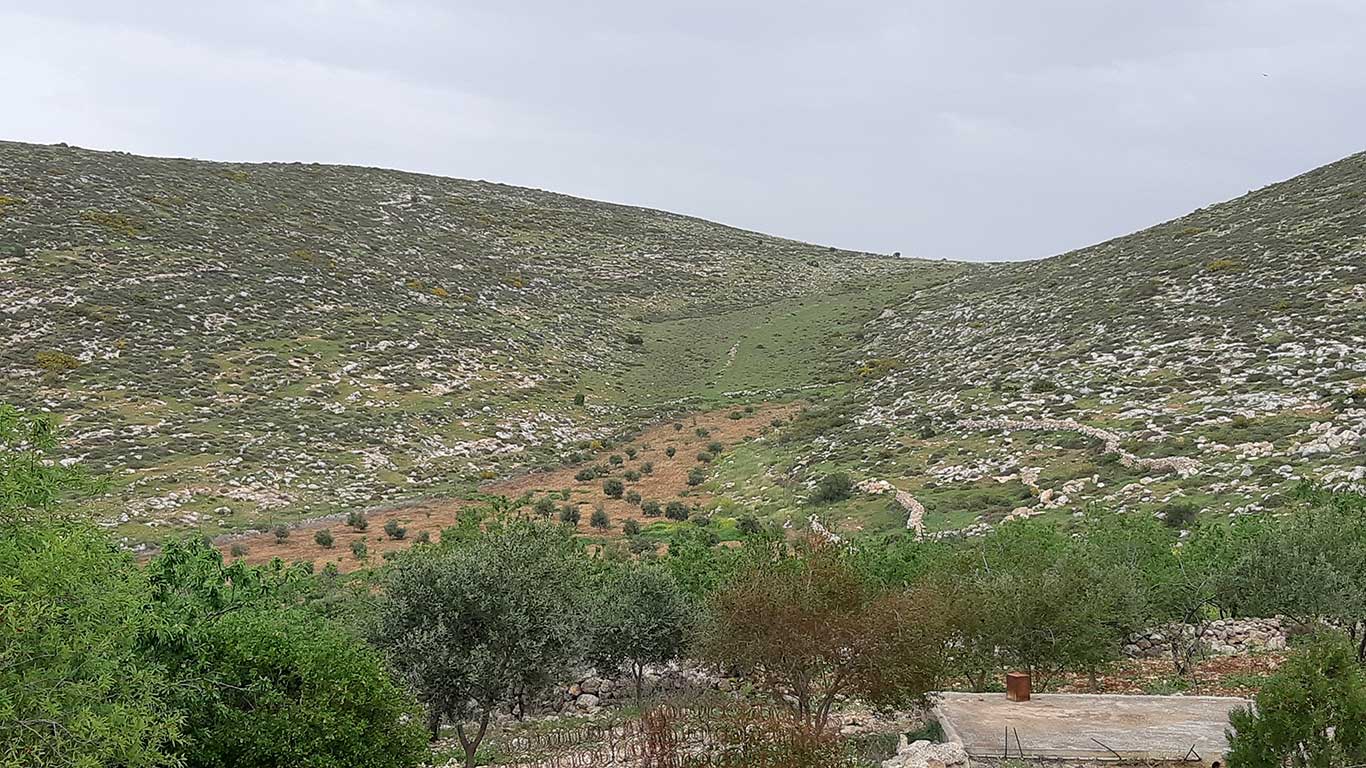 Several residents began throwing stones at the soldiers, some with their hands and others with slingshots. One of the soldiers threw two stun grenades at them. When the protestors continued throwing stones, one of the soldiers fired several shots in the air. One of the stone-throwers, 'Atef Hanayshi (46), advanced towards the soldiers. One of the soldiers fired several bullets at him from several dozen meters away, hitting hit him in the head.
Some of the protestors ran towards Hanayshi, and the soldier fired several more shots in the air. The protestors did not draw back but kept advancing, picked Hanayshi up and rushed him to hospital, where he was pronounced dead. After Hanayshi was carried away, Border Police officers arrived and dispersed the few remaining protestors with tear gas.
The lethal shooting of 'Atef Hanayshi, who posed no danger to the soldiers' lives, was illegal and cannot be justified. Live fire may be used only when soldiers or others are in clear and immediate mortal danger and when the threat cannot be averted in any other way. These conditions were not met. In any case, the military treats them as a recommendation only: Hanayshi is the 39th Palestinian killed in the West Bank by Israeli security forces' use of live fire, in incidents in which Palestinians threw stones or were suspected of throwing stones, since 2015. None of the persons killed posed a threat to the lives of the forces or of anyone else.
The military's violent dispersal of the weekly protest against the outpost serves to legitimize the landgrab. Not only has Israel taken no action to remove the outpost, whose residents stole the villagers' lands and have intimidated them since – it also forbids the victims from protesting against the reality forced upon them. This conduct is not unique: it is Israel's longstanding policy throughout the West Bank, designed to drive Palestinians out of their lands.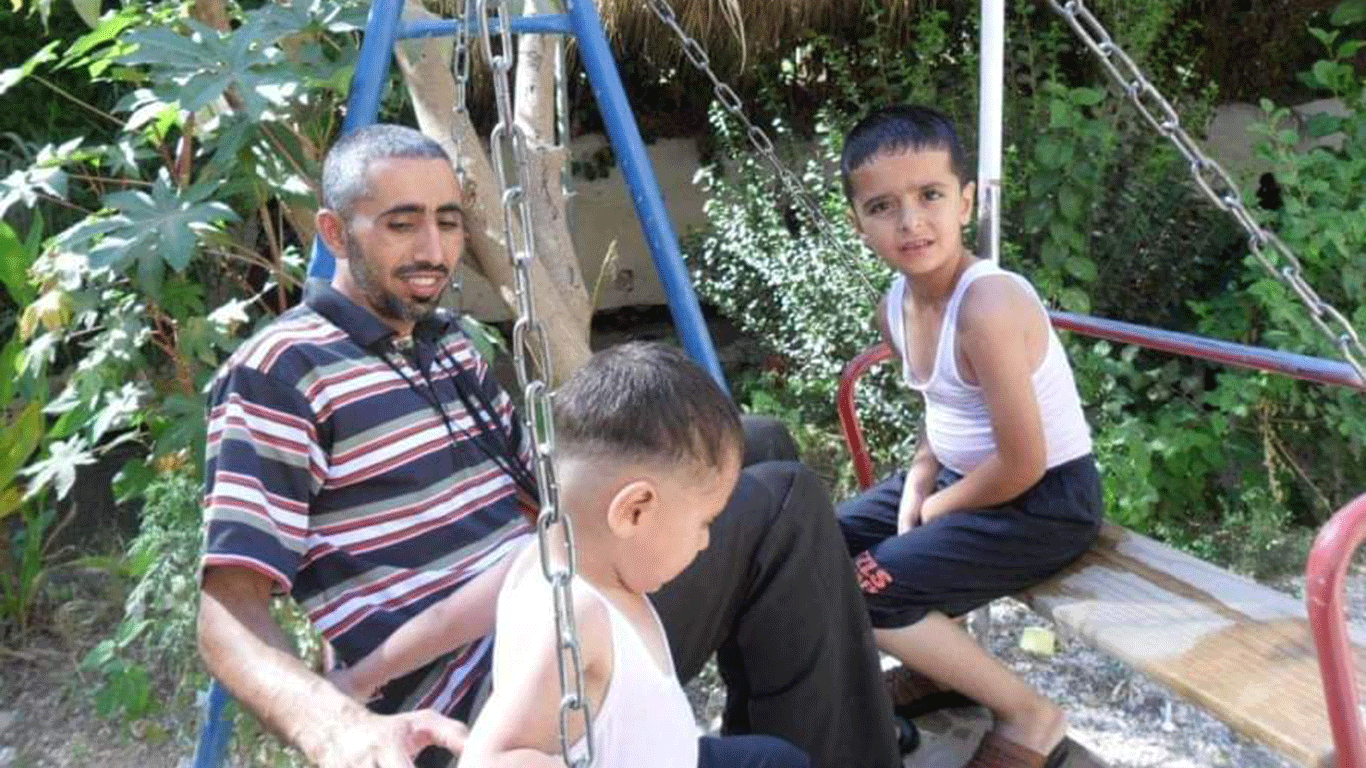 M.S., a photojournalist, documented the protest from several hundred meters away. In a testimony he gave B'Tselem field researcher Salma a-Deb'i on 23 March 2021, he said:
I arrived at the al-Muq'ah area, northeast of the village of Beit Dajan, at around 12:30 P.M., to cover the protest against the outpost that was built on village land. I saw three soldiers on the hill, one of them about twenty meters away from the other two. Five to ten young guys were throwing stones at them. I set myself up across from them, at a higher spot that overlooks the entire area, and started filming. One of the soldiers fired five to seven bullets in the air. The residents, who were lower down than the soldiers, moved away and ducked for cover.

After the shots, I saw a man in a red shirt walking ahead of the other protestors, and throwing stones at the soldiers with a slingshot from a distance of several dozen meters. I saw the soldier who was standing apart from the others fire two or three bullets. The man in the red shirt fell down, and the rest of the guys ducked. Some of them shouted that there was an injured man and ran over to him, but then the soldier fired more bullets and young guys stopped and ducked. They then got up and ran to pick up the injured man, and all the residents backed away from the area and followed them to see how he was doing. I was pretty sure he wasn't alive, because he'd been hit in the head and didn't seem to be moving.
Hazem Hanini (43) from Beit Dajan, a father of two and office worker with the village council, took part in the weekly protest. When he arrived, he noticed the three soldiers about 150 meters away from him, higher up on the hill.
In a testimony he gave B'Tselem field researcher Salma a-Deb'i on 23 March 2021, he described what happened:
Hazem Hanani

When they saw the soldiers, about six of the protestors started throwing stones at them. One of the soldiers threw two stun grenades at them, and then one of the soldiers fired several bullets in the air. The young guys who had thrown stones came up to a distance of several dozen meters from one of the soldiers, who was standing further away than the other two. That soldier fired three bullets. The young guys dropped to the ground to keep safe from the bullets, but one of them stayed down. I thought he'd been hit. The guys ran over to him to pick him up, and the soldier fired some more bullets at them.

I was about twenty meters away from them at that point. I kept going towards the injured man. His face was covered in blood. The guys told me it was 'Atef Hanayshi from our village, who volunteers as a muezzin in our mosque. He'd been hit in the head, and it looked like he was already dead. We carried him at least a kilometer, until we got to the car of one residents and drove him to Rafidia Hospital in Nablus. There, they announced he had fallen as a martyr. It was a shock.

 
That morning, 'Atef Hanayshi had breakfast with his wife Islam (38) and set out to join the weekly protest. The couple has three children between the age of six and 13. Their daughter Layan (10) is being treated for cancer.
In a testimony she gave B'Tselem field researcher Salma a-Deb'i on 7 April 2021, Islam Hanayshi spoke about that day:
'Atef asked me for his hat and said: "I'll wear a mask and the soldiers won't be able to recognize me." I said to him: "Please, be careful. We don't need any more misfortune. Our daughter's illness is bad enough." I handed him the hat and he left. I had no idea it would be the last time he went out the door and that he'd never come back.

A little while later, maybe an hour, I heard my sister-in-law, who lives in our building, saying someone had been killed in the village. I had a horrible feeling in my chest and was terribly anxious. I looked out of the window and followed what was going on, but no one told me anything. I tried to call my husband, but he didn't answer. I tried his brother, too, and he didn't answer either. My fear grew worse. I saw my son Baker on the street across from the house and asked him: "Where's your father?" He said he was at the protest and that they were saying someone had been killed. I asked him who it was and he said that he didn't know, because no one was saying who it was. I tried to carry on with the housework, but I couldn't. I ran from room to room and didn't know what to do.

Then some relatives of ours came. I could tell by looking at them that something terrible had happened. At first, they told me my husband had been injured. Then they said he was in the operating room and that he was in serious condition, and only then they told me he was a martyr. It was like receiving an electric shock. I fainted. I couldn't bear the news. I'd been worried my husband would get hurt, and then we'd have to take care of him instead of our daughter, but it never crossed my mind that he'd be killed.

Since he was killed, I've been watching videos of him every day – footage from the day of the incident, but also family videos. I can't believe he's left us and will never come back. It's a living nightmare. Three days after he was killed, my ten-year-old daughter Layan had an appointment at al-Mutala' Hospital in Jerusalem. My sister went with her instead of me, and every time I spoke to them on the phone, I heard her crying. She's really scared of needles, doctors and the hospital, and she cried the whole time. She refuses to go to the next appointment without me. Now we're here at the hospital for three days of chemotherapy. We were supposed to go home already but because her immune system is weak, we're staying here for observation and drug therapy.

I need my husband by my side. No one can understand the pain I feel but him. 'Atef didn't talk about his feelings too much, but his brother told me that ever since Layan's diagnosis, he would cry alone in the woodshop. With me, he would muster up the strength and tell me: "God will have mercy on her and she will get better. Don't worry." He didn't cry at home and hid his pain and sadness from us. He made it easier for me and Layan to bear the pain. Layan loved him so much, and I don't know how I'll support her now without him. What am I going to do when her hair starts falling out? To come here, I had to leave Baker (13) and Muhammad (6) with their grandparents, where their uncle also lives with his family. Baker doesn't show his emotions either, and wants to look mature and strong. Muhammad doesn't know anything. I told him his father is in heaven and won't come back, and he asked when we'll visit him and what his father is doing in heaven. He even asked me if there are toys in heaven. I told him there are, and he said that his father will bring him toys and asked when he'll come to give them to him.