On the morning of 27 September 2016, Israeli authorities demolished 22 structures, half of which were homes, in five Palestinian communities throughout the West Bank, including East Jerusalem. Fifty-six people were left homeless, 30 of them minors under the age of eighteen. The authorities also demolished water cisterns, livestock pens, and a structure that served as a school.
In the community of Khirbet Tall al-Himma, which lies south of 'Ein al-Beida in the northern Jordan Valley, a Civil Administration force demolished six homes that served five families, leaving 25 people homeless, including 10 minors. The force also demolished six livestock pens.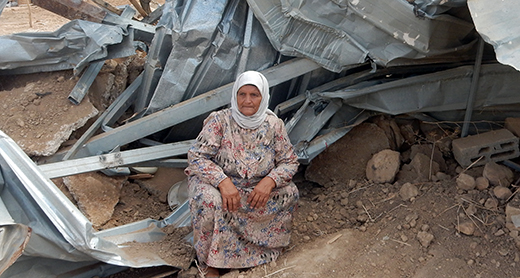 Zahrah Mahmoud Ayub,68, from Khirbet al-Himma, next to fresh ruins in the community. Photo by 'Aref Daraghmeh, B'Tselem, 27 Sept. 2016
Civil Administration forces also demolished structures in two communities near the settlement of Ma'ale Adumim. In Khan al-Ahmar they demolished a shack that was home to eight people, including five minors, having already demolished this family's home in May 2014. In Abu a-Nuwar they demolished an extension of the school that served the community's children. The extension was built after, in February 2016, the Civil Administration confiscated caravans donated to the school to solve the problem of overcrowding in classrooms that forced many children to go to school in other communities.
In Khirbet Jurat al-Khalil, which lies next to the village of Sa'ir in Hebron District, the forces demolished four water cisterns.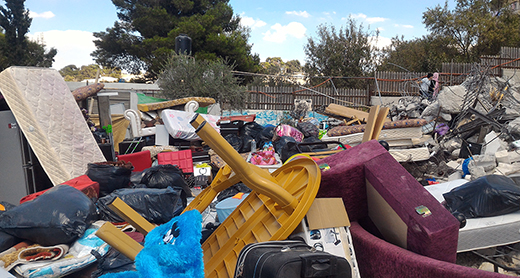 The remains of four family homes in A-Tur, East Jerusalem. Photo by Murad Jadallah, B'Tselem, 27 Sept. 2016
In East Jerusalem, the Jerusalem Municipality demolished a residential building that was home to four families in the neighborhood of A-Tur. This left 23 people, including 15 minors, homeless..
Yesterday morning, 28 September 2016, Civil Administration forces demolished an unused water cistern in the community of Khirbet Susiya in the South Hebron Hills.
These actions are part of a broad demolition campaign waged by Israel since the beginning of 2016. So far this year, 234 structures have been demolished, leaving 1,010 people with no shelter, including 530 minors. Israel's claim that these demolitions are merely an act of law enforcement to uphold building and planning laws is absurd. This widespread destruction of homes and communities is intended to achieve Israel's political goals in the West Bank by making life impossible for vulnerable Palestinian communities in Area C and forcing them to leave. The demolitions, carried out by military and/or Civil Administration forces, violate international law and have been vehemently criticized by the international community. However, it is clear – as evidenced by the increasing scope of the demolitions - that criticism is not enough to make Israel desist from this policy.