Dangerous harvest: Soldiers arrest five children, 9 to 13, and detain them for hours
On Wednesday morning, March 10, 2021, at around 8:00 A.M., a group of children from the village of Um Lasafa, which lies east of the town of Yatta, went out to pick wild greens in the fields east of the village. The children – brothers Zeid (11) and 'Omar (12) Hmeidat, their cousins Jaber (13) and Saqer (9) Abu Hameid, and another cousin, Yasin Hmeidat (9), were planning to sell the herbs in their village for about nine NIS (~ 2.7 USD) per kilogram.
Around noon, when the children were in a wooded area near the settlement outpost of Havat Ma'on, two masked settlers came towards them. The children backed away but a few minutes later, they noticed a pick-up truck and an ATV following them. They began running, but then military vehicles joined the chase. The children fled towards the community of Khirbet a-Rakeez and hid near one of the homes there.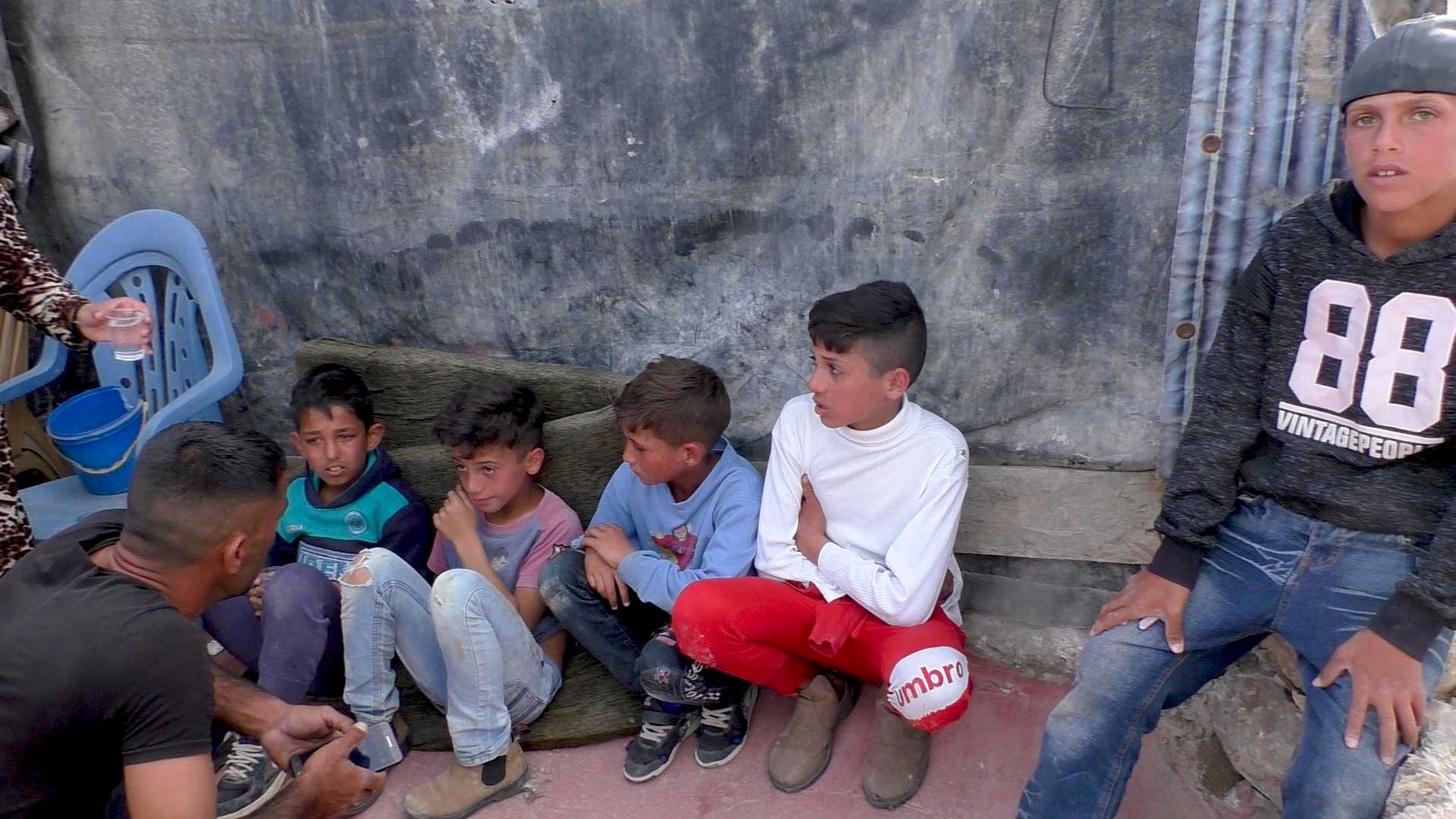 Within several minutes, about 15 soldiers arrived, arrested the five children, put them in two military vehicles and took them back to the wooded area near Havat Ma'on, where they interrogated them on suspicion of attempting to break into a home in the outpost. After about an hour, the soldiers took the children to the police station in the settlement of Kiryat Arba, where they kept them inside the vehicle until 8:00 P.M. Only then did they allow the children's parents, who were waiting outside the station, to take them home.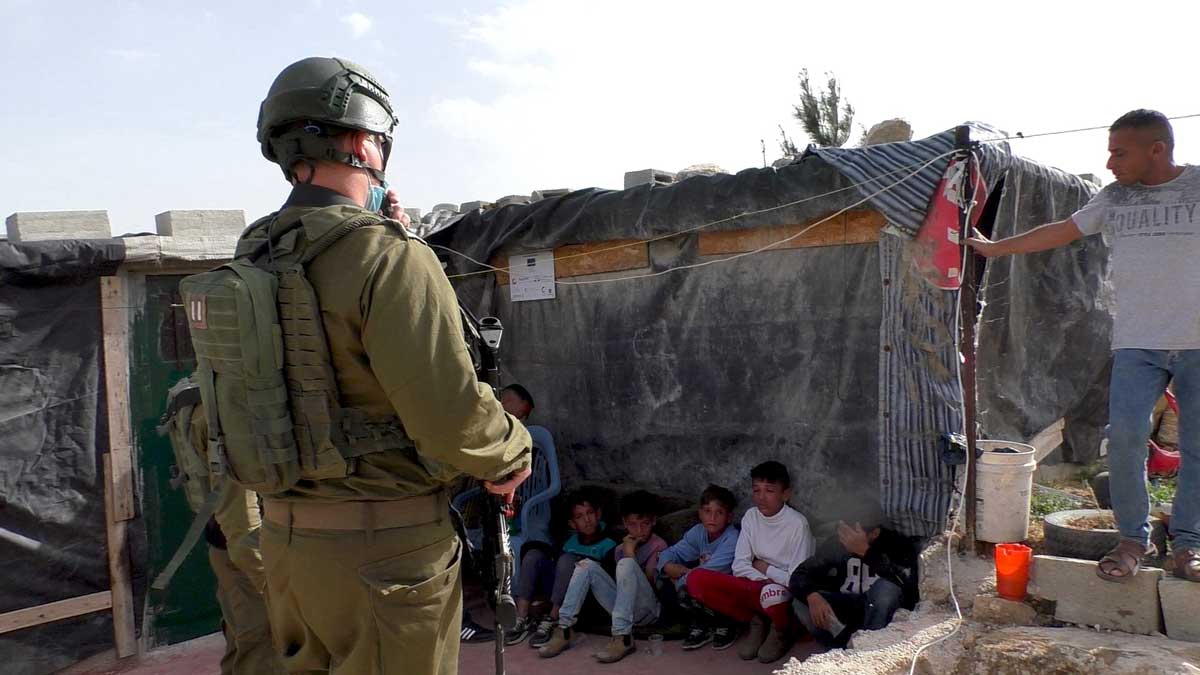 On Sunday morning, 21 March 2021, at around 10:00 A.M., Jaber Abu Hameid and Zeid Hmeidat, the two minors above the age of criminal responsibility, returned to the Kiryat Arba police station with their fathers, having been given a summons to police questioning. They were interrogated on suspicion of trespass and theft. After about four hours, during which they were questioned and told to sign a document written in Hebrew, which they did not understand, they were released.
The military said the children had "trespassed into the back yard of one of the houses" in the South Hebron Hills, and that a military patrol had identified the suspects and handed them over to the Israel Police, which took steps to find their parents and released them. Blurry, unedited and undated video footage from a security camera at Havat Ma'on, which was posted to social media, shows several children near outpost homes, whom the army claims are the five children from the Abu Hameid and Hmeidat families.
There can be no justification for the arrest of the children in this case, especially those under the age of criminal responsibility. The cavalier apprehension of these children shows just how much senior officers in the field ignore what everyone knows: arresting children, especially at such a young age, is a traumatic experience and must, therefore, be avoided – with the rarest of exceptions, and only when they cannot be avoided in any way. Despite all this, the officers present, heeding the settlers' demands, decided to arrest five minors, interrogate them and hold them for many hours. This conduct reflects Israel's approach, which sees the arrest and even prosecution of children as a completely acceptable routine matter. This approach defies the basic tenets of justice and the provisions of international law.
In a testimony he gave B'Tselem field researcher Musa Abu Hashhash on 11 March 2021, Jaber Abu Hameid spoke about the arrest:
On Wednesday morning, 10 March 2021, I went out with my brother Saqer and my cousins Zeid, 'Omar and Yasin. We took some buckets and a few pairs of scissors, and started walking and picking 'Aqub [a wild edible green], until we got close to the wooded area near Havat Ma'on. We picked 'Aqub there, too, for about an hour. Then, suddenly, two men with masks on their faces came and started speaking Hebrew to us. We didn't understand what they were saying. After that, they went into the woods, and a little while later, two other people, whose faces were not covered, came. They spoke Arabic. They told us we'd better go into the woods because otherwise, the masked men would come and beat us, and that they would protect us from them. We felt like they were having us on, so we went away from there.

A few minutes later, we saw a pick-up truck and an ATV driving behind us. We realized they were chasing us and started running, until we got to the edge of Khirbet a-Rakeez. As we were running, we saw military vehicles following us too on the dirt road. We left the buckets with the 'Aqub near Khirbet a-Rakeez and kept running. A minute later, Zeid and I changed our minds and went back around to take the 'Aqub, but we couldn't find the buckets. The settlers following us must have stopped there and taken the buckets and scissors we'd left behind.

We kept running until we got to a house in Khirbet a-Rakeez. We don't know the owner, but he let us in. A few minutes later, the soldiers and settlers came. We ran away from them, but they caught us and put us in a military vehicle. Zeid ran farther from us, but in the end, a military vehicle stopped next to him too and he was caught. The soldiers took us back to where we had picked 'Aqub, the wooded area near the houses at the edge of Havat Ma'on, and started interrogating us one by one. The soldier who interrogated me asked if I'd gone into a house that was near the woods and if we'd broken the doors and windows in an attempt to break in and steal. I said we hadn't. The soldiers kept us there for about an hour, and there were settlers there, too. Then they took us in a military vehicle. I didn't know where they were taking us, but I later found out they'd taken us to the settlement of Kiryat Arba. They didn't take us out of the car and kept us inside it for a long time. That whole time, we were scared. My brother 'Omar and my cousin Yasin wouldn't stop crying. They didn't give us any food or drink. At around 8:00 P.M., we were taken out of the car and led towards the gate. My father and uncles were waiting outside the gate and took us home.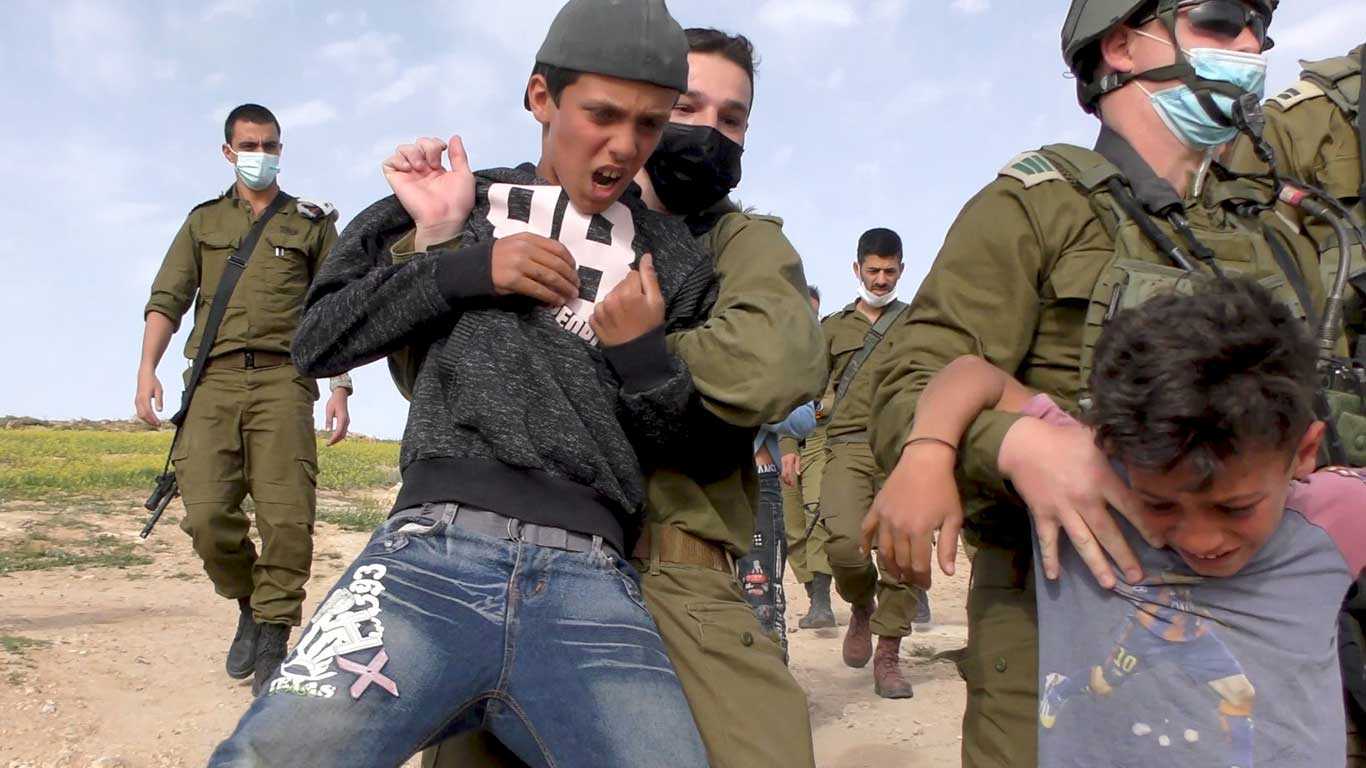 Muhammad Abu Hameid , a married father of 11 including Jaber and Saqer, got a phone call from a relative in Khirbet a-Rakeez on Wednesday afternoon,teling him his children and three of his nephews had been arrested by soldiers. He called his brothers – Zeid, 'Omar and Yasin's fathers – and the three drove to Khirbet a-Rakeez. On the way, they came across some soldiers who were standing by the side of the road.
In a testimony he gave B'Tselem field researcher Musa Abu Hashhash on 11 March 2021, he recounted what happened next:
We came across soldiers standing next to a military vehicle on the main road. We asked them if they knew anything about our kids. One of them said they were in the wooded area near Havat Ma'on with some other soldiers. He said the children would be released soon. We waited there for more than an hour and nothing happened. We asked the soldiers again, and then they sent us to the police station in Kiryat Arba. One of them said the police would come to where we were waiting and that we could speak to the officers then. We waited for the police, but no one came. At around 2:30 P.M., after the police officers didn't show up, I decided to go to the police station in Kiryat Arba. I asked the officer at the gate about our children and he said they weren't at the police station. I want back to the road near a-Tuwani, but the soldiers weren't there anymore. I called a lawyer who handles cases involving kids. At around 7:00 P.M., she called and told me the children would be released at the Kiryat Arba police station. We drove back to the police station and waited outside the gate until they brought the children there, at about 8:00 P.M. We picked them up and brought them home.

We got home at around 8:45 P.M. The kids were exhausted and scared. My son Jaber told me that his brother Saqer and his cousin Yasin had cried the whole time they were in detention. He also told me the soldiers had accused them of breaking a settler's door and trying to steal from him, which the kids deny. He said they had also threatened to arrest me and my brother, Zeid's father, if they didn't confess. I was very worried until the kids came home. Ever since the arrest, I haven't let them go pick 'Aqub.
Location:
More Info: