There's no bomb alert in our village, but we can hear the alerts from Omer. Even though the village was recognized by the state a few years ago, there is nothing here to protect us. There are no security rooms and no bomb shelter. More than 2,000 people live here. Our roofs are made of tin sheets, so when we hear the alert, we go outside and lie flat on the ground. It's safer outside than inside. If a rocket hits the house, it'll collapse completely and that's very dangerous.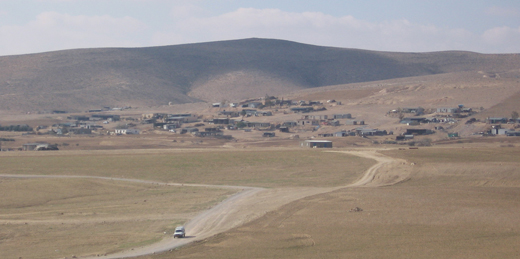 Unrecognized Bedouin village in the Negev, illustration. Photo by: Neukoln, Wikipedia

My children are seven, five and one and-a-half years old. They get very scared when there's an alert at night. They wake up and can't get back to sleep because they're so scared. They were in a summer camp for the summer vacation, but it's been cancelled because of the situation. I work in Beersheva, and when I leave for work in the morning, they beg me to stay with them. They say they're afraid I won't come back.
The kids just sit at home in front of the TV and the computer all day and don't go out. We leave the house only when we have to. It's affecting everyone's mood during Ramadan. People are scared and confused, and there's tension in the air. It's the opposite of the usual calm of Ramadan.
Yusra Ahmad Abu Kaf, a married mother of three, lives in Um Betin and is a coordinator with the Negev Coexistence Forum. She gave her testimony by telephone to Deema Darawshy on 16 July 2014.