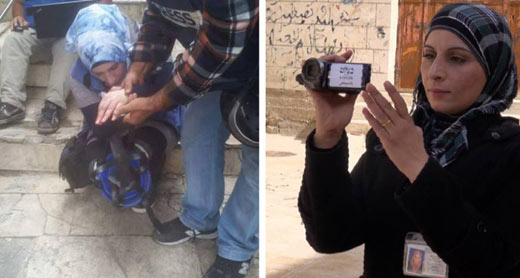 מנאל אל-ג'עברי בעבודתה ולאחר שנפגעה בידה מכדור מתכת מצופה גומי. 
On Tuesday, 27 Oct., Manal al-Ja'bri, B'Tselem's Hebron researcher was injured by a rubber-coated metal bullet fired by Israeli security forces, while documenting a demonstration in the city. The bullet fractured a finger in her left hand.
Al-Ja'bri was documenting clashes between the security forces and Palestinian youth in the vicinity of the Bab a-Zawiya Checkpoint, which began after the army forcibly dispersed residents who protested in the demand that the authorities return for burial bodies of Palestinians killed by security forces.
al-Ja'bri was standing in a group of journalists, across the street and at a distance from the Palestinian stone throwers, and filmed events with a video camera. She was wearing a blue B'Tselem vest. There was no discernable reason for the security forces to fire at her or at the other media present.
B'Tselem continues to investigate the incident and will update if we have additional information.