Samar al-Bu', 28, from Beit Hanoun, studied education and hoped to become a teacher. After graduating from university and spending the following two years looking for work in her field, Samar gave up and started seeking another source of income. She managed to secure funding from the German International Development Fund to set up 50 beehives. She now harvests the honey. Despite the stifled economy in Gaza, the teargas canisters fired at March of Return protestors (and at the beehives), and the lack of flowers for the bees – she is flourishing, against all odds. On 23 January 2020, she shared her story with B'Tselem field researcher, Olfat al-Kurd:
My father used to work in construction as a laborer in Israel. After the border crossings into Israel were closed to Palestinian laborers, he looked for a project to support us – 12 people – and decided to set up beehives near Erez Crossing. The business was the family's only source of income, even though Israeli bulldozers damaged the beehives three times between 2002 to 2006. During the invasion in 2006, my father was killed and the military destroyed all of his hives. I was 15 at the time.
Thanks to my father's beehives, most of my brothers were able to attend university, but after he was killed, most of them stopped studying. My mother become the sole provider, growing vegetables and selling them to feed the family. I graduated high school and barely scraped through university because of the high tuition fees. After I graduated university, I looked for a job and applied to several institutions and government offices, but I couldn't find work. It was a very difficult time for me.
I decided to volunteer at several institutions to gain experience. At the same time, I considered setting up the beehives again. The main problem was initial capital to start the business. I applied to the German International Development Fund, which offered university graduates funding for small business projects. I didn't believe I'd get the funding, because I had only studied education and because 1,300 people had applied for 50 spots. Thankfully, my project was chosen. They called me and informed me I would get a grant worth 4,000 Euro.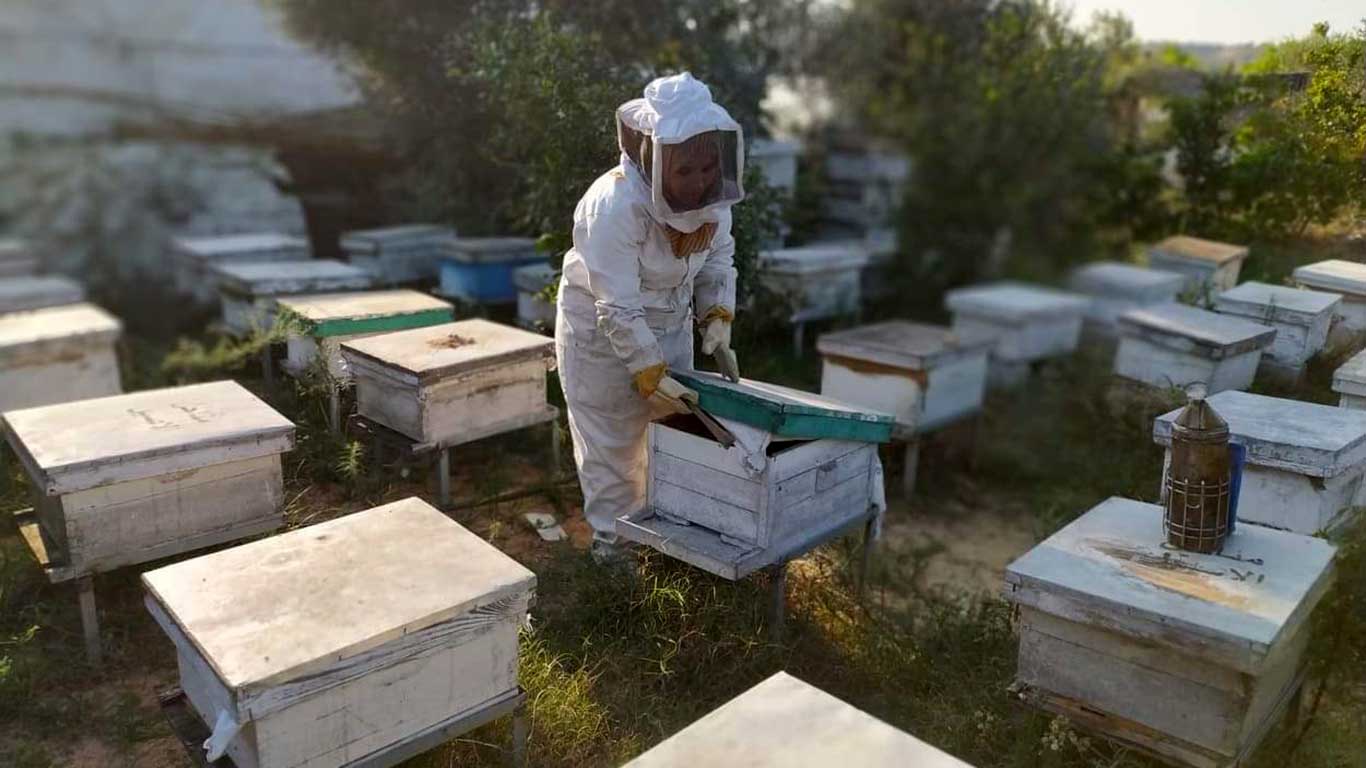 I started setting up the beehives. I had to deal with a lot of pushback, because I am a woman and bee farming is considered more of a man's work. My family also objected because the hives are near Erez Crossing, where my father was killed. But eventually I got the business going, with my mother's encouragement. In 2018, I set up the first 24 hives. The March of Return protests had a bad influence on the bees and some died of the tear gas. I checked them every day and wrapped the hives in nylon bags to protect them. The tear gas, along with military's crop dusting under the guise of pest control, harms the bees. When the hives are irreversibly damaged, I set up new ones. I try to buy hives only in winter, when they cost less.
During the wars, the Israeli military destroyed all the vegetation in the area and there are almost no trees or flowers left for the bees to feed on. So I planted hyssop, sage and olive trees for them. They can fly up to seven kilometers, so I believe they cross the border and reach flowers in Israel, too.
It is important to check on the bees every day, morning and night, and cover them in the winter to protect them from the cold. I can't always do that. In the winter, to save the bees from flying long distances, I melt sugar in water and feed them. A beehive is like a baby, it's affected by every little thing.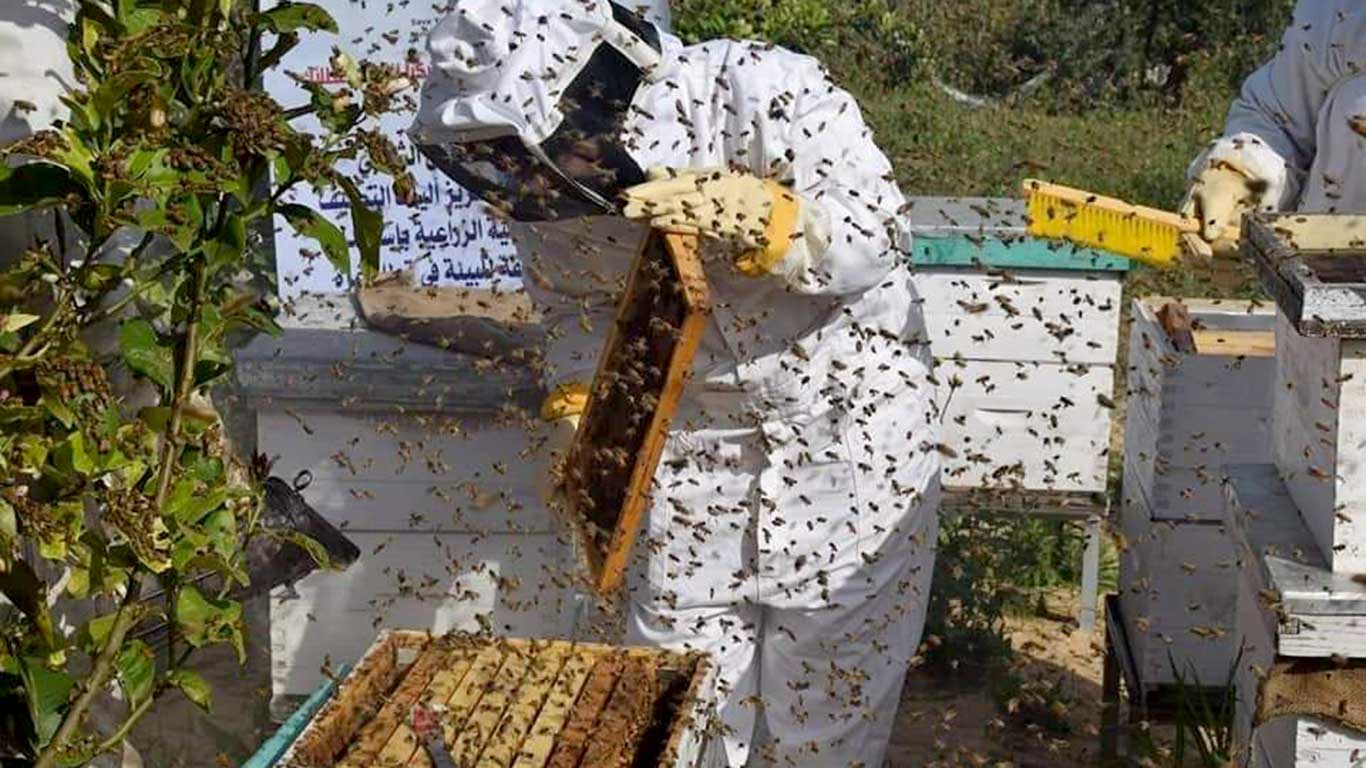 Unfortunately, I can't afford to tend to the beehives every day. Sometimes being there is dangerous, and the Israeli military has opened fire on me more than once. Also, traveling to the border is expensive and I don't have a car. Nevertheless, I'm determined to succeed. I advertise my produce on social media and put up posters in public places. A kilogram of quality honey of the kind that I produce costs 120 shekels (approx. 35 dollars), but I've cut the price in half because of the blockade and the economic situation in Gaza.
My image in Arab society, as a woman who farms bees, is important to me. I challenged social norms by choosing to follow in the footsteps of my late father. I am proud of what I am doing and hope all women will do the same – rely on themselves and support their families. Yes, I had hoped to be a teacher, teach pupils and get a high salary, but I couldn't fulfil that dream. Now I hope to develop my beehives and raise my income, because I like my work. It reminds me of my father, and in every nook and cranny of the beehives I remember him and things he once said to me.