"We used to employ 70 people": the story of the Sharaf Factory, Gaza
This is the story of one factory – the Sharaf Gas-Pipe and Metalwork Factory. It is the story of its owner, Yusef Rabah Sharaf, who still remembers the days when orders used to flow in. It is also the story of two of his employees, 'Ata Abu 'Areban and Khalil Abu 'Amarneh, who no longer remember what a monthly wage looks like.
The Sharaf Factory is one of many Palestinian businesses to have collapsed due to Israel's blockade on the Gaza Strip since 2007. As part of this policy, Israel has turned Gaza into the world's largest open-air prison. This has led to the economy collapsing, hundreds of factories closing, soaring unemployment rates and hundreds of thousands of Palestinians now dependent on humanitarian aid. Some 65% of Gazans are young people under the age of 25 whose lives are unbearable, yet their future carries no hope for change.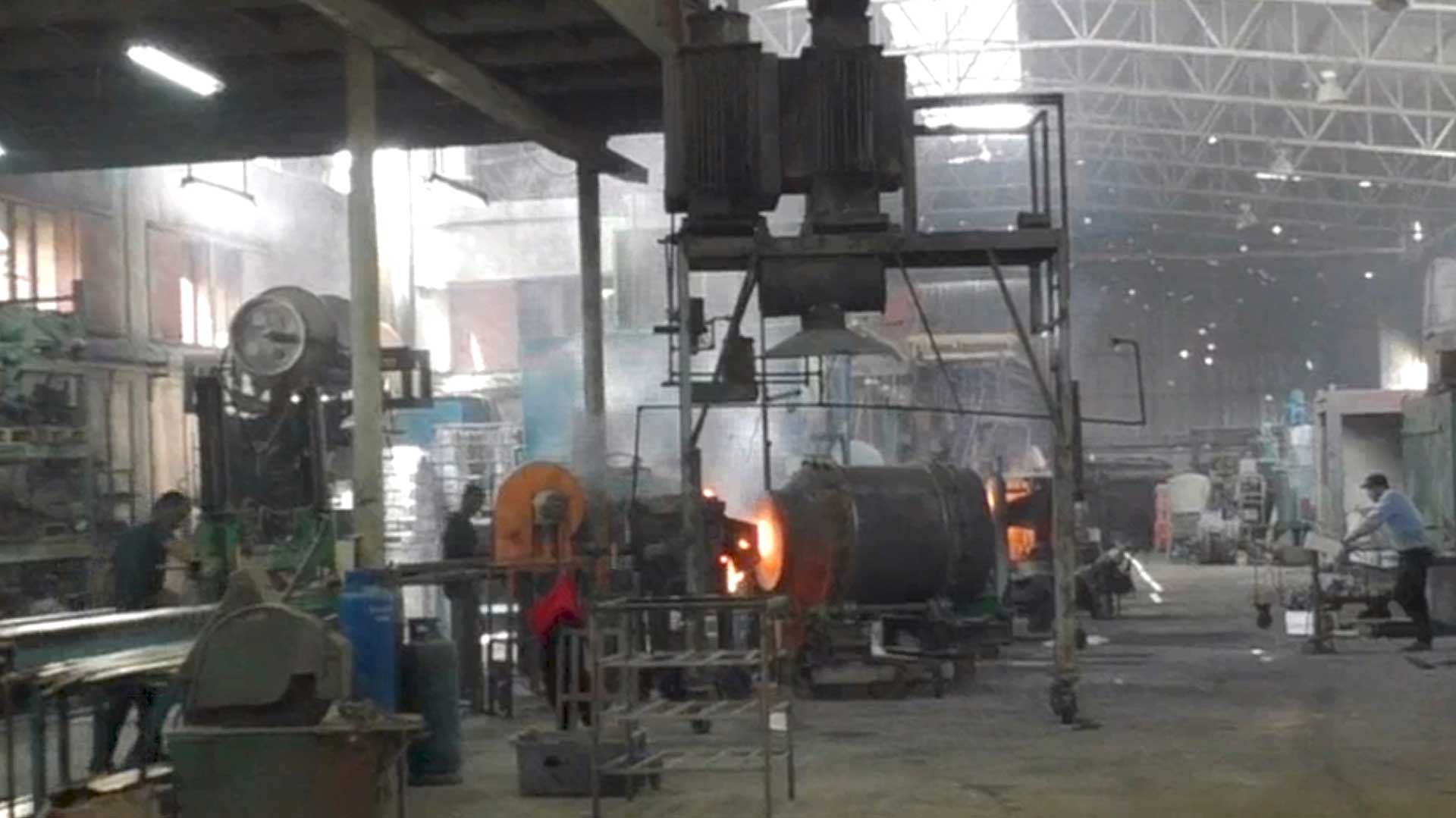 'Ata Abu 'Areban (60), a father of nine, works at the Sharaf Factory. After years of steady employment, he found himself scrabbling to get a few days' work a month, and driven to a life of poverty and destitution. Abu 'Areban was there when his boss sent worker after worker home due to reduced production, wars and the blockade. With a heavy heart, he got a temporary job that pays him 600 shekels a month (about 175 USD). Abu 'Areban cannot cover his family's debts for water and electricity, nor can he do anything to help his unemployed children.
I live in the al-Mughraqa area, in the center of the Gaza Strip. I started working at the Sharaf Factory in 2001. I worked on various things there – the iron-cutting machine, the melting furnace and the compression machine. We manufactured gas tanks, tin plates for gas ovens used in homes and restaurants, and iron tables. In those days, we were about 20 workers.

At first, I worked eight hours a day for a daily wage of 35 shekels (~10 USD). Sometimes I worked overtime. I was pleased with the job and my life was stable. But over the years, things took a turn for the worse. Israel imposed the blockade and closed all the crossings. The power supply became erratic, with long outages every day. That forced the owner to lay off employees. In the end, there were only three of us left.

I kept working at the factory, even when my income dropped to less than 800 shekels (~230 USD) a month. I only went in when the owner called me and told me there was work the next day. Every time I completed an order, I went home and waited for the next call. Last March, work stopped because of the coronavirus and I haven't received any calls since.

I've found temporary work at a gas fill-up station. I make 600 shekels a month. That doesn't even cover the basic costs of food, clothing, medicine and other family expenses. I'm considering leaving this job, because I work long hours for low pay.

All of my sons are married and unemployed except one, who works at a garage and makes 400 shekels (~115 USD) a month.

I owe 5,000 shekels (~1,450 USD) in water bills and can't even remember how much I owe the electric company. I haven't paid the electricity bill in eight years.
Khalil Abu 'Amarneh (37) lives with his wife and their six children in al-Bureij Refugee Camp. He has worked at the Sharaf Factory since 1999 as a designer, blacksmith and welder. He started off with 60 co-workers, but over time production was cut back and the owner had to fire most of them.
Today, Abu 'Amarneh works from time to time at the factory and at other jobs, earning only 500 shekels per month (~145 USD). He is drowning in debt and cannot meet his family's basic needs.
Until 2006, we marketed our products inside the Gaza Strip, in the West Bank and in Israel. We had a lot of work and I made 55 shekels (~15 USD) a day. But then Israel bombed the power plant and the electricity supply in Gaza became unsteady. It was hard for us to manufacture in those conditions.

In June 2007, Hamas took over the Gaza Strip, the Palestinian Authority collapsed and Israel imposed the blockade. Since then, work at the factory has almost entirely ground to a halt. We hoped the factory would recover, that there would be some kind of breakthrough if Israel lifted the blockade or at least allowed us to export to the West Bank or to Israel. But every year there was less work. Every year was harder than the one that came before it.

Every now and then, the factory owner asks me to come in and prepare an order for some customer. But that only provides work for two days, or a week at best, out of the whole month. Today, I make about 300 shekels (~88 USD) a month from the factory, at most. In between, I look for temporary jobs, which pay close to nothing, in order to support my family.

The coronavirus crisis has made the economic disaster that already existed in Gaza much worse. Unemployment has gone up and people are earning even less. No one knows when this crisis will end.

I felt the hardship especially before and during the month of Ramadan. On 'Eid al-Fitr, its customary to buy the children clothes for the holiday, but I had no way to pay. Since the beginning of Ramadan, I haven't worked at all. I got 200 shekels from my cousin and a basket of food from the neighbors, and that's it.