June 2019: Another month of routine settler violence fully backed by the military
Over the course of June 2019, settlers vandalized Palestinian property in at least ten villages in the West Bank, burning some 1,800 trees and dozens of dunams (a dunam equals 1000 square meters) of grain fields, uprooting more than 700 vegetable seedlings and damaging at least 55 cars and spray painting hate graffiti on buildings. 
In Nablus District, settlers threw stones at a family home in the village of Yasuf, shattering the windows, and punctured the family car's tires. In the village of Jalud, settlers burned more than a thousand trees in lands belonging to 21 farmers and threw stones at the school. In the village of Madama, settlers torched farmland and the fire spread to land belonging to the village of Burin, consuming about 180 fruit trees. In the village of 'Einabus, settlers punctured the tires of three cars and graffitied slogans on the mosque.
In Ramallah District, settlers punctured the tires of 22 cars in the villages of Beitin, Sinjil and Kafr Malik. In the village of Burqah, settlers set fire to fields and burned about 200 olive and other fruit trees. In the village of al-Mughayir, settlers burned some fifty dunams of wheat and hay fields and some 370 olive trees.
In Salfit District, settlers punctured the tires of 23 cars in the village of Deir Istiya and graffitied slogans on numerous homes.
In Bethlehem District, settlers vandalized farming equipment in the village of Wadi Fukin and uprooted more than 700 saplings and four olive trees.
These acts of violence, which are backed by the military, have been occurring every month for years. Since finalizing the research into settler violence during the month of June, B'Tselem has already begun to investigate six new incidents that took place in July 2019. This predictable, unchanging routine is not fated. It is part of Israel's policy in the West Bank, and it serves the state's agenda. The policy itself is designed to reduce Palestinian farming and gradually transfer areas that have been abandoned due to fear of violence over to settlers. As part of this policy, and to enable these acts of violence, the authorities rarely investigate the crimes and the odds that any of the criminals would be punished for their actions are minuscule. Settlers are well aware of this fact, as are Palestinians who remain defenseless.
Following are details of some of the attacks perpetrated last month:
Nablus District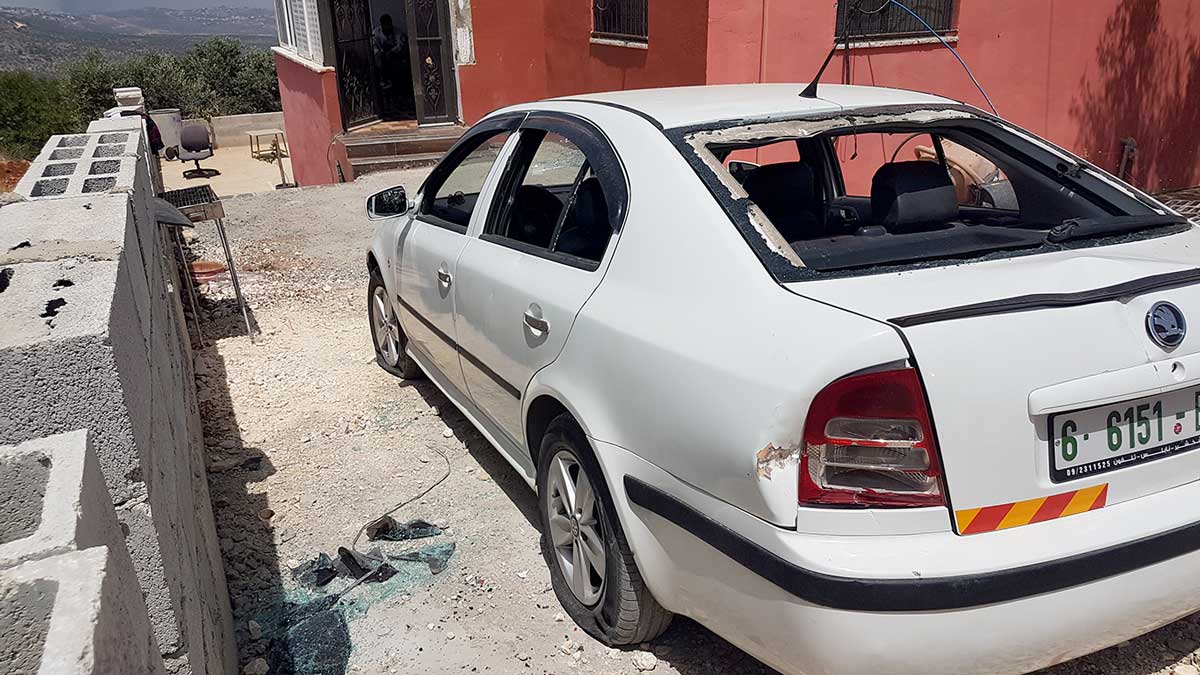 Yasuf, 6 June 2019: Settlers throw stones at a family home and vandalize a car (See video above)
The village of Yasuf is surrounded by four settlements built between 600 meters and 2 kilometers away from village homes. On Wednesday morning, 5 June 2019, at around 10:30 A.M., some 15 settlers were captured on security cameras as they hurled stones at the home of the E'bayeh family in the village's eastern neighborhood. The settlers shattered one of the windows as well as a glass panel in the front door. They also shattered all the windows of the family car, its lights and mirrors, punctured all four tires and damaged the body. As the attack was underway, some of the settlers went over to a plot of land across from the home and set fire to it. Village residents who arrived at the scene managed to extinguish the fire before the flames spread farther.
During the attack, Ibrahim E'bayeh, 30, and his wife, Sajda, 20, were in their house with their two-month-old daughter, waiting for some relatives to arrive for an Id al-Fitr visit.
In a testimony given to B'Tselem field researcher Salma a-Deb'i on 10 June 2019, Ibrahim E'bayeh recounted:
Ibrahim E'bayeh with his infant daughter. Photo courtesy of family

At around 10:30 A.M., on 5 June 2019, while we were expecting a visit from my wife's relatives, I heard loud noises from outside, which is unusual in our neighborhood. I was carrying the baby in my arms. I looked at the security camera screen and saw settlers near the house, most of them masked. Some of them were puncturing my car tires. I was shocked by what I saw. I gave the baby to my wife right away and told her to stay in the living room and keep away from the windows. I went over to the front door and made sure it was locked.

In the meantime, settlers started throwing stones at the house and the car. I heard glass shattering. I climbed to the roof, and from there I could see there were more than 15 settlers. I called my brother Nidal, who lives in the village and has a car, and asked him to tell everyone in the village that settlers were attacking my house. I was afraid they'd torch the house or the car because I could already see fire in the plot of land opposite the house. I called out to the neighbors to come help me too. As soon as some of them came, the settlers took off. I climbed off the roof to check on my wife and baby and make sure they hadn't been hit by any stones. The glass part of the front door was shattered. Not a single window in my car was left intact. They even broke the rear lights. They also damaged the body and both mirrors.

Stones on the doorstep of the E'bayeh home, Yasuf, 9 June 2019. Photo courtesy of the family.

I informed the head of the village council. At around noon, a few military jeeps came, an Israeli police cruiser, and an Israeli DCO car. I'm not going to file a complaint either way. It would be a symbolic act only. The Israeli authorities won't do anything about it.

The only thing I want now is a wall around our house, so the settlers won't be able to reach it. Ever since the incident, we've been anxious. We can't sleep, either at night or during the day. We're scared because the settlers could come back at any moment. How am I going to leave my wife and daughter alone in the house once the holiday ends? They'll be in danger. My wife won't even think about staying alone in the house. I'll have to take them to her parents' house, or my parents' house, and pick them up when I finish work. What kind of a life is this? How long will we have to carry on like this?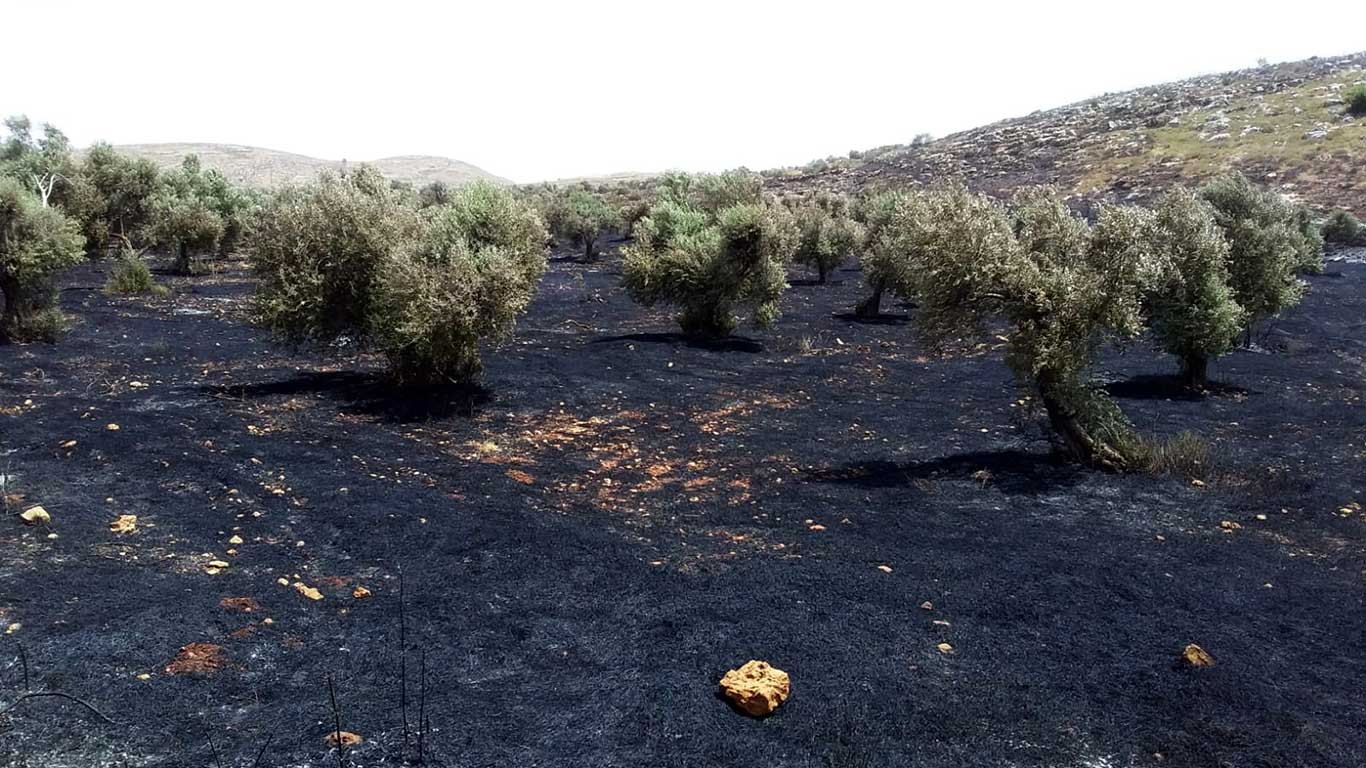 Jalud, 5 June 2019: Settlers burned more than a thousand trees and threw stones at the school. (See video above)
Six settlements have been built around the village of Jalud, at distances ranging from 500 meters to 2.5 kilometers from village homes. On Wednesday, 5 June 2019, at around 10:30 A.M., security cameras captured about ten masked settlers throwing rocks at the school in the southern part of the village. Some of them entered the schoolyard. Five students teenagers who were in the schoolyard at the time managed to flee before the settlers came in. The settlers broke two of the cafeteria windows, the only part of the school where windows are not protected by steel mesh. They then went to the olive grove across from the school and set fire to it, burning more than a thousand trees that belong to several village residents. The settlers then got into a car that was waiting for them by the side of the road and drove toward the Adei Ad settlement outpost.
Since the military denies Palestinians access to most of the area where the fire spread, other than a few days twice a year, and even then, subject to coordination with the Israeli DCO, Palestinian firefighters were unable to extinguish the fire. Several Israeli firetrucks that had been called to the scene stood by and did nothing until 1:00 P.M., when the flames spread to areas farmed by settlers. At that point, two Israeli fire department helicopters were also alerted, and the fire was finally extinguished at 5:00 P.M. The fire lit by the settlers consumed more than a thousand olive and other fruit trees owned by 21 different farmers, as well as one dunam of wheat.
Below are some of the testimonies Jalud residents gave B'Tselem field researcher Salma a-Deb'i: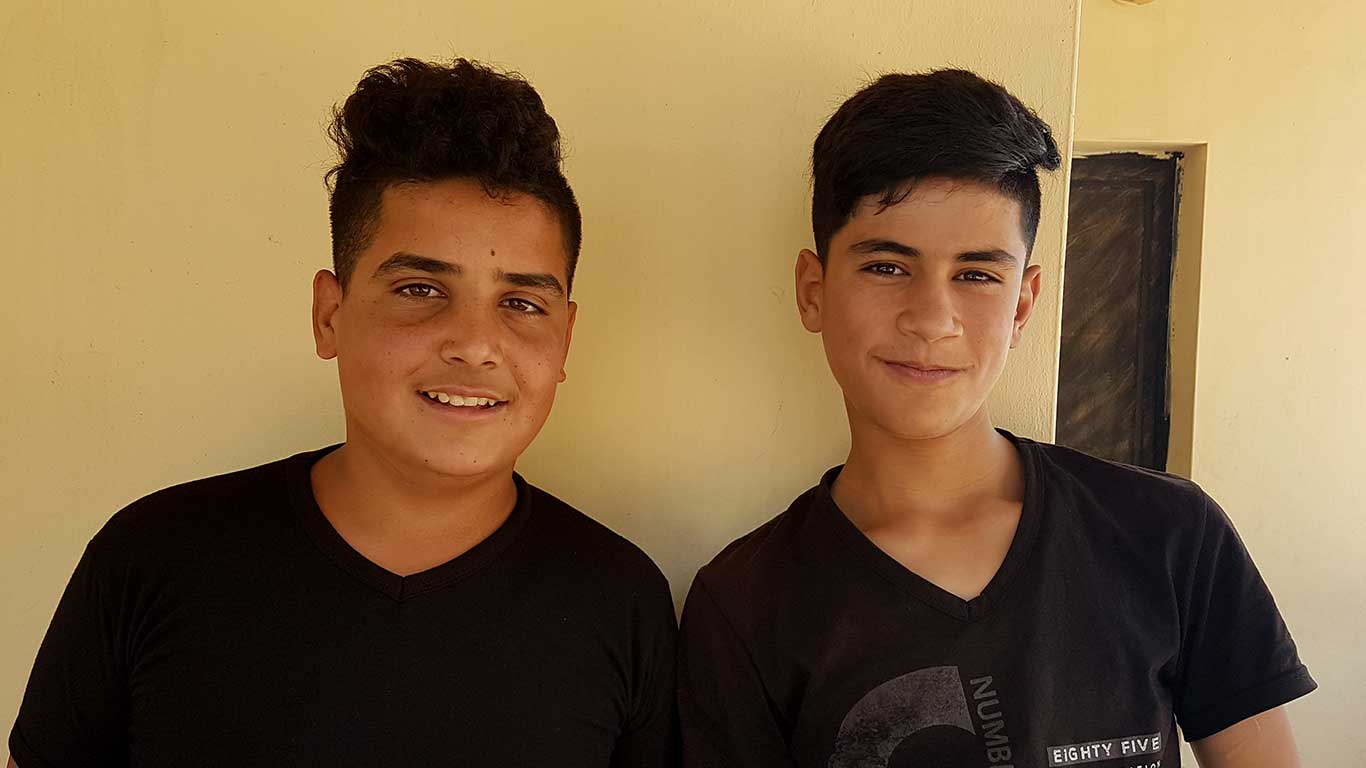 Ahmad Muhammad, 15, who was playing with his friends in the schoolyard, spoke about how they were attacked with stones in a testimony he gave on 10 June 2019:
On the first day of Id al-Fitr, my two cousins and I hung around downtown and bought sweets and drinks at the corner store. We met one of my friends there, with his brother, and we all went to the school to play in the field there, which is the only field in our village. We were sitting on the stairs in the entrance, talking and eating. My friend was playing songs on his phone. Suddenly, stones landed near us. One of them hit really close to me. It almost hit me. I dropped the sweets and the drink and ran away quickly. I saw a few people and realized they were settlers because their faces were masked. I yelled: "They're settlers. Run away"! They were still throwing stones at us, and we ran, each in a different direction. I climbed a fence and jumped. I was afraid to leave through the main gate because I thought the settlers might come from that direction. I ran quickly to get help. On the way, I stopped a man from the village who was passing by in his car. I told him what happened and asked him to tell everyone.

I went back towards the school, carefully, to find out what happened to my friends. I saw two settlers in the field across from the school. One of them was pouring liquid on the ground and the other lit a lighter and started a fire. It spread very quickly. I found my friends later. Ayub told me he hid behind the cafeteria but ran away because the settlers entered the school grounds. He barely jumped over the school fence.

I went home, not believing what happened. It all happened so quickly. We go there every day, but this was the first time something like this happened to us, and in broad daylight too. We haven't gone to hang out in the schoolyard ever since the incident because we don't feel safe there. We're scared the settlers could come back at any moment. Now, even though it's summer vacation already, I stay home all day. I go see my friends in the center of the village only at the end of the day, and we all go home before dark. Our village is small, and we have nowhere else to hang out or play soccer.
Mahmoud Muhammad, 27, a married father of two, owns an 80-dunam plot of land with his brothers. Their olive groves start around 300 meters from the school and run all the way to the settlement outpost of Ahiya. About 250 of their more than 800 olive trees were burnt.
In a testimony he gave on 11 June 2019, Mahmoud Muhammad described what took place:
Mahmoud Muhammad. Photo by Salma a-Deb'i, B'Tselem, 11 June 2019

On the first day of Id al-Fitr, 5 June 2019, at 10:35 A.M., a friend of mine from the village called and told me settlers were attacking some boys in the school and burning fields there. I went there with three of my brothers. The fourth joined later. When we got there, I saw our land and adjacent land on fire. I also saw settler cars parked on the Ahiya security road. My brother Muhammad called the Palestinian fire department, and I called the Israeli DCO and asked them to send a firetruck. The man at the DCO asked me how many trees were burning and I said I couldn't tell and that a few areas were on fire. My brothers tried to stamp out the fire with tree branches. Some other village residents came to help.

The Israeli fire trucks arrived at 11:20 A.M., but they parked near the settlement and didn't help. At 12:30 P.M., we thought we'd managed to get the fire under control, but then it spread again and reached a plot adjacent to ours, which settlers took over twenty years ago. At 1:00 P.M., two Israeli helicopters arrived and put out the fire that had spread near the settlement of Shvut Rachel, about 400 meters away from our land.

The Israeli fire trucks and helicopters started putting out the fire only when it reached the lands near the settlements. About 250 trees burned on the land I own with my brothers and 250 more in the adjacent plots which belong to seven of my aunts. They turned our holiday into a terrible day. Instead of receiving guests and visiting relatives, we forgot it was even a holiday.

We came home at about 5:00 P.M. My brother Muhammad had several burns, and I had a very strong headache. I won't forget my mother's face. She was exhausted with worry. She said you can get compensation for everything, but nothing would compensate for us. She was afraid she'd lose us.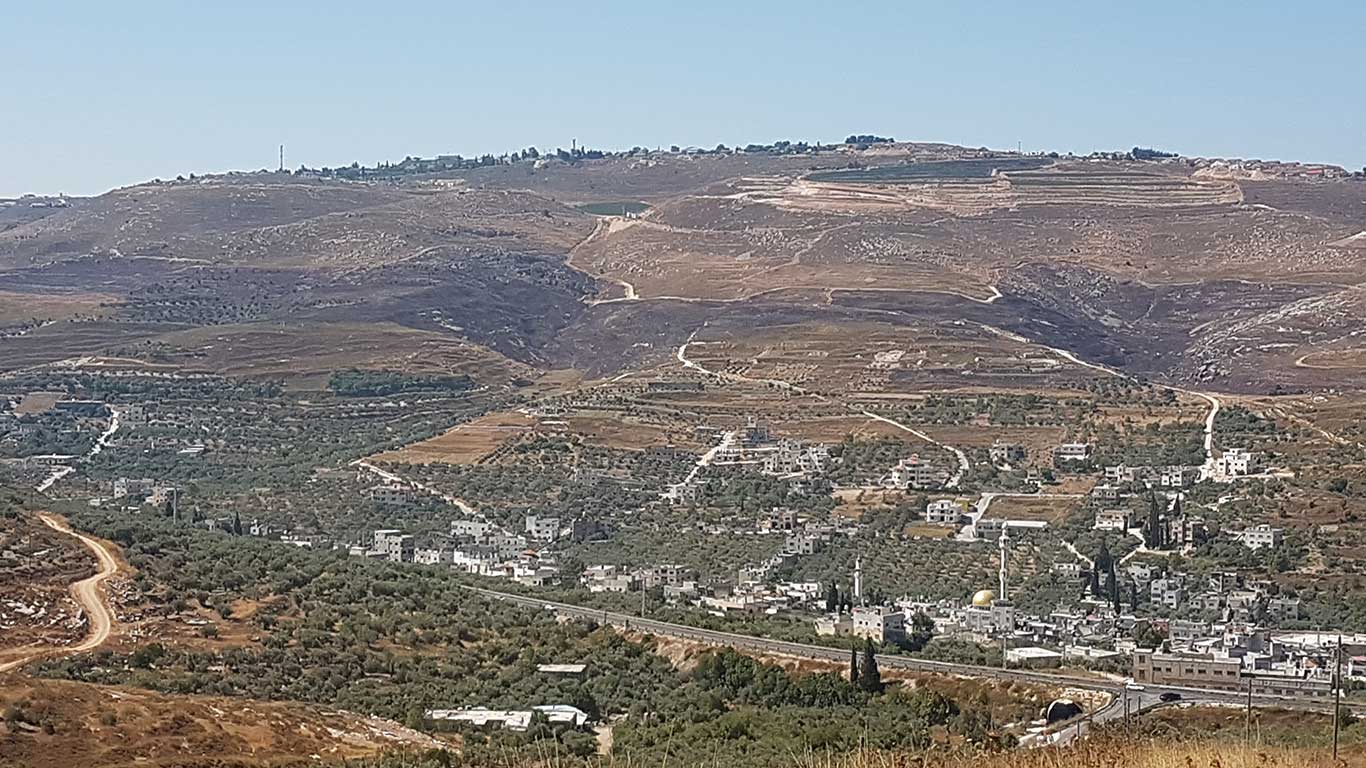 Madama and Burin, 19 June 2019: Settlers burn about 180 trees and farming fields
The village of Burin lies about 600 meters east of the village of Madama. It is surrounded by seven settlements built at distances of 600 meters to 4.5 kilometers from village homes. On 19 June 2019, in the late morning, Madama residents observed about 15 settlers setting fire to fields in the southern part of the village. The fire consumed 28 trees belonging to two farmers and then spread eastward toward lands belonging to Burin, where it consumed 150 trees belonging to three farmers.
The military denies the farmers access to most of the area that caught fire, other than for several days twice a year and subject to coordination. About ten soldiers who were present in the area fired live rounds and teargas canisters at the residents, preventing them from putting out the fire. The security coordinator for the settlement of Yitzhar, who was standing next to the soldiers, also fired live rounds at the Palestinian residents. Fortunately, no one was hurt, and the residents, who refused to leave their lands, ultimately managed to put out the fire.
S'adeh Ziyadah, 46, married and father of four, from Madama, owns a half-dunam plot in the area that was torched, about 500 meters away from the village and a kilometer away from the settlement of Yitzhar. The fire obliterated 18 trees in his plot, including olive, almond and fig as well as grapevines, and za'atar and zucchini fields.
In a testimony given to B'Tselem field researcher Salma a-Deb'i on 26 June 2019, Ziyadah recounted:
S'adeh Ziyadah. Photo by Salma a-Deb'i, B'Tselem, 26 June 2019

My wife inherited that plot of land from her father 15 years ago. It was uncultivated, full of thorns and weeds. I took care of it, removed the rocks, weeded. It took me about a year. I'd go to the plot every day with my kids once I was finished work as a school caretaker. We spent most of our free time there.

I love the land and take joy in farming work. I planted olive, almond and fig trees. I also grew zucchini and za'atar in the fields, and I was very happy. Working the land is a source of calm and contentment.

This went on until Wednesday, 19 June 2019, when I heard the call on the village mosque speakers to come to the land and protect it from settlers. I climbed to the roof of my house and saw the flames rising from the south. I also saw about 15 settlers making their way back to the settlement. There were also eight to ten soldiers and some residents who were trying to put out the fire themselves.

I went over to the plot quickly, and when I got there, I just froze. I couldn't believe my eyes. The flames were enormous, and the sky was thick with smoke. I didn't know what to do about it. The trees had burnt down completely, nothing was left of them. Our land turned into a horrific nightmare, a ghost town. They killed every thing of beauty in it.

I noticed that the settlement security guard and another settler were with the soldiers. The soldiers fired a few shots - some in the air, some in the direction of the village residents. They threw teargas canisters too. Even the settlement security guard fired live rounds at least ten times. The fire spread from our lands to lands belonging to Burin. Village residents continued working on putting out the fire, even though they were being shot. They managed to get it under control after three hours.

I went home with a broken heart over the land I'd worked for 15 years, and where everything disappeared in an instant.

A few hours later, I went back and watered the olive trees with some water jugs, hoping they would spring back to life and grow new leaves. I've been watering them every day since the fire, trying to salvage what I can. I also plowed today because I'm never going to give up on my land.

 
Ramallah District: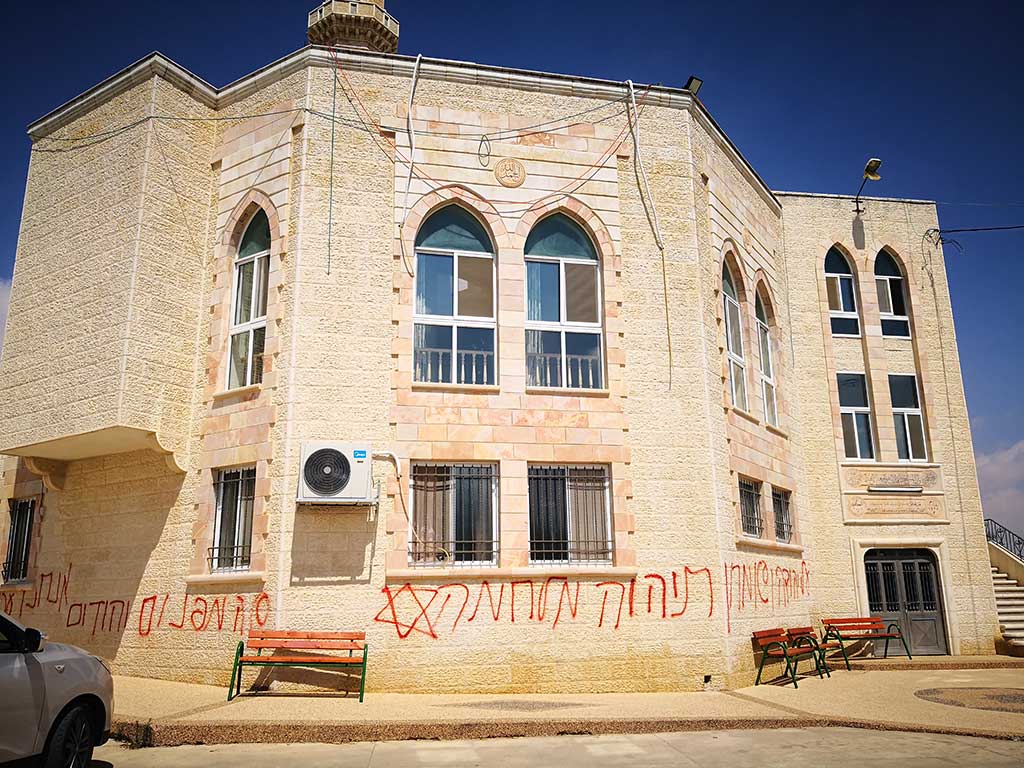 Kafr Malik, 17 June 2019: Settlers graffiti slogans on village mosque and puncture all the tires of five cars (see video above)
On 17 June 2019, at around 2:00 A.M., several settlers were captured on a security camera arriving at the southern part of Kafr Malik. They graffitied the slogans: "There will be a war for Judea and Samaria", and "When Jews are evacuated, we stay awake". The settlers punctured all the tires of five cars parked on a nearby street, three of them belonging to one family. The closest settlement, Kochav Hashachar, is located about four kilometers southeast of the village, and there is an army base between them.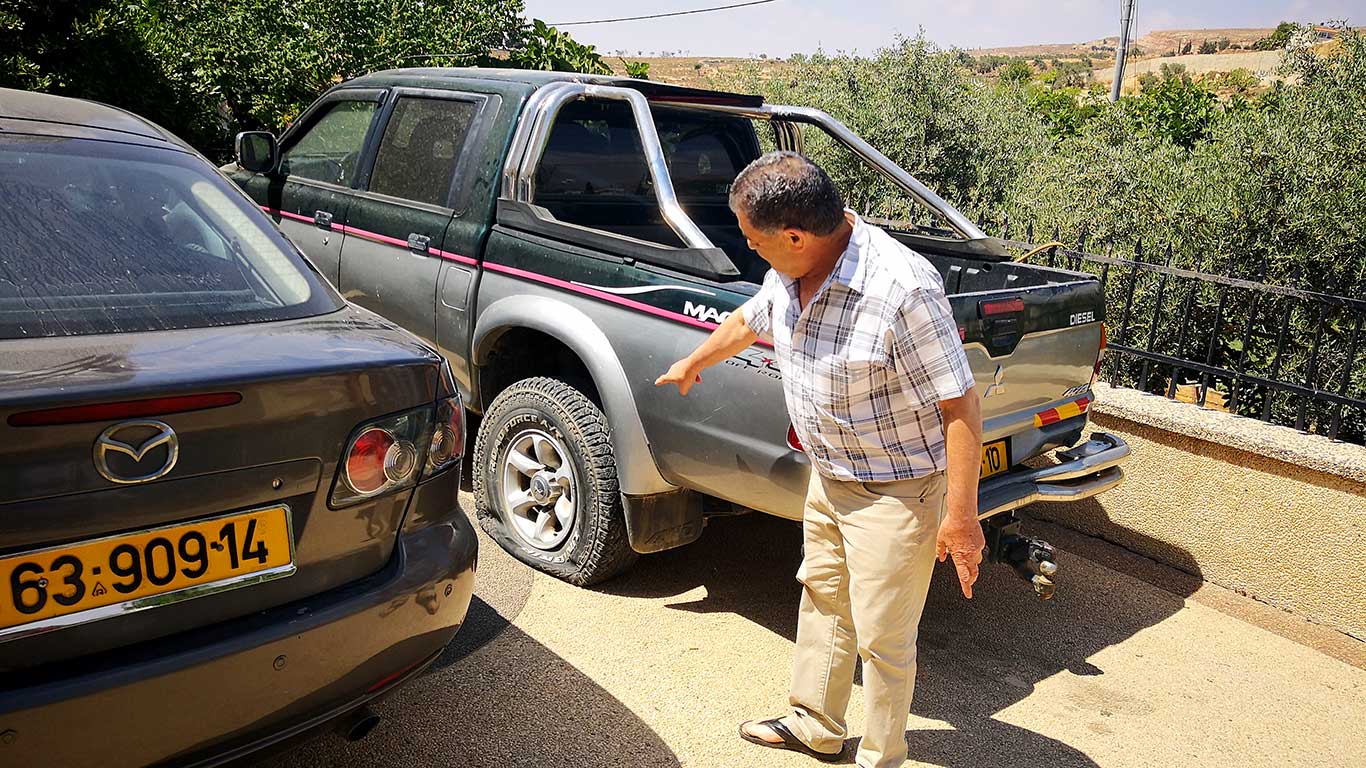 Zaki Kartoum, 33, married and father of six, from a-Tarabi'a neighborhood, who owns three of the vehicles, spoke about the incident in a testimony he gave B'Tselem field researcher Iyad Hadad on 17 June 2019:
What happened is very disturbing, especially since our neighborhood is far away from the hot spots for clashes with settlers. It disrupted my life and my work - I'm in trade. Now I fear for the future. If they managed to reach the mosque and our cars, who knows what else they can do? They threatened our safety and it all happened without any accountability or follow-up from the Israeli authorities. That's why I think there's no point in filing a complaint. The outcome is a given: the case will be closed.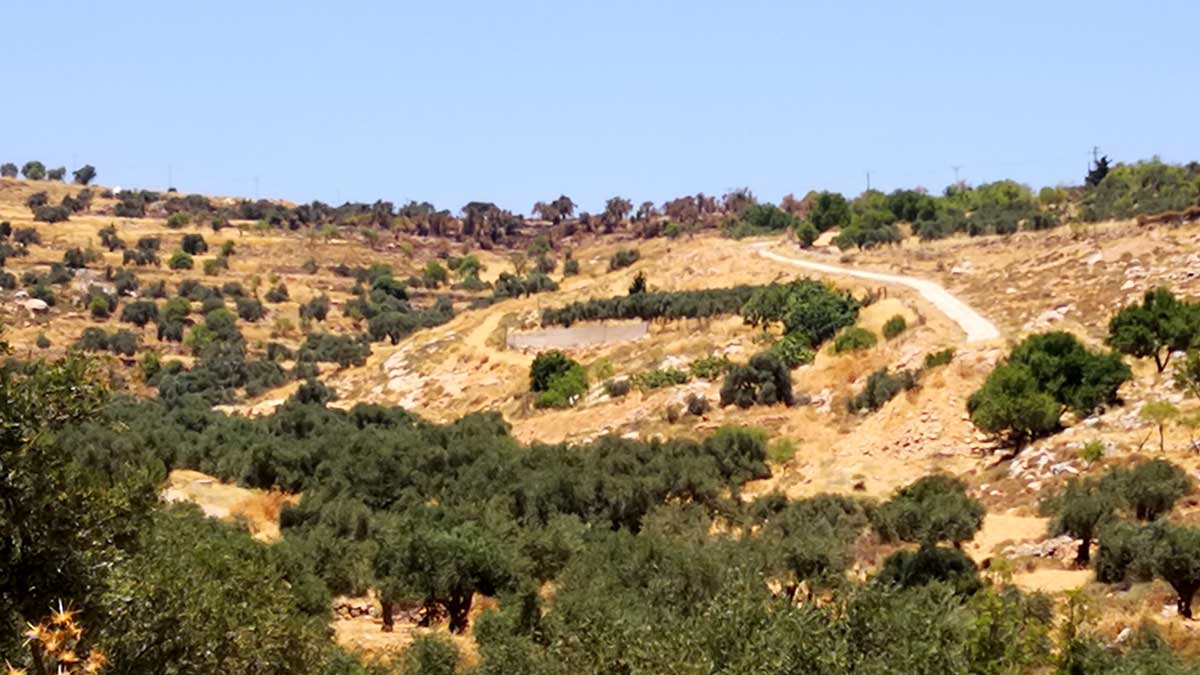 Burqah and Beitin, 17 June 2019: Settlers started a fire that consumed about 200 fruit trees and spread to uncultivated fields.
About ten years ago, settlers put up a tent some 500 meters north of Burqah, where they have been staying intermittently. On 17 June 2019, at around 4:30 P.M., shepherds noticed several settlers near the tent. Immediately after that, they saw fire break out in the fields. The flames spread across a 50-dunam area, 15 of which are used for growing olives, almonds, figs and grapes, consuming some 200 trees owned by three farmers from Beitin and three from Burqah. The rest of the area is largely uncultivated as the Israeli military denies access to it other than a few days a year, and even then, subject to coordination.
Since no firetrucks came, the farmers took the risk and went in without coordination to put out the fire. An Israeli firetruck arrived only after the farmers had managed to put out most of the fire.
Nizam Mu'tan, 46, a married father of seven, from Burqa, is one of the landowners whose crops were burnt. In a testimony he gave B'Tselem field researcher Iyad Hadad on 26 June 2019, he said:
Nizam Mu'tan. Photo by Iyad Hadad, B'Tselem, 26 June 2019

On Monday, 17 June 2019, at around 4:30 P.M., I was grazing my flock about 200 meters away from my house, in the northern part of the village. This is an area that has orchards and grazing fields. The settlers left us with no other grazing fields. There are settlers in this area too, "hilltop youths", that constantly push us off lands.

I saw six settlers near their tent, about 500 meters away from me, but I ignored them. A few minutes later, I saw a huge fire at the top of the hill. We can't use the road leading there, except twice a year, on coordination days. The fire was about 20 meters away from the settlers' tent. It spread to the southeast because of the wind. I was scared for my crops. I have a vineyard, olive trees and almond trees.

I called my son Muhammad, 12, to come look after the flock and went over to my land. Village residents started arriving to put the fire out. They were beating branches on the ground to try to stamp out the fire, while the settlers were laughing and whistling by their tent. Within a few moments, more than twenty soldiers arrived. They removed the settlers from the area. I saw from far away, that the settlers were arguing with the soldiers. I was busy trying to put out the fire in my orchard. Some residents called for Palestinian fire trucks, but they took more than an hour to arrive because they have to coordinate with the Israeli and Palestinian DCOs. In the meantime, the fire consumed dozens of dunams. We thought the army would call for Israeli fire trucks, but only one came, towards the end, when we had almost had the fire under control. In my plot, the fire consumed fifty olive, almond and fig trees, and also grapevines. The trees were completely burnt. They won't regrow. Not a year goes by without settler attacks in our area. They want to wear us down, to make us abandon our land so they can take over the area. But it won't happen. I won't leave as long as I have my strength. It's my only livelihood, and this land belonged to my parents and their parents before them.

I've made dozens of complaints to the police. It did nothing. I don't know what to do anymore! No one from the police came to ask me questions or investigate the incident.

After this particular incident, I stopped coming to the site of the fire by myself. I'm afraid they'll show up again. I make plans with another shepherd who comes to the hill so he can warn me if necessary, and I stay close to my house.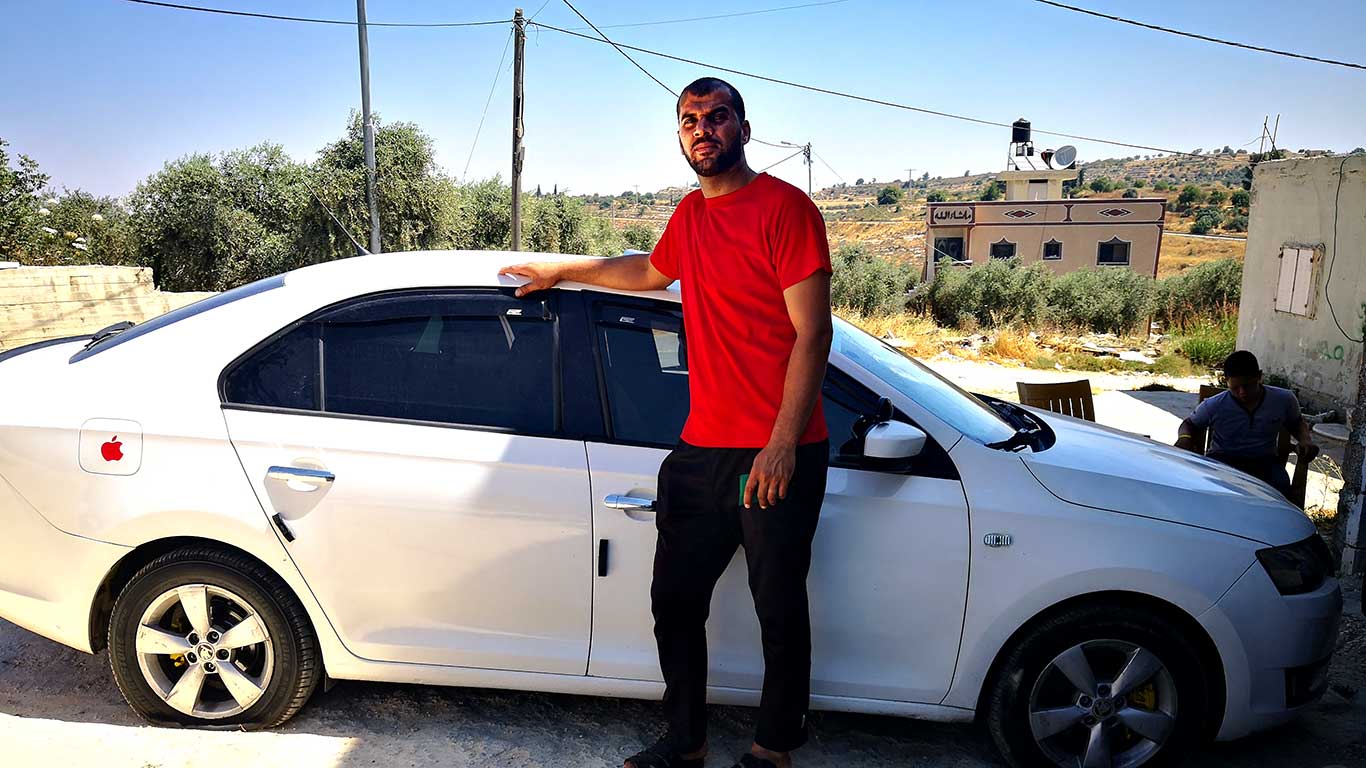 Sinjil, 24 June 2019: Settlers puncture all the tires of 13 cars and spray slogans on the walls of two homes and a fence
Sinjil is surrounded by eight settlements at distances ranging from one to four kilometers from village homes. On the morning of 24 June 2019, residents of Sinjil discovered settlers had punctured all tires on 13 cars in the northern part of the village. Hate slogans such as "Terrorist village" and "Give them a job and they rape a child", were spray-painted on the walls of homes.
'Omar Fuqaha, 31, married and father of four, from Sinjil, told B'Tselem field researcher Iyad Hadad about the damage to his car on 24 June 2019:
Slogan spray-painted by settlers on the wall of a home in Sinjil. Photo by Iyad Hadad, B'Tselem 26 June 2019

I live in a building with my brothers - each brother on a separate floor with his family. We park our cars across from the building. Unfortunately, we can't live here in peace and safety because the settlers won't leave us alone. They constantly raid the village at night and vandalize our property and cars.

Today, at 5:00 A.M., we woke up and discovered settlers had raided the neighborhood and punctured all the tires in my car and in my four brothers' cars. They graffitied one of the cars too. There's also graffiti on the wall around an olive grove across from our house. They vandalized eight other cars in the neighborhood.

Now we have to replace all four tires, which is more than 1,200 NIS (roughly 340 USD) per car. I'm a school teacher, and I couldn't go to work because of the attack. They disrupted our peace of mind. It's discouraging, especially since it's not the first time. The previous assault happened ten months ago, on 27 August 2018. On that occasion, they vandalized more than thirty cars, including mine and my brothers'. It hurts us a lot. We're ordinary people. We were sleeping peacefully in our homes and woke up straight into this nightmare.

These acts happen again and again, and the Israeli authorities do nothing, no follow-up, no investigation. On the contrary, the military and the police look the other way. They show up and check every time, but we've never heard of any arrests or about any one of the attackers standing trial. When criminals can carry out their nefarious acts without any repercussions, they'll continue to do it without fear. They'll attack us or others again and again.
Location: