Lethal "warning": 2 Palestinian teens killed on rooftop in Gaza by Israeli "warning missile"
At around 6:00 P.M. on 14 July 2018, the Israeli air force fired four "warning missiles" (a procedure dubbed "knock on the roof") at the al-Katibah Building. The building, nearly completed but still under construction, is located in the western part of Gaza City. After these missiles, four more powerful strikes targeted the building. The strike was one of a series of strikes Israel launched after rockets were fired from the Gaza Strip at communities in Israel, and after an Israeli officer was injured by a Palestinian-thrown grenade. According to the military, Hamas used the building and a tunnel dug underneath it for training. B'Tselem and Forensic Architecture carried out a joint investigation of the incident and of the Israeli military's subsequently published account.
Near the al-Katibah Building is a park that children and families use for recreation at that time of day. Two local boys, Luai Kahil and Amir a-Nimrah (both 14), had climbed up to the roof of the five-story building shortly before the strike and were sitting on its ledge. They were killed by the first of the "warning missiles."
A cameraman for the Al-Quds network, 39-year-old al-Ghani Rouqah from Khan Yunis, was preparing to film an episode of a TV show nearby when the bombing took place. In a testimony he gave B'Tselem field researcher Muhammad Sabah on 15 July 2018, he recounted:
Last time, we decided to shoot the episode for the show at al-Katibah Square in western Gaza, because the situation had escalated and Israeli airplanes were bombing the Gaza Strip. We were concerned about the safety of the team and the show's guests, so we moved the broadcast from eastern Gaza to the western part of the city. Al-Katibah Square is a place where families and children hang out. There are street vendors there too. We were supposed to go on air at six o'clock in the evening. Before we started filming, we sat in the square and watched the children play. There were kids on swings and other playground equipment, and some families were there, too. Suddenly, about ten minutes before we were scheduled to start filming, we heard a blast and explosion nearby. I grabbed my camera and ran toward the noise. I saw some young guys by the al-Katibah Building. They said there were two martyrs on the roof, and that someone was filming them. I focused my camera on the roof and saw two kids sitting next to each other. It looked like they were leaning on each other. I filmed them from the ground. I stayed there for a few minutes, because I was worried another missile would land, and then went up to the roof with some guys. On the roof, I saw the two kids who'd been hurt. I called 101 for help. The guys didn't go over to the kids for fear of another missile. I stayed to keep filming, and suddenly a second "warning missile" hit the roof, right by us. We ran into the stairwell and called out to the young guys to get the boys down from the roof. They carried the boys down and they were taken to a-Shifaa Hospital. A third missile landed at the foot of the building.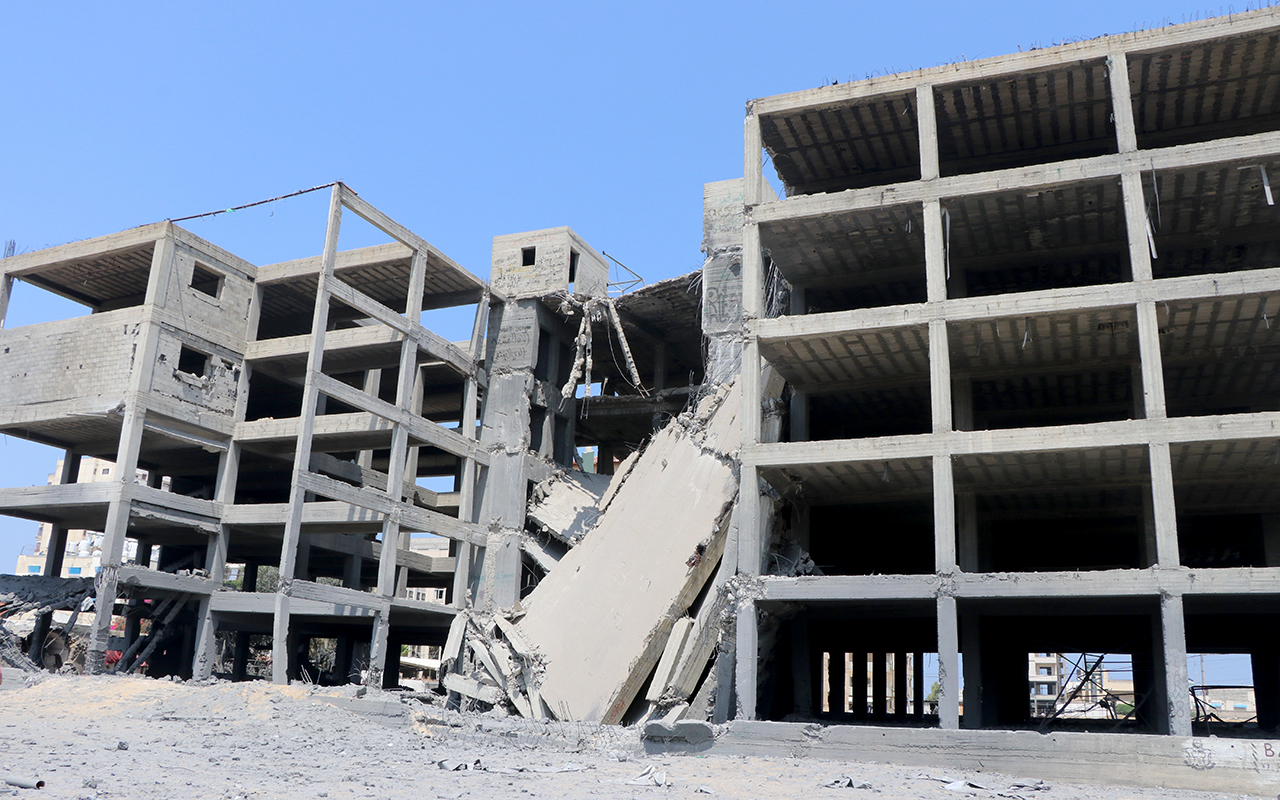 Hassan Radi, from Gaza City, is a 24-year-old vendor and sells hot drinks from a cart in al-Katibah Square. He came there that day at around 11:00 A.M. In a testimony he gave B'Tselem field researcher Muhammad Sabah on 31 July 2018, he described daily life in the square and what happened that day:
From morning until about 3:00 P.M., al-Azhar Square – which is near the al-Katibah Building – and al-Katibah Square are full of students, cars and buses. Later, usually from around 5:00 o'clock, guys start setting up swings and trampolines they bring there, and families come with their children to play and take a stroll. It's an open area with fresh air and space to play. They come there to escape the heat of their homes, which can't be ventilated because of the power cuts, and they bring things to eat and drink. They bring snacks and drinks with them. I work there with my cart every day from 11:00 in the morning until 1:00 A.M.

At around 5:00 P.M., there were some families in al-Azhar Square and the swings and trampolines had been set up. There weren't that many people yet because it was very hot. The families usually come after 6:00 o'clock. I was sitting by my cart, which was parked opposite the al-Katibah Building, watching children play under the building. I noticed two kids taking selfies. Suddenly, I heard a blast. I saw smoke rising from the top of the building, on the fifth floor. I could see two figures up on the roof. I ran over to the building, and so did some young guys and a cameraman with the Al-Quds network. I went up to the roof and saw the two boys who had been taking selfies on the ground earlier. We found them next to each other, covered in blood. Some of the guys carried them away from the ledge and laid them down on the roof. I started filming the two of them. Some of the guys wouldn't carry them downstairs, preferring to wait for the ambulance.

The open area outside the al-Katibah Building. Photo by Muhmmad Sabah, B'Tselem, 15 July 2018

Suddenly, I heard another drone missile hit. Some guys ran downstairs, but I kept on filming the two boys. After that, they picked them up and carried them downstairs to the entrance to the building, and from there to the ambulance. A third drone missile landed right next to the building. A few of the guys and I understood that these were "warning missiles" being fired from drones, and that everyone had to evacuate the area because the building was about to be bombed. I warned people to get out and went back to my cart, which was less than 150 meters away. The young guys and the families left the area.

Then, several strikes were made on the al-Katibah Building, one after the other. The blasts were massive and incredibly loud. I saw pillars of smoke rising from the building. There was dust and wreckage, and I heard glass shattering. It was like an earthquake, the explosions were so strong and everyone looked so terrified. After the dust and smoke settled, it became clear that the bombs had hit the al-Katibah Building and I learned that some people in the neighboring buildings had been injured. A Waqf office and buildings in Al-Azhar University were damaged.

I went back to my cart to check on it. I found it was broken. The tea, coffee and instant coffee were full of dust and gunpowder residue. Thank God, I'm safe and sound. I cleaned up the cart. Security people cleared the area for fear of another bombing or else of the building collapsing. Since then, people have been staying away from al-Katibah Square, which used to be a park and a promenade where families spent quality time together. It's become a dangerous, deserted place that reeks of death. It's an unbearable spot, and people are afraid to come there or even pass by it.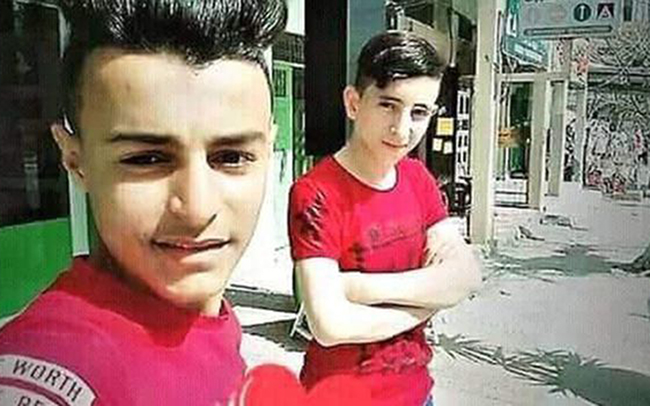 Luai Kahil and Amir a-Nimrah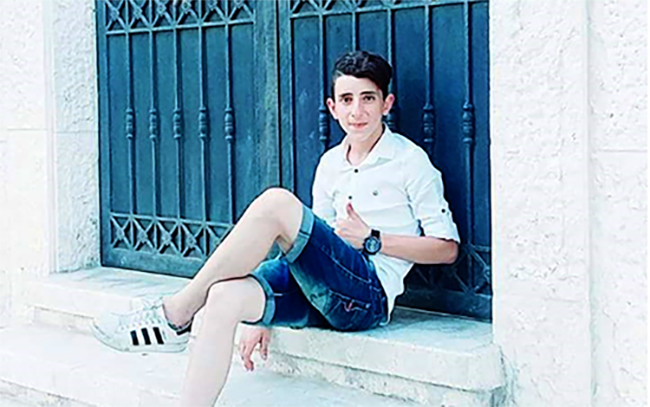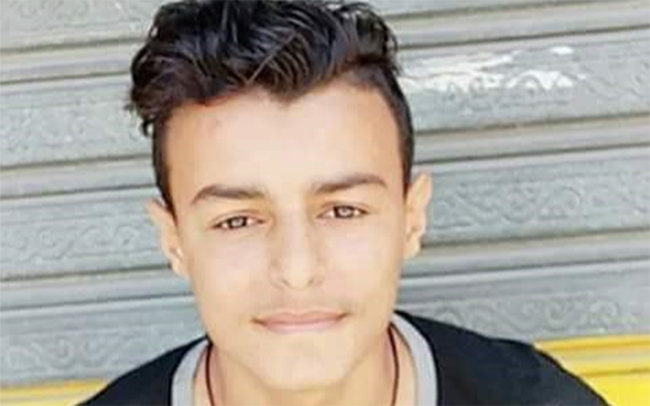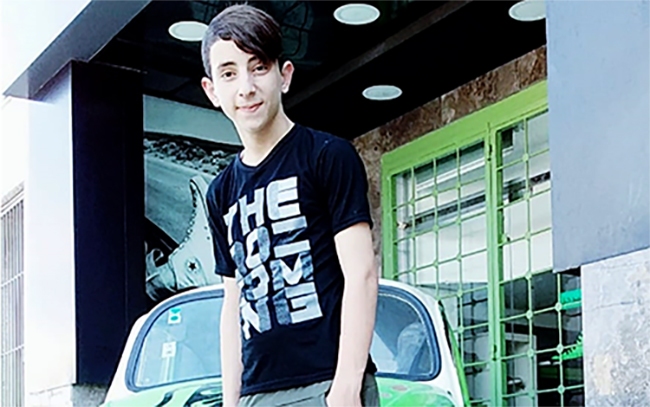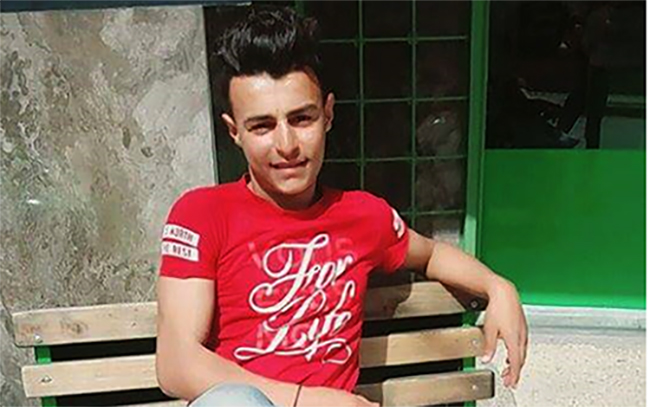 Amir a-Nimrah's mother, Maysoun a-Nimrah, 37, a married mother of seven, shared her feelings after her son was killed in a testimony she gave B'Tselem field researcher Olfat al-Kurd on 14 August 2018:
At around 6:30 in the evening, I was at home. My daughter Dalia called and asked where her brother was, because there had been a massive bombing in the al-Katibah area. I told her that her brother Walid was lifting weights at the gym and that her brother Amir had gone to lunch with a friend at the al-Katibah promenade. She told me that two boys had been killed. She didn't know, at the time, that her brother Amir was one of them.

A minute later, my sister-in-law came over and showed me a photo of one of the kids who had been killed. I recognized Amir right away, because he was wearing a green shirt and blue jeans. I said to her: "That's my son Amir. He's been killed!" His head and face were covered in blood. I rushed to a-Shifaa Hospital. The doctors told me that Amir had been injured and that they were trying to resuscitate him. I started crying and screaming and looking for him among the wounded. At the ICU, the doctor told me and Amir's grandfather and uncles that he had been killed. I went to the hospital morgue, screaming and crying and hoping against hope that he wasn't dead. I kept wishing it was someone else. I couldn't believe this had happened. Nor could his father, who had by now reached the hospital.

Maysoun a-Nimrah by a poster commemorating her son. Photo by Olfat al-Kurd, B'Tselem, 14 August 2018

When I got to the morgue, I found all my relatives surrounding Amir's body. His face and head were covered in blood. I threw myself on my son and started kissing his face, and then I blacked out. I woke up at home and started crying and screaming, "Get me Amir, bring him back to me, he isn't dead." I left Amir in the morgue, and my heart is full of pain and sadness over my innocent baby.

My life has been hell since my son was killed. I cry over him day and night. I can still hear his voice and delightful laugh, and see the smile he always wore. I was so looking forward to seeing him grow up. But Israel's military planes bombed him. That's how Amir died. That's how his dreams died. Despite the hole he had in his heart, he loved to play soccer. He wanted to be a driving instructor when he grew up. His dream was nipped in the bud. He loved school and was a top student. He stood out among his peers. His little sister Malak, who's just 5, keeps asking about him. She asks me every day where he is, and I tell her he's in heaven now. I pray for his soul. Parting from him is unbearable. I pray to God to help me carry on and live with all this pain over saying goodbye to my beloved son, Amir.

Amir was just a little boy. What did he do to make the Israeli military bomb him while he was out playing and having fun at the al-Katibah promenade? What did the military do to that sick, innocent boy? Why are children being bombed so barbarically? He was killed while he was taking selfies. He wasn't holding any weapon that posed a threat to the Israeli military.
Maha Kahil, Luai Kahil's mother, a married mother of five and a teacher at an UNRWA school, recounted her ordeal in a testimony she gave B'Tselem field researcher Olfat al-Kurd on 14 August 2018:
When I got to a-Shifaa Hospital, I heard the doctor telling one of my relatives that Luai and Amir were in the morgue. I went there immediately and asked the guards to open the door to the refrigeration room so I could say goodbye to my son. When I saw Luai, I saw his ears had been bleeding. There was a piece of shrapnel next to his left ear and other pieces in his back. I hugged and kissed him. I was in shock. I asked God to forgive him and make the path before him easier. I said, "God, please take care of Luai."

I never imagined that Luai would die and that I'd have to say goodbye to him. It was so hard, but that's the fate that God chose for my son and there's nothing I can do about it.

Maha Kahil by a poster commemorating her son and his friend. Photo by Muhmmad Sabah, B'Tselem, 5 December 2018

What did Luai do? He loved his friend Amir and always made sure to spend time with him, because Amir had a hole in his heart. They decided to take selfies on the roof of the al-Katibah Building. But the Israeli military put an end to their childhood, killed their joy while they were taking photos of themselves. His soul went up to God before I had a chance to say goodbye or talk to him. His smile and laughter are gone. I'll never be able to hear him call me "Mamma" again. Luai has gone and will never come back to me.

I've been in shock ever since he was killed. It's so hard to be apart from him. I miss him so much and can't forget about him. I had hoped that Luai would grow up and go abroad to study at university, but my dreams were cut short by his death. He wanted to be a professional soccer player and play on a famous team. My life stopped when he was killed. I have no joy, and my heart is full of sadness and pain and wounds. Luai was everything that was beautiful in my life. He always helped me, he was my friend. Now he's gone and left me here. I ask myself, how can I not see Luai go to school with his friends when the school year begins in two weeks? I pray for his soul and pray to God to help me cope. I break down every day because of the loss. It's so hard.
The al-Katibah Building in Gaza City, which was in advanced stages of construction, was supposed to serve as a library once it was completed. A military aircraft fired four "warning missiles" at it: three hit the roof and one landed on the ground nearby. Four more powerful strikes followed immediately, causing massive damage to the building. The first "warning missile" killed two 14-year-olds, Luai Kahil and Amir a-Nimrah, who were sitting on the roof. Altogether, 23 residents sustained mild injuries in the strike; nearby buildings were damaged, including a mosque, Waqf office, a first aid center of the Palestinian Health Ministry, residential apartments and an artists' village.
Following the attack, the Israeli military published footage of the strikes via its Twitter account, @idfspokesperson, supposedly showing four different strikes.
The attack was documented by a number of different sources. In addition to the Israeli military's aerial footage, the attack was captured by nearby CCTV cameras. B'Tselem's field researchers gathered further video material on the ground, as well as from social media and other open sources.
Forensic Architecture (FA) used this material to establish a definitive timeline of the sequence of strikes.
Our investigation found that the sequence of videos published through the @idfspokesperson Twitter account edited out the first, fatal strike. The published footage did show four strikes in sequence, but that sequence did not reflect reality: the first strike featured in the published sequence was in fact the third warning strike, from a different angle.
FA and B'Tselem also consulted multiple weapons experts, each of whom independently concluded that the fragmentation pattern caused by the fatal strike indicates the presence of shrapnel—indicating that the munitions used was specifically designed as an anti-personnel weapon. This contradicts the military's claims.
The military's use of "warning missiles" ahead of attacks is absurd. The point of warning civilians of an impending attack is to allow them to evacuate, as part of the military's obligations under international humanitarian law. Firing a missile at the roof of a building cannot be considered a warning and is undeniably part of the strike itself. Civilians cannot always understand the situation; in any case, they do not know how much time they have to flee – and the military cannot know whether everyone had in fact managed to evacuate, including children and the elderly. Also, "warning missiles" can be lethal, as this case proves.
Even if, as the Israeli military claims, Hamas' military wing was using the building for training purposes, an activity that would render the building a legitimate military target, it is unreasonable to bomb it at a time when families are known to gather nearby and children's playground structures are set up below. The air force should have been aware of these basic facts: in advance, and certainly in real time, when massive civilian presence near the building was clearly visible to aerial surveillance. In particular, the presence of two civilians – teenaged boys, in this case – on the roof should have been easily identified.
The fact that the strike went ahead nonetheless raises extremely grave concerns. One explanation is that Israel's means of surveillance and intelligence are so inferior that even the regular presence of so many civilians, as was routine near the al-Katibah Building, was unknown to the air force. If that is the case, the military clearly cannot assess "anticipated collateral damage" and cannot decide whether a planned airstrike meets the legal criteria for proportionality. Another possibility is that the military did know about the civilians nearby – and chose to bomb the place anyway, with civilians in close proximity (and even on the targeted building itself). That would indicate indifference to the fate of civilians and a willingness to put their lives at risk, relying on the inadequate method of "warning missiles". In either case, the outcome of extensive harm to civilians was predictable.
This is another example of Israel's policy of bombing and firing at crowded areas in the Gaza Strip implemented in Operation Protective Edge. This policy killed at least 1,055 Palestinians who did not take part in the hostilities – almost half of the Palestinians killed in the operation – including 405 children and 229 women. Israel's insistence that the policy is lawful is absurd: it relies on an unreasonable interpretation of what can constitute a "legitimate target", thereby rendering meaningless the principle of proportionality, and instrumentally complies with the obligation to take precautions while blatantly ignoring the fatal outcomes, including the killing of entire families. In Operation Protective Edge, Israel carried out strikes in this way for weeks on end, home after home, one family after another. No one was held accountable and the policy was consistently backed by the entire chain of command and political leadership. Four years later, we are witnessing the same conduct, with the same lethal results: two 14-year-olds killed.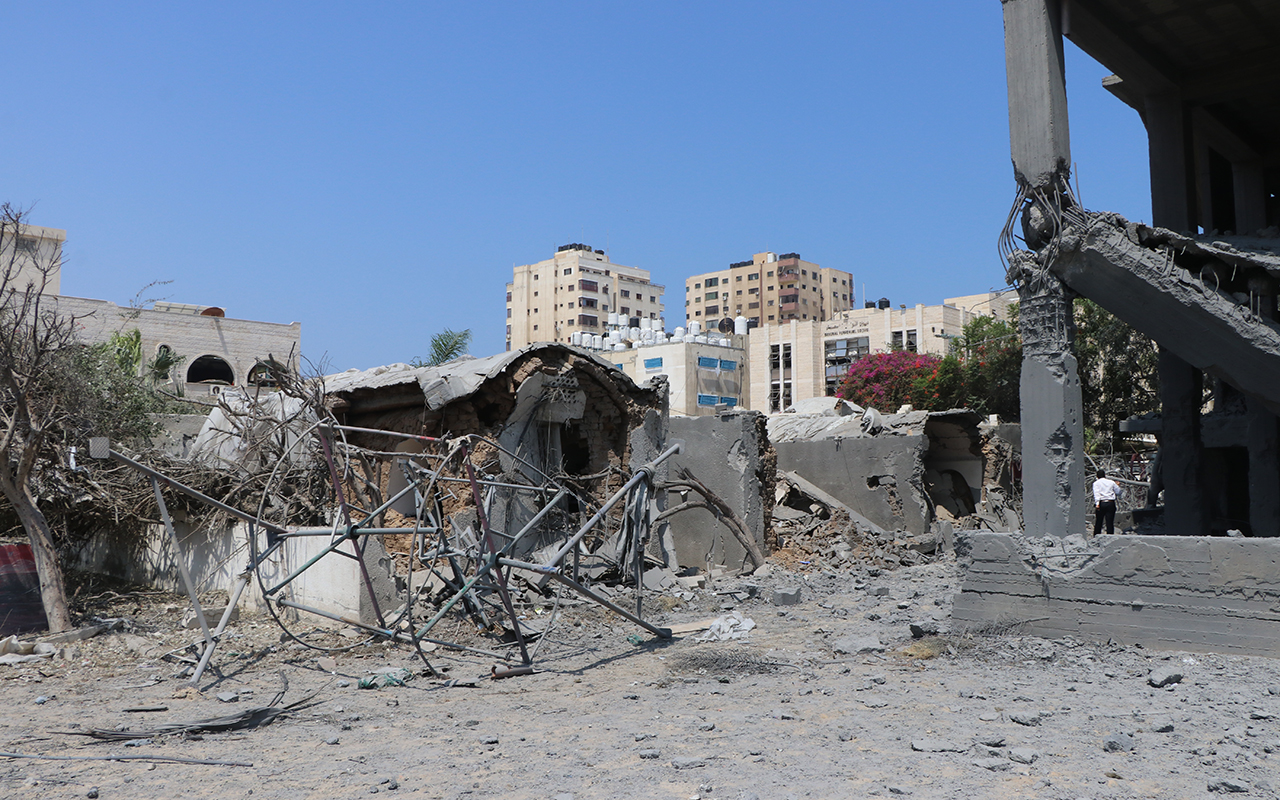 Location:
More on the open-fire policy