Israeli security forces shot and killed youth aged 17 while he was fleeing from the scene

On 18 December 2016, at about 12:30 A.M., Israeli military personnel shot and killed Ahmad Hazem 'Ata Zidani (a-Rimawi), 17, a resident of the village of Beit Rima, northwest of Ramallah. They also injured N.R., 25, also a resident of the village during clashes. Footage from a CCTV camera installed on a local business shows a group of youths, including Zidani, throwing stones at military jeeps outside the frame, and then running for cover around the corner of a building. Zidani is the last to arrive, and is shot just as he reaches cover. The incident occurred during a raid by the security forces. In recent months, the Israeli military has entered Beit Rima once or twice a week. Such incursions are commonplace in the West Bank. In many cases, they lead to clashes, and these sometimes end in the completely unjustified loss of Palestinian life.
B'Tselem's investigation shows that on 17 December 2016, at about 10:30 P.M., some 20-30 military and Border Police vehicles arrived in the area around Halamish intersection, and later proceeded along the road connecting a-Nabi Salah and Kafr 'Ein. After 11:00 P.M., dozens of youths from the villages of Deir Ghassaneh and Beit Rima, which are situated some two to three kilometers from Kafr 'Ein, began barricading the main road in Beit Rima using barbed wire, containers, and stones in an attempt to prevent the security forces' passage. At about 11:30 P.M., three Border Police and military jeeps that had split away from the force heading for Kafr 'Ein entered Beit Rima and stopped by the barricade. More than 10 Border Police officers and soldiers got out of the jeeps and deployed at the site, which was brightly lit. The youths, who were dispersed around the square, threw stones at the officers and soldiers, and they responded by firing teargas canisters and live ammunition.

CCTV footage of the incident (edited). To view the full footage, click here.
At around midnight, Zidani, N.R., and other youths moved to a yard leading to a store, opposite which a group of security force personnel was standing. The youths dispersed around the area, which was only partly visible to the security force personnel, in order to throw stones. One of the youths in the area threw a bottle of paint at the window of one of the jeeps in order to obscure its field of vision. Shortly after, a Molotov cocktail was thrown at the jeeps from the direction of one of nearby houses.
In a testimony taken on 18 December 2016 by B'Tselem field researcher Iyad Hadad, N.R. described what happened next:
We snuck from the road into an empty yard leading to the entrance to the shops, opposite the place where the policemen had positioned themselves on the other side of the road, and about 20 meters from them. The area is lit by public lighting and by projectors directed at the shops, and I guess this helped them see where we were.

Ahmad popped out from his hiding place to throw a stone he was holding at the force. At the same time, one of the other youths threw a Molotov cocktail from between the homes. It landed by the jeeps and didn't cause any damage. Immediately, they started to shoot massively. One of the shooters must have aimed at Ahmad, who managed to throw the stone and run away before they fired seven to 10 shots at him. He was hit, called out "ow" just one time, and then fell to the ground. I began to shout, "Ahmad's hit, Ahmad's hit." I turned around to run away and then a bullet hit me.
A.G., 17, a resident of Beit Rima, was standing a few dozen meters from the site of the shooting. In a testimony taken on 18 December 2016 by B'Tselem field researcher Iyad Hadad, he described the moment of the shooting:
I saw Ahmad Rimawi and N.R. trying to get to cover. Then two women soldiers or Border Police officers noticed them. They were standing opposite the entrance to the shops, about 10-20 meters away. As soon as the two guys popped out from near the shops – the area is well lit and I think they were holding something in their hands, probably stones – one of the soldiers fired seven live bullets straight at them. I saw that they'd been hit and I heard them crying out. Ahmad continued for a few meters before he fell down, but N.R. managed to run away.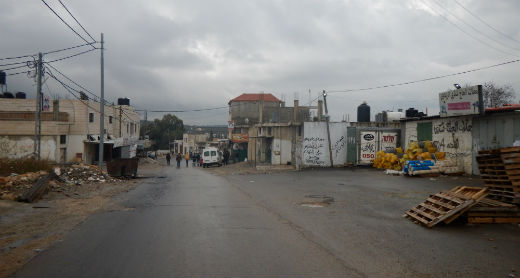 The area where Ahmad Zidani was shot. The military and Border Police jeeps were located in the area where the white van is pictured. Photo: Iyad Hadad, B'Tselem, 18.12.16
F.J., 26, a resident of Beit Rima, was hiding behind pallets of cinder blocks about 10 meters north of the entrance to the shops. In a testimony taken on 18 December 2016 by B'Tselem field researcher Iyad Hadad, he described what happened immediately after the shooting:
I moved forward toward Ahmad with three other guys. We lifted him up so that we could run away from the force. We dragged him about 30-50 meters and then we tried to check his condition. He was unconscious and we tried to wake him up. We shouted for someone to call an ambulance. One of the local residents arrived with his car. We put Ahmad in the car, which took him and N.R. to the hospital in Salfit.
The two injured youths were transferred to an ambulance that reached Salfit Hospital within thirty minutes, but Zidani died a few minutes before it arrived. N.R. was examined and kept in hospital for further treatment. He was discharged on 20 December 2016.
The clashes in Beit Rima continued until around 1:30 – 1:45 A.M. Several people were injured after inhaling teargas. According to media reports, a Border Police officer was also injured during the clashes.
B'Tselem's investigation shows that the security forces killed Zidani, 17, and injured N.R. despite the fact that they were a danger to no one. At the time they were shot, they were some 10-20 meters away from the soldiers and officers, and they were running away from them. There was no justification for shooting them and this action was unlawful.
Over the years, referring cases to the military law enforcement system with a view to promoting real accountability has proved ineffective. Even when a military investigation was actually launched, it nearly always wound up as a whitewash. Therefore, in May of 2016, B'Tselem decided to stop sending cases to the MAG Corps with a demand to investigate. Nonetheless, B'Tselem carries on working in other ways to promote accountability. To that end we continue to investigate and publicize these types of incidents. That said, the obligation to investigate and bring to justice those responsible for such incidents remains on the shoulders of the military system, an obligation it systematically fails to uphold.
Update: On 6 August 2017, the MPIU's National Unit for Operational Investigations informed B'Tselem by email that an MPIU investigation had been launched. On 26 September 2019, the MAG Corps informed human rights organization Yesh Din that the case had been closed without an indictment.
Location:
More Info: