Military blocks main entrance to Hebron neighborhood for 3 weeks, penalty for torched checkpoint
After Palestinian teens torched the Bab a-Zawiya checkpoint in Hebron on 22 November 2014, the military closed the checkpoint for three weeks, only reopening it to Palestinians on 13 December. The checkpoint, which lies at the entrance to a-Shuhadaa Street in the heart of Hebron, monitors passage of Palestinians from the neighborhood of Tel Rumeidah to downtown Hebron and the city market. Even when the checkpoint is open, they may cross only as pedestrians and Palestinian vehicular traffic is forbidden. This means Palestinians must go on foot from the market, carrying their purchases. 
The checkpoint was completely closed for several days after the torching. Then, sporadically and at their discretion, soldiers began allowing the elderly and the ill to go through the checkpoint. In addition, there were six days that the military granted passage to students of a nearby school. Most residents of Tel Rumeidah were not allowed through the checkpoint for three weeks.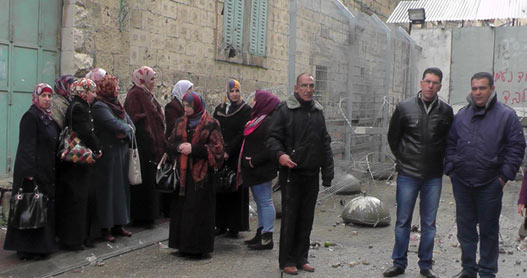 Residents of Bab a-Zawiya neighborhood, Hebron, stand by the closed checkpoint. Photo: 'Imad Abu Shamsiyeh, B'Tselem, 24 November 2014
When the checkpoint is closed, there are basically two alternatives to getting from Tel Rumeidah to the market and to downtown Hebron on foot.  One is a 10-minute route that traverses a private yard, and the other requires clambering over a hill full of holes and obstacles, an undertaking trying enough for people in good physical condition and impossible for those who are not. The closing of the checkpoint disrupted the routine of hundreds of people who work, study, shop, and run their daily lives in downtown Hebron. People who are not fully mobile and do not have a car were hard put to get out of the neighborhood. 
Like the other harsh restrictions imposed by the military on movement of Palestinians in Hebron, the checkpoint serves no security purpose. These restrictions have been in place for twenty years as part of the policy of separation in Hebron. The policy enables a handful of settlers, who took up residence in the heart of Hebron with the support of Israeli governments, to dictate daily life for tens of thousands of Palestinians in the city. Certain main streets – where most of the settlements in Hebron were established – are completely off-limits to Palestinians and many others are closed to Palestinian vehicles. These drastic restrictions have rendered life impossible for Palestinians in central Hebron, forcing many to leave their homes and workplaces. 
Closing the checkpoint was collective punishment meted out to hundreds of people for the deed of a few individuals. The military must remove this and other unnecessary checkpoints in central Hebron, and stop its ill-treatment of local residents. As long as the checkpoint is in place, the military must enable residents to cross it regularly and must not punish an entire population for the actions of individuals.