Six days of unjustified detention, with full backing by the military and the courts: As usual, no one will have to answer for it
On Friday, 10 February 2017, at about 4:00 P.M., some twenty to thirty young people and families with children, all residents of the village of Madama, which is located south of Nablus, went on an outing to spot a few hundred meters south of the village. At around 4:15-4:30 P.M., five or six soldiers approached from the area of the settlement of Yitzhar, which is a kilometer and a half away from the where the villagers were relaxing, and threw tear-gas canisters at them. Some of the villagers fled.
Three of the soldiers kept heading north, toward the young people and families, and the rest moved away to the northeast. A few minutes later, Ahmad Ziyadah, 25, a volunteer with B'Tselem's camera project who lives in Madama and saw the tear-gas canisters, arrived at the scene and began filming the soldiers. The three soldiers approached him, and he was joined by two young men who were there: 19-year-old Muhammad Faraj and 18-year-old Suhayb Qot. 
Ziyadah approached the three soldiers, filming them all the while. The footage shows an officer loading his rifle, telling Ziyadah - in Arabic - to go home, and demanding to see his I.D. card. Ziyadah handed the officer his I.D. card and explained that he is a B'Tselem volunteer. The officer checked the I.D. card and returned it. Then an argument ensued: the officer kept insisting that Ziyadah return home, radioed that he planned to handcuff him, ordered one of the soldiers to load his gun, and tried to shift Ziyadah's camera. A few minutes later two more soldiers arrived. The three soldiers already on the scene approached Ziyadah, grabbed him, knocked him down and kept him pinned to the ground as they handcuffed and blindfolded him.
In testimony given to B'Tselem field researcher Salma a-Deb'i, Ziyadah described what happened: 
One of the soldiers grabbed me from behind, and then the soldier who tried to keep me from filming tried to take the camera from me. I held on to the camera, took out the memory card and put it in my mouth. The soldiers pulled the camera case and its strap tore. They cuffed my hands behind my back with plastic cable ties and threw me to the ground, face down. One of the soldiers kept a knee pressed hard on my head. Another put his knee on my back and the third stood on my legs. Whenever I tried to raise my head, the soldier pressed hard on my head, while another soldier kept on pulling the cable ties tighter and tighter. I screamed in pain.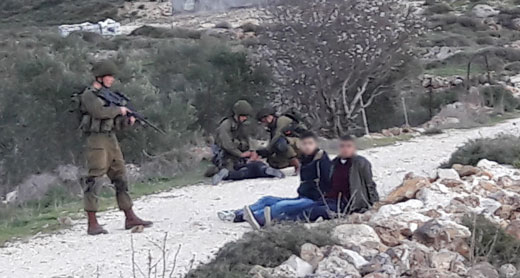 Soldiers pinning Ahmad Ziyadah to the ground and detaining his companions. Photo by Madama resident, 10 Feb. 2017
Suhayb Qot recounted the events to B'Tselem field researcher Iyad Hadad: 
The soldiers jumped on Ahmad and pinned him to the ground face down. One of the soldiers put his knee on Ahmad's head. Other soldiers tied his hands behind him with plastic cable ties.  Ahmad had not behaved violently. I tried to intervene and said: "Why are you hitting him like that? He didn't do anything." One of them answered: "Shut up and don't talk. Speak only if we speak to you." Then I said: "Why are you doing this, he has a card in his wallet proving that he is a B'Tselem photographer. Have a look at the card to confirm it." 
The soldiers handcuffed Qot and Faraj, and then more soldiers arrived. Ten minutes later, at about 5:00 P.M., more Madama residents showed up after they heard about the arrest. The soldiers threw stun grenades at the villagers, who then moved back so they were about ten to twenty meters from the soldiers. 
Ahmad's brother, Mahmoud Ziyadah, 25, who heard about Ahmad's detention, was among the residents who arrived, and he was assaulted by the soldiers. As he told B'Tselem field researcher Salma a-Deb'i:
Five or six soldiers aimed their guns at me and tried to keep me from getting near Ahmad to see if he was all right. The soldier sitting on him grabbed him by the head and shoved him to the ground. My brother screamed and I told the soldier: "OK, I'm moving back." I moved a few meters away. I tried again to approach Ahmad and then one of the soldiers loaded his gun and aimed it at my stomach. Then he aimed at my left knee and fired. I immediately fell to the ground. My brother Nashat took me to the car of one of the residents who was nearby, who then drove me to the village of Burin, and from there a Red Crescent ambulance transferred me to a hospital in Nablus. I was examined and X-rayed, and rubber bullet was found in my knee. It was surgically removed. The doctor told me I would have to rest two weeks before I could stand on that leg.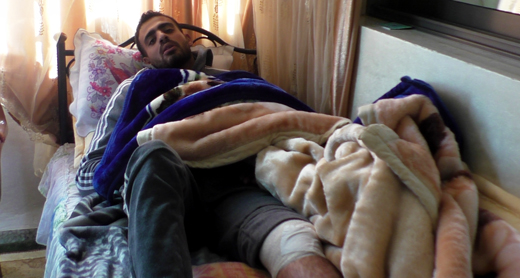 Mahmoud Ziyadah at home, after his surgery. Photo by Salma a-Deb'i, B'Tselem, 12 Feb. 2017
Qot said that two officers arrived, one from the Israeli District Coordination Office (DCO); a long argument about freeing the young men who were detained ensued. At about 6:30 P.M. the soldiers unhandcuffed Qot. Half an hour later Ziyadah was taken on foot toward the security perimeter road around the settlement of Yitzhar. Ziyadah related that there, in the presence of a settlement security guard, the soldiers frisked him and again blindfolded him. They then put him in a jeep and took him to a military base near the village of Tel, and from there to the police station in the settlement of Ariel. Ziyadah was questioned at the police station, and then transferred to the base at Huwarah, where he was held in until Tuesday morning, 14 February 2017. Only then, five days after the incident, was he taken to a hearing in the military court in Salem, where his detention was extended for continued investigation on suspicion of assaulting soldiers and interfering with a soldier in the line of duty. At night, after he was kept in the waiting room in the Salem base, in which he was only given a cup of spread cheese to eat, Ziyadah was returned to the Huwarah base. He was taken the next day to the Ofer military court for a hearing on his appeal against his remand in custody, and it was decided to release him on 500 shekels bail. At about 11:30 P.M. he was released from the Huwarah base. 
This case reflects the intolerable ease with which soldiers can abuse their power completely arbitrarily, without hindrance and against the law: A few dozen villagers went out to enjoy nature near their homes. The soldiers who arrived at the scene threw tear gas canisters to disperse them, without any reason. Then the soldiers violently arrested Ziyadah, beat him and detained two people who were with him, also for no reason. One of the soldiers fired a rubber-coated metal bullet at Mahmoud Ziyadah's leg, from a few meters away, in complete contravention of the rules of engagement, once again for no reason. And finally, after Ahmad Ziyadah was held in custody for six days, the judge at the Salem military court decided to remand him without any evidence that an offense was committed - again, for no reason. 
Ahmad Ziyadah was arrested by soldiers on a whim and held in custody for six days without any reason, while the system - the military and the courts - consistently backed the detention. No one will have to answer for Ziyadah's detention and no one will give him back those six lost days. This is what life under occupation looks like. 
Location:
More Info: