East Jerusalem: 6 Voices - Yonathan Mizrahi
39, a Jewish-Israeli archeologist living in West Jerusalem
What's the story?
Yonathan stopped working for the Israel Antiquities Authority after realizing that his beloved science was being used to glorify Jewish history in the area while diminishing the role of other historical layers. After leaving the public service, he established the Emek Shaveh organization for guiding alternative tours to a particularly important excavation: the Palestinian village of Silwan, where Zuheir a-Rajabi lives."
Why is Silwan so important?
Like so many parts of East and West Jerusalem, the village of Silwan is located on a site that bears religious and historical significance. According to the Bible, this valley is the very area where King David walked some 3,000 years ago. Unfortunately, the rich archeological discoveries in the area are being used as a political tool to oust Palestinians.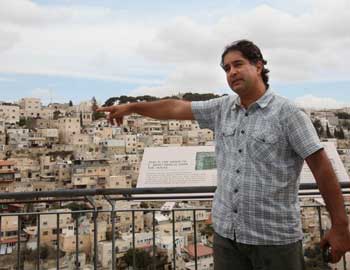 What is Yonathan's goal?
Yonathan takes people on tours to expose what lies behind the ostensibly cultural tourist attraction called The City of David, which is run by the settler organization Elad. In fact, settler organizations are pouring copious resources into this enterprise, and others around the Old City, in order to thwart division of the city in a future peace accord. The Jerusalem Municipality is in the process of establishing an archeological park on a site adjacent to the area controlled by the Elad organization, and has announced plans to order the demolition of dozens of homes in Silwan, allegedly because they are located on a site intended for a national park and because they have been built illegally (on the Catch 22 that bars Palestinians from building legally in East Jerusalem, see here).
---
In this innovative project, B'Tselem and the Guardian gave six Palestinians and Israelis cameras to create video diaries of their lives in occupied East Jerusalem, under the shadow of the settlement enterprise. The diaries offer a glimpse into the impact of the volatile reality on their lives. This is one aspect of B'Tselem's video project, in which the organization has given some 200 Palestinian families cameras to document violations of their rights.
---
xxx