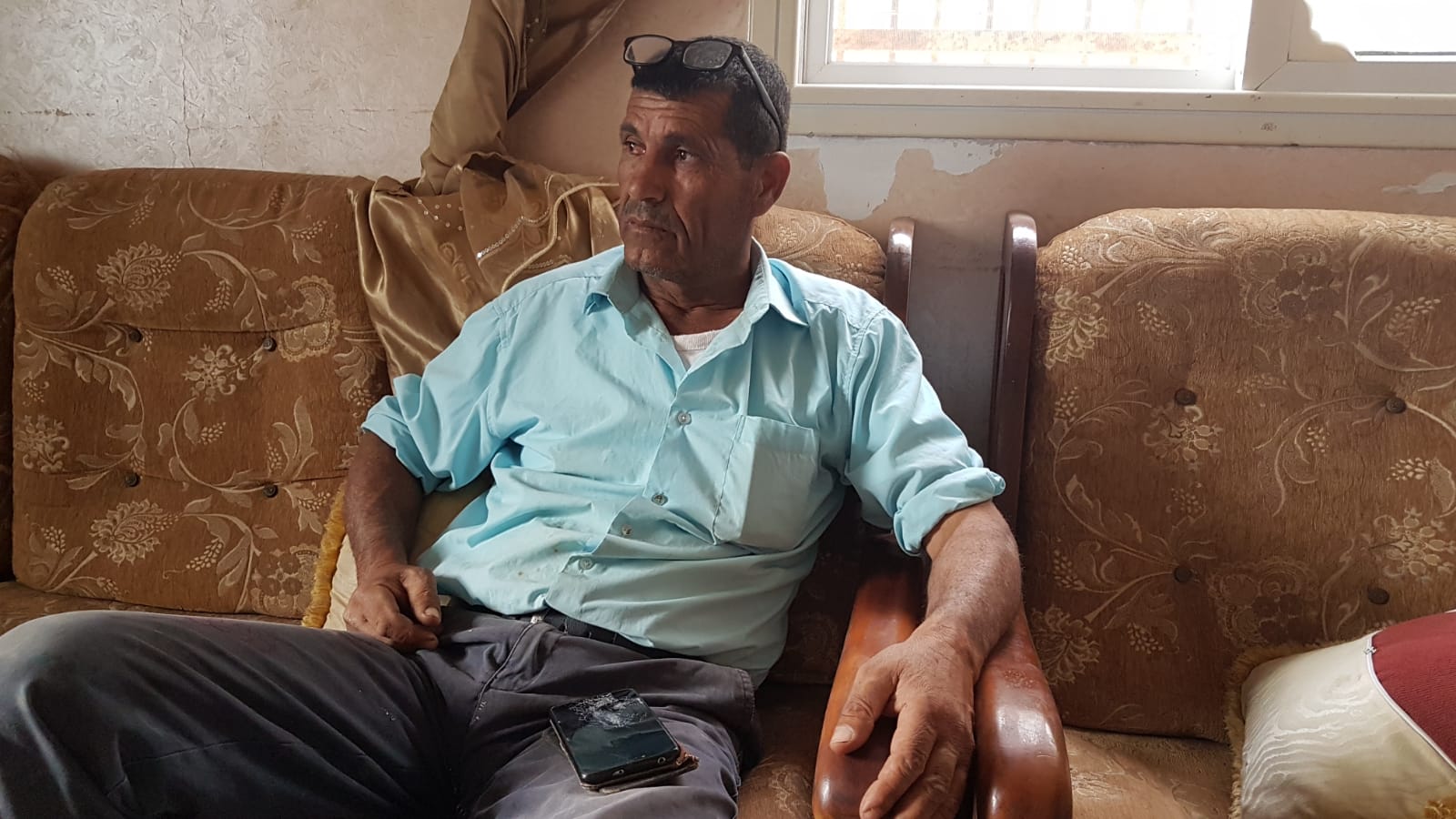 'Asirah al-Qibliyah, Nablus District: Some 20 settlers stone Palestinian family's home, injuring father
On Saturday, 24 October 2020, 'Abed al-Basset and Maysaa' Ahmad (both 52) were at home with three of their six children and a grandson. At around 3:30 P.M., a village resident called to say he had noticed settlers approaching their home. 'Abed al-Basset went outside and saw some 20 settlers drawing near. He tried to stop them from reaching his home, and in response, they starting throwing stones at him. One of the stones hit him in the head and he started bleeding.
About an hour later, soldiers arrived in a military jeep and threw stun grenades at residents who had gathered to defend the house. The settlers moved about 100 meters away, and several soldiers kept them at bay. The other soldiers stayed by the house. About a half hour later, the soldiers and the settlers left.
'Abed al-Basset went to Rafidia Hospital in Nablus, where his head was bandaged and he was discharged. In a testimony he gave B'Tselem field researcher Salma a Deb'i on 25 October 2020, he spoke about the attack:
I was at home with my wife and three of our kids – Muhammad, Anis and Bisan – and our grandson Sham. I make sure not to go to work on Saturdays because that's when settlers tend to attack our homes. At around 3:30 P.M., a village resident called and told me that a group of settlers was making its way towards our house from the east.

I immediately went up to the roof and saw about 20 masked settlers behind the neighboring house, which belongs to my son Rafiq. I climbed back down and asked my wife to close all the doors and windows. Then I went outside to shout at the settlers to leave, because I was afraid they'd come inside.

The settlers were about three meters away and the minute they saw me, they started throwing stones at me. I tried to hide behind a fence and picked up a stick to try and scare them away, but they kept throwing stones at me.  

I heard my wife screaming and calling for help, but I knew that our neighbors were out harvesting and that if anyone was home, it was probably women and children.

The settlers threw a lot of stones at me, which hit me in the legs, shoulders and arms. A stone hit my head and I heard one of them say: "Blood!" I said nothing was wrong, but then I suddenly saw a lot of blood dripping. Just then, some village residents arrived and the settlers backed away a bit and kept on throwing stones at us. About an hour later, a military jeep arrived from the direction of Yitzhar. The soldiers came towards us, threw about four stun grenades at us and fired several shots in the air. One of them said he was an officer and didn't want any trouble. He said the police were on the way.

Things calmed down a bit and I told the residents that the police would come and we'd file a complaint. The settlers moved about 100 meters away and six soldiers went along and kept them from reaching us. The other soldiers stayed next to us, to keep us away from the settlers.

About an hour after the incident, the head of the village council took me to hospital, where they stitched up my wound and discharged me. When I got home, I found out that the police had never arrived and that the soldiers had stayed until nightfall and left.