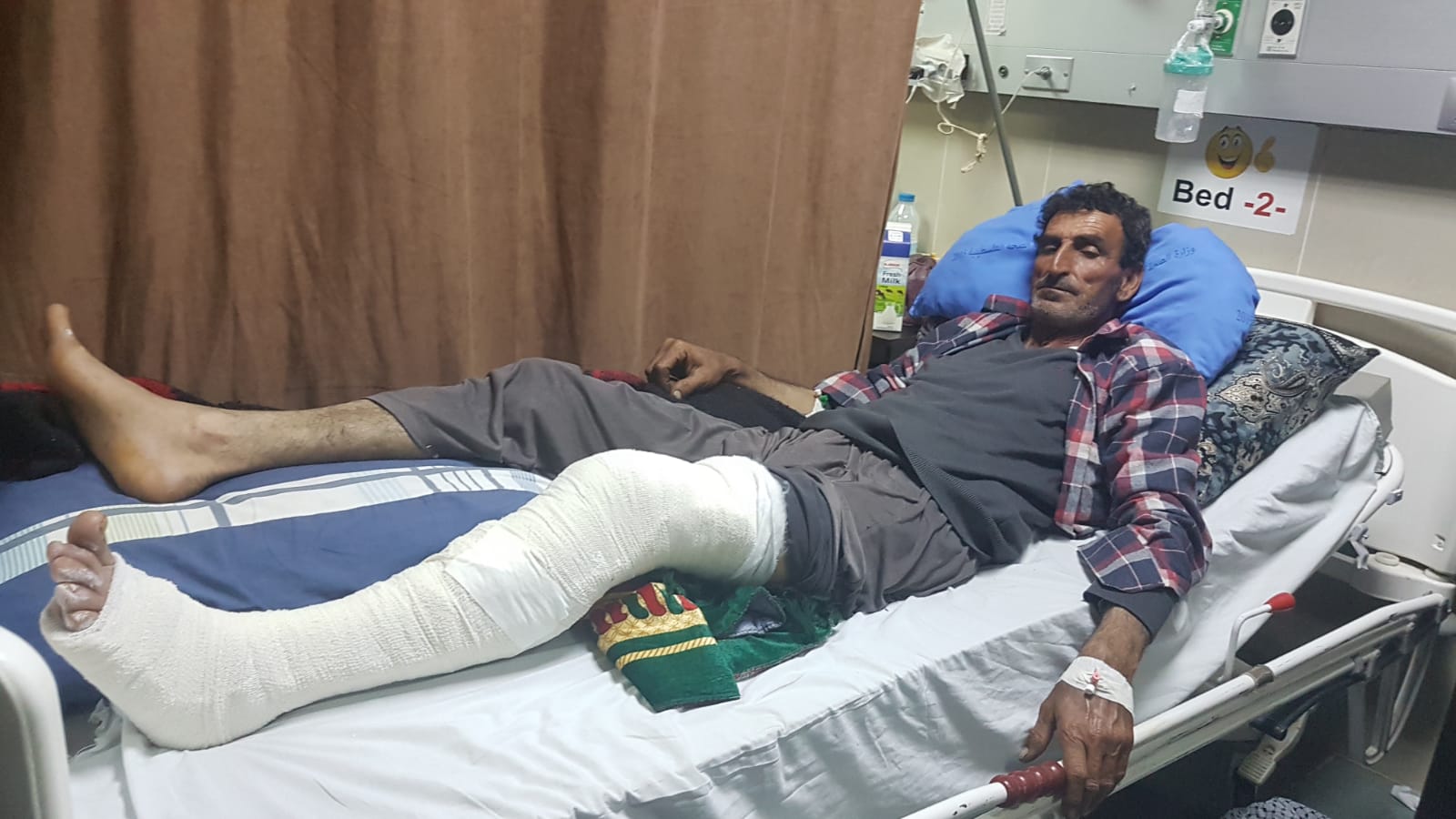 Burqah, Nablus District: Settlers hurl stones at shepherds, break one's leg and scatter herd
While leading a flock of 120 sheep to pasture, a pair of shepherds were suddenly attacked with stones by about ten settlers. During the violent encounter, the older man broke his leg as a result of the stone-throwing. His nephew managed to help him escape before they were injured even further.
On Wednesday afternoon, 6 May 2020, Harbi 'Abdu (51) and his nephew Hamuda (26), residents of Beit Imrin, were out grazing their flock in a field situated between the northern part the village of Burqah and the former settlement of Homesh (evacuated in 2005). Suddenly, a group of settlers appeared before them. Some were armed with wooden clubs and stones, some were masked and one was carrying a gun. Though the two were about 200 meters away from the settlers when they caught sight of them, they had no chance of escaping with their flock.
As they tried to gather their flock, the settlers approached and began throwing stones at them, one of which hit Harbi's left leg and broke it. He fell to the ground. As he tried to crawl away, the settlers struck him with more stones.  
Hamuda rushed to the nearby village of Burqah to call for help, but when he heard his uncle yelling for help, he returned. He noticed the assailants leading the flock away towards Homesh. When the settlers saw he had returned, they began throwing stones at him as well. The two barely managed to escape, while Hamza supported Harbi's injured leg.
They cried out for help.  
In a testimony he gave B'Tselem field researcher Salma a-Deb'i on 6 May 2020, Harbi described the attack:
They came from different directions so that we wouldn't notice them. Within seconds, they started throwing stones at me. When the first stone hit my left leg, I writhed in pain, fell, and tried to crawl away from them. But they kept throwing stones that hit my back and shoulders.

The settlers were yelling in Hebrew, and I didn't understand what they were saying. I tried calling people from Burqah for help, because I was scared that they would finish me off and kill me, but no one heard me. When they saw I couldn't get up, they started gathering the sheep and leading them away.

When my nephew saw the state I was in, he tried to help, but he couldn't carry me. He supported my leg, and I moved away from there, crawling. Thorns ripped my pants, and I felt dizzy and nauseous.

I graze my herd in this area often, and since people from Burqah were attacked there a few times in the past, I'm very careful, and if I see any settlers, I immediately move away. This time, they snuck up on us, and we didn't see them coming.
After moving about 50 meters away from the scene of the attack, Harbi and Hamuda came across residents of Burqah, who helped carry Harbi to an ambulance they had called. He was taken to Rafidia Hospital in Nablus. Harbi was diagnosed with a fracture in his left leg and told he would need surgery to set the bones in his leg.
One of the residents reported the incident to the Palestinian DCO.
Hamuda, who stayed behind, managed to locate 15 of the sheep, which had scattered in the area, and led them back to the village. He then drove in the direction of Homesh, escorted by 40 cars of relatives and residents of Burqah, and located the rest of the flock near the vacated settlement. After a long, rough day, Hamuda and the flock returned to the village.