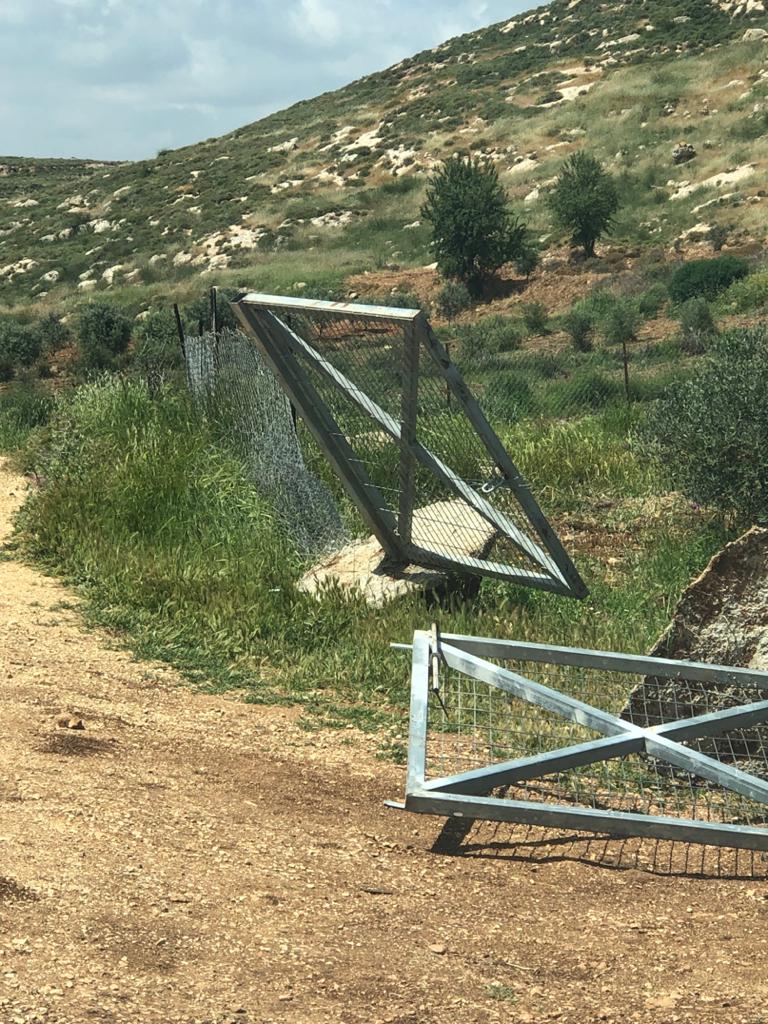 Turmusaya, Ramallah District: Settlers vandalize fences meant to protect groves from their incursions
On Saturday, 25 April 2020, Riyad Jabara (45) and Mahmoud 'Ali (80), residents of Turmusaya, discovered that settlers had vandalized the protective fences around their plots and the gates they had installed in them. The farmland in question is located in the area of a-Dhahrat, about three kilometers east of the village.
The perpetrators destroyed gates and protective fences surrounding both plots, stretching 20 meters long in Ali's land and 50 meters long in Jabara's. The latter had erected the fence around an area he'd prepared for planting olive trees.
About six years ago, Jabara planted olive trees on his land. Last year, settlers vandalized some of them. In late March 2020, they destroyed the 40 trees that had survived the previous attack.
The settlement outpost of Adei-ad was founded in 1998 about 500 meters from both plots.
The farmers of Turmusaya have been suffering from constant harassment by settlers for years. In April 2020 alone, B'Tselem documented four more cases of destruction of trees, and another case of vandalizing a fence. The fences were erected by the International Red Cross in 2018, as part of an initiative to protect farmland in the area.  
Farmers are not only hard put to protect their crops from the invaders, but also face another significant obstacle: the Israeli military prohibits local landowners from visiting their land daily and only grants them access several days a year, during the harvest and plowing seasons.