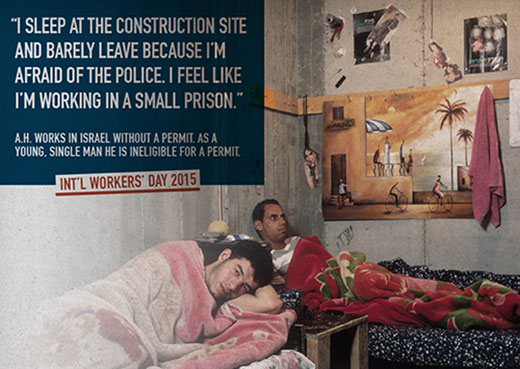 Photo by Ron Amir, 2012, from a series depicting the lives of Palestinians working in Israel. The persons photographs are unrelated to the witnesses.
A couple of week ago we spoke with a number of Palestinian workers who live just a few dozen kilometers from where they work in Israel, but the difficulties involved in reaching their place of work mean they remain at their place of work all week, away from their families and home environment. At times, they must confine themselves to living in rough conditions at their workplace, with no option of leaving it. As one worker told us: "I feel like I'm working in a small prison".
On International Workers' Day, the first of May, think of the workers who are the most invisible of all: the Palestinians. Give a thought to the tens of thousands who have a work permit, yet must stand for endless, humiliating hours on line at a crowded checkpoint, people for whom every moment of their daily routine is part of a struggle for survival, for whom getting safely home is not a given. Under such conditions, a struggle for fair pay, reasonable working hours and a pension is no more than a distant pipedream.
This reality is a direct outcome of the policy of Israeli authorities who prevent the development of an independent Palestinian economy that would provide employment to West Bank residents. Work in Israel is the only option available to many Palestinians. Some are granted work permits, others are not, but the rights of all these people are infringed upon even before reaching their place of employment. The Israeli authorities, responsible for most of these violations, are well aware of this reality, yet do nothing to change it.
Workers' testimonies