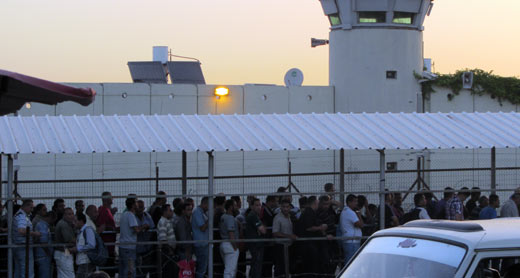 Eyal Checkpoint. Photo: 'Abd al-Karim Sa'adi, B'Tselem, 2 June 2013
Tomorrow, 1 May, marks International Workers' Day. For Palestinian workers, there is not much cause for celebration: the day is a painful reminder that another year has gone by and nothing has changed. Palestinians are still denied basic rights, including the right to earn a living without risking their lives.
The West Bank has been under Israeli military rule for nearly 47 years. As the occupying power, Israel is responsible for the well-being, dignity and livelihood of West Bank residents. Yet it acts in contravention of international law, exploiting natural resources in the West Bank for its own needs and those of Israeli settlers, while ignoring the needs of the Palestinian population. These resources – largely in Area C, which is under full Israeli control – include quarries, water sources, land for agricultural or industrial development, and tourist attractions. A case in point: even as Israel prevents Palestinians from developing modern and potentially more profitable agriculture by denying them access to most of the Jordan Valley as well as to most of its water, it allocates land and much water to settlements so that they can develop such agriculture.
This policy is a major underlying cause for the absence of an independent Palestinian economy, which could provide sufficient and profitable work opportunities for all or most Palestinians in the West Bank. In the present economic situation, the only option available to tens of thousands of Palestinians for earning a living is work within Israel, either with a work permit from Israeli authorities or illegally.
Israel has strict criteria for the approval of work permits and issues no more permits than the number fixed in an occasionally revised quota. The current (March 2014) quota is 47,350 work permits for Israel and the settlements; most of the quota has been utilized.
Workers with permits may enter Israel by one of eleven designated checkpoints throughout the West Bank. In June 2013, B'Tselem staff visited the Tarqumya and Eyal Checkpoints, through which Palestinians with work permits enter Israel. We found harsh conditions of overcrowding, long lines, and cases of humiliation during inspection. On Sundays, the number of Palestinians crossing through both checkpoints peaks at 4,500. The workers and their belongings are scanned with a metal detector. Then, they move on to stations where personnel check their fingerprints and their papers, including their entry permits. Some individuals are sent for an additional inspection procedure, which is at times humiliating. Although both checkpoints open at 4:00 A.M., hundreds of laborers arrive hours earlier, in the middle of the night, concerned they will not reach their workplaces in time due to the long lines and the chance of being sent for additional inspection. Despite the throngs of people waiting to cross, not all eight inspection stations are regularly staffed. 
B'Tselem reported these findings to the head of the Land Crossings Authority at the Ministry of Defense whose office responded by saying that there are no long lines and no overcrowding at checkpoints. B'Tselem's field researchers returned to Tarqumya Checkpoint on 1 September 2013 to and documented that fact that nothing had changed: many workers arrive at the checkpoint soon shortly after midnight and by the time it opened, at 3:30 A.M., the line was extremely long. Palestinians at the checkpoint also reported being sent for additional inspection procedure in designated rooms that are overcrowded and have neither seating nor any air conditioning. Read more here. Tens of thousands of Palestinians whose applications for work permits have been denied, or who do not meet Israel's strict criteria to begin with, are forced to try and enter Israel without a permit. Estimates of the number of Palestinians working in Israel without permits range from 15,000 to 30,000. Israeli authorities do not offer a systemic solution to the problem, and prefer to deal with random individual cases. Every now then, soldiers are sent out on missions to "capture illegals", involving the arrest, injury, and rarely even death, of people who are not considered a threat even by the security establishment. According to current (31 March 2014) figures provided by the Israel Prison Service, 1,424 Palestinians – including 22 minors – are being held in Israeli prisons for illegal entry into the country.
For Palestinian workers who regularly enter Israel illegally to earn a living, life is a constant struggle for survival and returning home safe and sound from work cannot be taken for granted. They live in constant anxiety, fearing arrest or injury. In such a reality, labor rights such as a minimum wage, reasonable work hours, and a pension scheme seem like a distant dream.
I.'A., a 46-year-old floorer by trade, told B'Tselem field research Musa Abu Hashhash on 25 April 2014 what it's like to work in Israel without a permit:
Work without a permit means endless suffering, worry and fear from the second I leave home. I leave early in the morning, at the beginning of the week, and head to the [Separation] Barrier in the Ramadin area in the South Hebron Hills. From there I enter Israel with other laborers. Usually, I have to wait near the barrier for hours, until I'm sure it's safe. There've been times when I waited a whole day but finally had to go back home and miss a week of work. Every trip to work costs me 100 shekels [approx. 30 USD], which are split between the Palestinian who drives me to barrier and the Israeli driver who takes me from the barrier to Beersheba [in Israel].

Once I reach my workplace, I make sure not to leave it. I stay in Beersheba for a week or two at a time. At the end of each work day, I stay on site with the other laborers. We have to sleep in rough condition in unfinished buildings, on the floor, with no electricity or bathroom. We never go out so that the police won't catch us. If we need to buy something, one of us goes carefully to a grocery store. Mostly, we eat tinned food. Sometimes, we have to move from one building to another to sleep, so we won't be caught in a police raid. It's happened – and more than once – that the police raided the place we were in and we escaped.

The contractors who hire me know that I don't have a permit to enter Israel and use that to exploit me. They pay me only about 250 shekels a day [approx. 80 USD] and when I tell them it's too little when taking my experience into account, they tell me I have no choice because I have no permit. I've also had times when my employer wouldn't pay me at the end of the month and threatened that if I insisted on getting the money, he'd report me to the police. I have five little children and my wife works as a nurse. If I had a work permit, I could go home every day and help out with the kids. I worry because I'm so far away from them and I try to talk to them on the phone at least once a day.
Israel must enable the development of a Palestinian economy in the West Bank to provide decent work opportunities for the local population. Until that development is realized, Israel must issue permits to Palestinians wishing to work in Israel – based on appropriate security checks - and must ensure workers' rights are upheld.