Central Hebron: Settler and soldier violence and police harassment of Palestinian family who dares to complain
On 6 August 2021, at around 11:00 P.M., masked settlers threw stones from the roof of the settlement of Beit Hadassah at nearby Palestinian homes in the presence of two soldiers. Yasin Sidr (19), whose house the settlers had stoned, tried to document the incident. He alerted his father, who called the police and tried to persuade the soldiers to stop the stone-throwing to no avail. After a while, soldiers and police officers arrived, and the settlers came down from the roof.
A short while later, about 20 soldiers came to Sidr's home. He was sitting at the doorstep with his father 'Abd al-Khalek (40), his brother Sa'id (17), his uncle and a neighbor. Upon arrival, several soldiers pounced on Yasin, beating him and kicking him. When Sai'd tried to intervene, some soldiers attacked him as well. The soldiers handcuffed the two brothers and led them to the settlement of Beit Romano, where they again beat Yasin, who lost consciousness at some point. He was evacuated to the hospital and discharged at around 5:00 A.M.
Meanwhile, Sa'id was taken to the police station near the settlement of Givat Ha'avot. When he was released, the officers informed him that he had to appear for questioning the next day, 8 August 2021. He arrived with his father at the station at the appointed time, but they were then told they were free to go. The two filed a complaint against the settlers and soldiers who attacked them and left.
As Sai'd walked down on the street near his home, two hours later, soldiers again attacked and arrested him. When his father came to the police station, once again, the officers informed him that Sa'id had to report for questioning on 9 August 2021. The two showed up at the scheduled time, and this time too, they were told there would be no interrogation, and they could go home.
This incident reflects Palestinians' daily life in the shadow of the Hebron settlements: a routine of violence by settlers, soldiers, and police officers, who cooperate with each other; a routine in which no one protects them, and their lives and bodies are free game; a routine in which their time can be wasted in vain.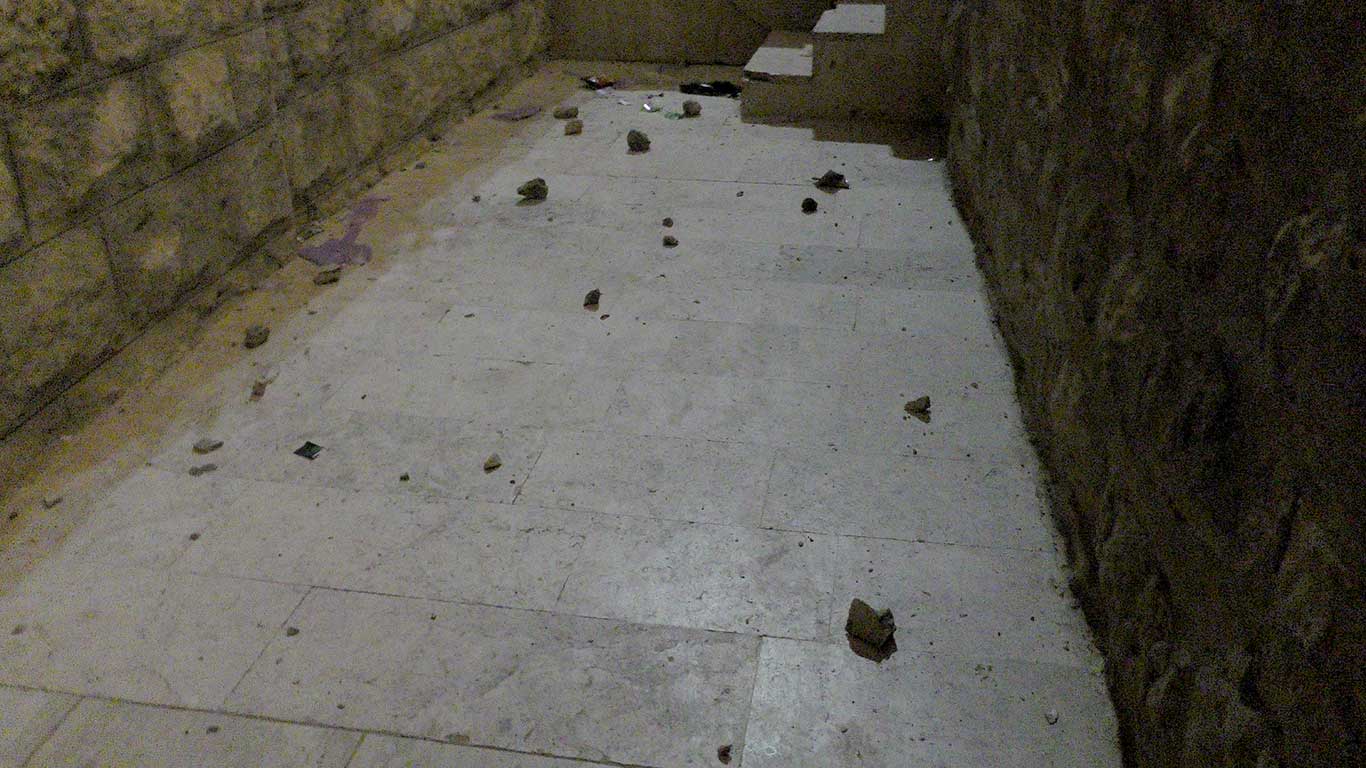 The testimonies below were given to B'Tselem field researcher Manal al-Ja'bari on 11 August 2021:
Yasin Sidr (19), a resident of Hebron, described his attack by settlers and his violent arrest:
Yasin Sidr. Photo by Manal al-Ja'bari, B'Tselem, 11 Aug. 2021

I live in an old house on a-Shalala Street, next to the settlement of Beit Hadassah, with my parents and three of my brothers. I'm the eldest son.

On 6 August 2021, at around 11:30 P.M., I was sitting on the steps of our house, which is next to the settlement, and suddenly large stones, the size of a fist, started landing near me. I went upstairs quickly to a higher floor and looked out the window overlooking the roof of Beit Hadassah. I saw over 20 masked settlers there, who looked about 17 to 25 years old. They threw stones intensely at our house and nearby houses, including that of our neighbors, the Abu Haya family. I also saw two soldiers halfheartedly trying to stop the settlers.

I called my father and asked him to call the Israeli police. After about 20 minutes, my father came home and started shouting at the settlers and asked the two soldiers to stop the stone-throwing, but it didn't help. I tried to document the setters' attack on my cell phone and managed to film part of the incident. Our neighbor, Mahmoud Abu Haya, a B'Tselem volunteer, also tried to film what was happening on a video camera.

Later on, three Israeli police officers and about 20 soldiers arrived. They went up to the roof of Beit Hadassah, and then the settlers went into the settlement. When everything calmed down, my brother Sa'id (17), my father, and I sat down at the entrance to our home with my uncle and our neighbor, Mahmoud Abu Haya.

Suddenly, we saw about 20 soldiers advancing towards us quickly. As soon as they reached us, four of them started attacking me without asking me anything. They beat me and kicked me. I screamed and asked what was going on and why they were hitting me, but they just kept kicking and beating me. They pushed my face into the gate of a closed store on the street and tied my hands behind my back with zip ties. My uncle and father shouted at the soldiers and asked them to explain what they were doing, but it didn't help. My little brother Sai'd also intervened and shouted at the soldiers, and then about six soldiers attacked him, too. They beat him and then arrested him.

The soldiers took me to the settlement of Beit Romano, and on the way, kicked and beat me. As soon as we reached the settlement gate, one soldier punched me hard in the face. I had blood coming out of my mouth and nose. It felt like the glove he was wearing was made out of iron. I was in a lot of pain. The soldiers took me into the settlement, on the road that goes up to a-Shuhada Street.

They made fun of me and cursed my mother and family. One of the soldiers kept hitting and kicking me for about 10 minutes until I was in a state of semi-consciousness. I didn't notice what was happening around me so much anymore but then felt a painful stab in the back when a soldier cut the zip ties and released my hands. I came to and discovered that I was in an Israeli ambulance. Then I was transferred to a Palestinian ambulance, and then I blacked out again.

We arrived at the 'Alia Governmental Hospital at around 2:30 A.M. After about an hour, I regained consciousness, and my father was with me. I was examined and X-rayed. They found bruises all over my body.

I was treated, and then my uncle and brother Sa'id came and took us home around 5:00 A.M.

I still suffer from pain in my nose and all over my body. My brother Sa'id later told me that he was also attacked and arrested before being transferred to an Israeli police station.
'Abd al-Khalek Sidr, Yasin and Sai'd's father, recounted the settler attack and the violent arrest of his two sons:
'Abd al-Khalek Sidr. Photo by Manal al-Ja'bari, B'Tselem, 11 Aug. 2021

I live in an old house on a-Shalala Street, next to the settlement of Beit Hadassah, with my wife Hadiyah (40), and our children, Yasin (19), Sa'id (17), Wadih (16) and Mahmoud (12).

On 6 August 2021, at around 11:30 P.M., my son Yasin called me and told me that the Beit Hadassah settlers were attacking our house and throwing stones at it. I immediately called the Israel Police and reported it and then hurried home. When I got there, I saw many stones landing on the street and the houses next to us.

About 10 minutes after I called the police, more than 20 soldiers arrived with three police officers. The settlers fled. My neighbor Mahmoud Abu Haya, my two sons Yasin and Sa'id, and I sat at our doorway and talked.

Suddenly, about 20 soldiers advanced quickly towards us. And then, without asking anything, four of them attacked my son Yasin. He tried to understand why they were attacking him, but they pushed him violently against one of the closed shops and kicked him. I tried to get the soldiers away from Yasin and asked why they were attacking him.

Meanwhile, my son Sa'id also intervened. He shouted at the soldiers and demanded they leave his brother alone. About six soldiers attacked Sa'id and beat him as well. They tied his hands behind his back and took him to the settlement of Beit Romano.

The four soldiers who attacked Yasin tied his hands behind his back and took him towards the settlement. They kicked him while walking. I followed them while shouting at the soldiers. My brother joined me, too. The soldiers tried to get rid of us, but we continued to follow them. My neighbor, Mahmoud Abu Haya, who volunteers at B'Tselem, tried to document what was happening on his camera.

The soldiers brought my sons to the settlement and took them to a road going up towards a-Shuhada Street. My brother, Mahmoud, and I went home to call the Red Crescent, the Palestinian DCO and B'Tselem.

Meanwhile, I heard from a neighbor that an Israeli ambulance had arrived at the gate leading to Beit Romano, and I felt that something had happened to my sons, so I ran towards the settlement. About 10 minutes later, a soldier who spoke Arabic came out and asked who Yasin's father was. I said it was me, and he asked me if Yasin was sick. I answered no and told him that soldiers had attacked and arrested him and that before that, his health was fine. He said that Yasin wasn't well and that I needed to take him to the hospital. Het let me enter the settlement, and I called a Red Crescent ambulance that came about 10 minutes later.

Two soldiers brought Yasin out of the Israeli ambulance. He had some blood on his mouth, and he was writhing in pain. The Palestinian ambulance crew put Yasin inside, and then he fainted. The ambulance took him to the 'Alia Governmental Hospital, where he was examined, treated, and X-rayed. They found bruises all over his body. Yasin regained consciousness about an hour after he came to the hospital, at around 3:30 A.M.

When I was with Yasin in the hospital, I got a call from the Israeli police. The officer asked me to come to the police station to pick up Sa'id. I told him I was in the hospital with Yasin and that I'd send my brother to pick him up. I called my brother and asked him to get Sai'd. At around 4:30 A.M., my brother and Sai'd came to the hospital. The officers gave Sa'id a summons for questioning on Sunday at 10:00 A.M. We all left the hospital and returned home around 5:00 P.M.

The next day, on Sunday, 8 August 2021, I accompanied Sai'd to the police station around 9:00 A.M. When we arrived, I handed the summons he had received to the officer, and after checking, he told me that they didn't want anything from us, and we could go. I said that I wanted to file a complaint about our attack by the settlers and soldiers. He took down my statement, and then we left.

That day, at around 11:00 A.M., I sent Sa'id to buy me a pack of cigarettes. About 10 minutes later, a neighbor called me and told me that soldiers had arrested Sa'id and taken him to a-Shuhada Street. I hurried to the gate of the Beit Romano settlement to find out what was going on. A soldier told me that Sa'id had thrown stones, and that's why he was arrested. I said it couldn't be and that I'd sent Sai'd to buy cigarettes and demanded they prove he had thrown stones.

I called the Palestinian DCO and told them what had happened. About an hour later, the Israeli police called me and asked me to come to the entrance to a-Shuhada Street to pick up Sai'd. I replied that I couldn't go there and asked him to bring him to Beit Romano's gate. The officer agreed and brought him there. They also gave me a summons for Sai'd to come to the police station the next day, Monday, at 10:00 A.M.

The next day, I took Sa'id to the police station again. I called the guard over and gave him the document. After a few minutes, an interrogator arrived, and after checking, told us to go away and that they didn't want anything from us. We left the station and went home. Sa'id told me that the soldiers attacked him in both the first and second